Relief teams rush to typhoon-devastated Philippines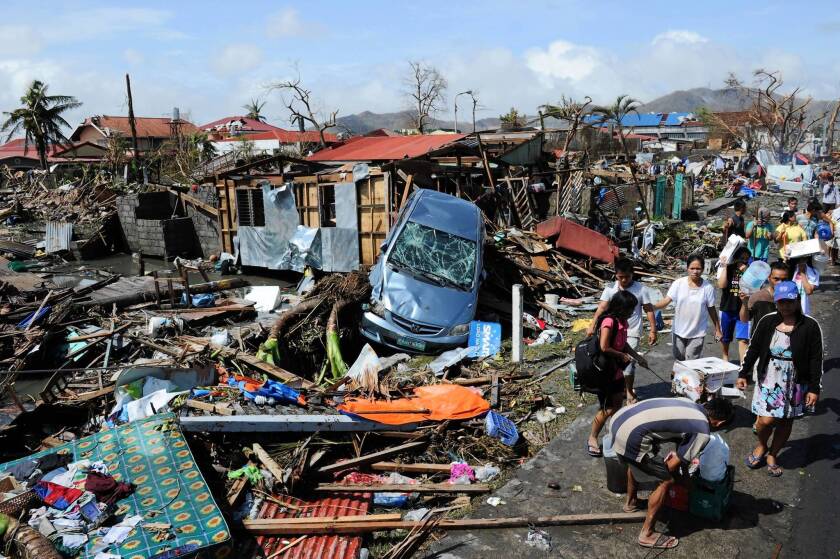 MANILA — With the vast scale of death and destruction slowly coming into focus, international relief teams rushed toward the central Philippines, where one of the strongest storms on record left bereft survivors looting food and water or scrambling for a way out.
Aid agencies said they were hurrying supplies to the area hit early Friday by the typhoon. U.S. Marines were en route from bases in Okinawa, Japan, and Defense Secretary Chuck Hagel directed the Pacific Command to deploy helicopters, logistics officers and cargo planes to assist the effort.
Initial reports suggested that the Philippines had escaped widespread loss of life from fast-moving Typhoon Haiyan, called Yolanda by Filipinos. But as reports trickled in Sunday from areas that had been cut off from the rest of the country, it became clear that the nation had suffered a major natural disaster.
The storm weakened over the South China Sea after leaving the Philippines, and made landfall in Vietnam on Monday. Thousands of people there had been evacuated as a precaution.
In the Philippines, police Supt. Elmer Soria told reporters that officials on the island of Leyte had estimated 10,000 deaths. The U.S. Agency for International Development said that in some parts of the central Philippines, 90% of the housing had been destroyed.
"There was death everywhere," said Danny Larsen, a 35-year-old Dane, who arrived Sunday at a military air base in Manila from Leyte's main city, Tacloban.
With few if any cars around and no gas available, Larsen said he walked about 10 miles to the airport from a village where he had ridden out the typhoon in a basement. The road was like "death row," he said. Multi-story buildings had been reduced to heaps of broken concrete, and bodies were strewn about.
"There were people — babies, children, old people — lying out on the street, with blisters over their bodies … hundreds of them," said Larsen.
Television footage showed wooden houses in splinters, cars floating on their sides through floodwaters, upended trees and telephone poles and houses with their roofs blown off.
Many of the most desperate remained trapped in remote, mud-choked coastal towns without power, transportation or telephones.
In Tacloban, a city of 220,000, officials said that more than 100 bodies had been found on the airport grounds alone. The homeless and injured crowded around the airport hoping to escape, or at least to find food or fresh water.
Larsen, who had moved to Tacloban two weeks earlier with his girlfriend, said he had waited eight hours with about 1,000 people to get on a cargo plane to Manila. Their main concern was not the typhoon damage but the lawlessness.
"Everything is being looted.... There is no law enforcement — it's a free-for-all," he said. "Hotels, everything, cash registers, even McDonald's.... It is World War III."
As reports trickled in from more far-flung areas, there were more tales of death and destruction.
"We just made a mass grave for 57 people," Mayor Edgar Boco of the small coastal town of Hernani told reporters.
While survivors tried to escape, dozens of others in Manila were hoping to catch a ride on a transport plane from Manila's Villamor Air Base to the scene of the disaster in hopes of finding out what happened to loved ones.
Evangelista Sumalbag said she was sick with worry about her sister and daughter, a 28-year-old police officer in Tacloban.
"I can't describe my feelings today. I don't have contact, and I don't know what happened to them," said Sumalbag, wiping tears.
"I don't want to see the TV anymore, because it hurts me. I am unable to watch all that devastation."
The typhoon hit the eastern coast of the Philippines with winds estimated at 147 mph, gusting to 170 mph, and a storm surge of about 20 feet. The death toll appeared likely to be far in excess of the Philippines' largest from previous natural disasters — a 1976 earthquake and a 1991 storm that each killed more than 5,000 people.
Philippine President Benigno Aquino III toured the area by helicopter Sunday, landing in Tacloban. Interior Secretary Mar Roxas said the storm destroyed everything in its path.
"From a helicopter, you can see the extent of devastation. From the shore and moving a kilometer inland, there are no structures standing," Reuters news service quoted him as saying. "I don't know how to describe what I saw. It's horrific."
An initial USAID survey said the cities of Tacloban and Ormoc were "wiped out," Jeremy Konyndyk, the agency's director of foreign disaster assistance, said in a statement.
UNICEF said it was sending supplies for 3,000 families from stocks already in the Philippines, and that its warehouse in Copenhagen was airlifting $1.3 million worth of water purification tablets, soap, medical kits, tarpaulins and nutritional supplements for an additional 10,000 families. The World Food Program said it was preparing to send 40 metric tons of high-energy biscuits from Dubai, United Arab Emirates.
Mammoth Medical Missions, a nonprofit based in Mammoth Lakes that provides health services to underserved communities, said a 16-member team had arrived in Tacloban after being diverted from a mission in Chiapas, Mexico.
As part of their mutual defense treaty, the U.S. and Philippines conduct multiple training exercises to prepare for scenarios including disaster response.
The U.S. Navy was flying two P-3 Orion surveillance planes above the islands to help rescuers locate the most severely damaged areas and find survivors.
On Sunday, about 80 Marines from the 3rd Marine Expeditionary Brigade stationed in Okinawa boarded two KC-130 cargo planes bound for the Philippines, Col. Brad Bartelt, a Marine Corps spokesman, said in a statement. They brought supplies and communications equipment.
The Marine Corps will also be sending MV-22 Osprey aircraft. The Osprey is shaped like a cargo plane but can rotate its propellers vertically, enabling it to land and take off without a long runway, like a helicopter.
In a statement released Sunday, President Obama said that he and First Lady Michelle Obama "are deeply saddened by the loss of life and extensive damage done by Super Typhoon Yolanda."
"I know the incredible resiliency of the Philippine people, and I am confident that the spirit of bayanihan will see you through this tragedy," Obama said, adopting a term commonly used in the Philippines that means communal cooperation.
In Southern California on Sunday, Filipino church groups shared scant information and raised money, in some cases expanding on efforts already planned to help victims of a magnitude 7.2 earthquake last month.
Special correspondent De Leon reported from Manila and Times staff writer Demick from Beijing. Staff writers Brian Bennett in Washington and Marisa Gerber in Los Angeles and news agencies contributed to this report.
---
Must-read stories from the L.A. Times
Get the day's top news with our Today's Headlines newsletter, sent every weekday morning.
You may occasionally receive promotional content from the Los Angeles Times.