Oscar Pistorius sentenced to 6 years in prison for murder of girlfriend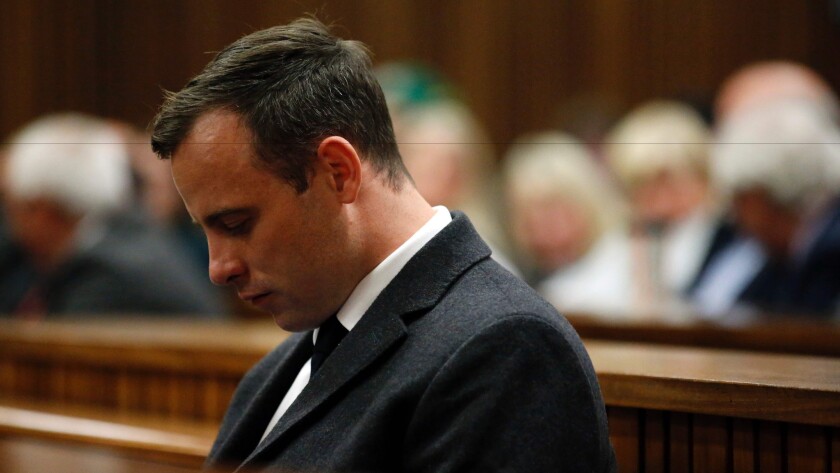 Reporting from PRETORIA, South Africa —
South Africa's High Court on Wednesday sentenced double amputee Olympic athlete Oscar Pistorius to six years in prison for the 2013 killing of his girlfriend, Reeva Steenkamp, rejecting the prosecution's contention that he showed no remorse.
Pistorius' defense team told reporters after the court session that they would not appeal the sentence.
Assuming good conduct in prison, Pistorius could end up serving three to four years.
Judge Thokozile Masipa found that there were compelling circumstances dictating why Pistorius deserved a lower sentence than the 15-year minimum on a murder charge, including remorse he showed for the crime and his testimony that he believed he was shooting at an intruder.
She said she had taken the year Pistorius has already served in prison into consideration in handing down the six-year term.
"We respect the decision of Masipa and we will not be lodging any application for leave to appeal going forward, and Oscar will serve his sentence as handed down by Masipa," said Andrew Fawcett, a member of Pistorius' legal team.
Pistorius was convicted of firing four times through the locked door of a toilet cubicle in his Pretoria apartment's bathroom, killing Steenkamp, a 29-year-old model and law school graduate, on Feb. 14, 2013.
Pistorius said he shot her in error, thinking that someone had broken into his home. Prosecutors maintained he killed her in an argument.
In his 2014 trial, Masipa convicted him of culpable homicide, or negligent killing, but her judgment was overturned by the Supreme Court of Appeal in December and he was convicted of murder.
Masipa said Wednesday that the mitigating circumstances of the crime -- including the difficulty Pistorius had moving on his stumps at the time of the shooting -- outweighed the aggravating circumstances, which included the fact that he fired repeatedly.
A long prison term wouldn't serve the interests of justice, she added.
She said her job was not to satisfy public opinion or to respond to what she called the widespread misconception that Pistorius killed Steenkamp after the couple argued. Masipa said there was no evidence of any dispute or that the couple's relationship was abusive.
I did take Reeva's life and I have to live with that.
Oscar Pistorius
A spokeswoman for the women's league of the governing African National Congress party, Jacqui Mofokeng, told journalists outside the court that the six-year sentence was "an insult to women."
The ANC Women's League has strongly supported the Steenkamp family throughout the trial, and had called for Pistorius to receive the minimum 15-year sentence.
Under South African law, a court can deviate from the minimum sentence only if there are compelling circumstances. Masipa spent much of her judgment Wednesday addressing that question, finding that Pistorius had shown remorse for the crime by apologizing to the Stennkamp family in court and trying to meet them in order to apologize in person.
After the sentence was read, Pistorius hugged his sister, Aimee Pistorius, who was in tears. He was then led away by police while prosecution and defense attorneys weighed decisions on whether to appeal.
Carl Pistorius, Oscar's brother, tweeted after the sentencing that justice had been done. In an earlier tweet, he described Masipa as a "wise woman" and said he had the utmost respect for her.
Pistorius didn't testify during his sentencing hearing. A psychologist for the defense, Jonathan Scholtz, argued that the former Olympian was suffering from depression and anxiety and was too ill to address the court.
However, Masipa dismissed Scholtz's contention that Pistorius was too ill to be further imprisoned and should instead be hospitalized.
Pistorius recently gave an interview to British television, saying he was still haunted by the smell of the dying Steenkamp's blood. He insisted that he didn't believe Steenkamp would have wanted him to be sent back to jail.
"I did take Reeva's life and I have to live with that," he said. "I can smell the blood. I can feel the warmness of it on my hands.
"I don't want to go back to jail; I don't want to have to waste my life sitting there. If I was afforded the opportunity of redemption, I would like to help the less fortunate like I had in my past.
"I would like to believe that if Reeva could look down upon me that she would want me to live that life," he said in the interview.
ALSO
Louisiana police officer fatally shoots man outside a convenience store; protests erupt
At Pistorius sentencing hearing, Reeva Steenkamp's father tells of lasting pain from losing his daughter
Florida father blames himself — not the gun — in son's death at shooting range
---
Must-read stories from the L.A. Times
Get all the day's most vital news with our Today's Headlines newsletter, sent every weekday morning.
You may occasionally receive promotional content from the Los Angeles Times.