So who are the Russian oligarchs slapped with U.S. sanctions? For starters, they're billionaires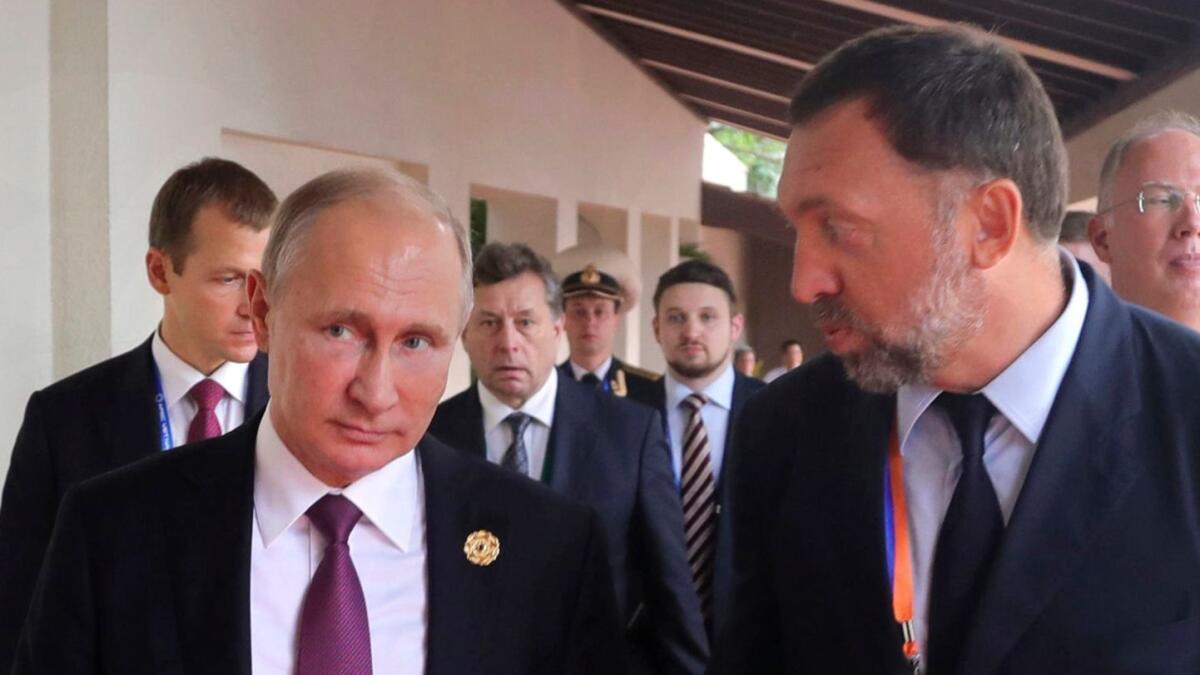 Reporting from MOSCOW —
When the White House announced the latest sanctions against Russia, the list of targets included seven of the country's billionaires. But just who are these wealthy oligarchs?
Collectively, they have a net worth of about $30 billion. Most of them have business ties to Russia's key state-controlled sectors, including oil and gas, natural resources and banking. Some are among Russian President Vladimir Putin's closest supporters and advisors.
The U.S. Treasury Department said those on the new sanctions list profit from their close links to the Kremlin and, in some cases, contributed to Moscow's attempts to meddle in the 2016 U.S. election, as well as Russian's occupation of Crimea, its efforts to supply Syrian President Bashar Assad with weapons and its attempts to subvert Western democracies.
"The Russian government operates for the disproportionate benefit of oligarchs and government elites," Treasury Secretary Steven Mnuchin said in a statement.
The sanctions, announced Friday, also singled out 12 Russian companies owned or controlled by the seven oligarchs. Also sanctioned were 17 senior government officials, a state-owned weapons trading company and its subsidiary, a Russian bank. The Treasury Department said the sanctioned parties will have their assets frozen, and "U.S. persons are generally prohibited from dealings with them."
Although President Trump has been reluctant to publicly criticize Putin, the U.S. and Russia have slapped sanctions on each other in recent weeks. The U.S. and other countries in late March expelled about 150 Russian diplomats in retaliation for the poisoning of a former Russian spy living in England. Moscow responded by expelling diplomats as well and has denied responsibility for the nerve agent attack.
Here is a quick look at some of the top names on the Treasury Department's sanctions list.
Oleg Deripaska, 50, is a Russian metals magnate with an estimated worth of $5.8 billion, according to Forbes. His name has come up in the U.S. investigation into Russian election meddling because of his business ties with former Trump campaign manager Paul Manafort. In February, videos showing Deripaska discussing U.S.-Russia relations with a Kremlin deputy prime minister on a yacht again raised questions about his involvement.
Eight of Deripaska's companies, including EN+ and Rusal, were named on the sanctions list. The Treasury Department statement harshly criticized Deripaska, saying the oligarch was "accused of threatening the lives of business rivals, illegally wiretapping a government official, and taking part in extortion and racketeering. There are also allegations that Deripaska bribed a government official, ordered the murder of a businessman, and had links to a Russian organized crime group."
Viktor Vekselberg, 60, is an aluminum magnate who Forbes estimates is worth $14.6 billion. He made his fortune in the 1990s and has close ties to Deripaska and other Russian oligarchs. He is the chairman of Renova, an investment group which has stakes in Rusal, the Russian aluminum giant also placed on Friday's sanctions list. His owns an extensive, world-class art collection and once bought nine Faberge eggs worth $100 million from the Forbes family.
Kirill Shamalov, 36, is believed to be the ex-husband of Putin's daughter Katerina Tikhonova. He is worth an estimated $1.43 billion, according to Forbes, and owns stakes in the Russian petrochemical company Sibur. His father, Nikolai Shamalov, is a major shareholder in Rossiya Bank and a close ally of Putin.
Shamalov is believed to have used his family connections to work his way up in state-run energy and banking sectors. His business links to Russia's energy sector landed him on the sanctions list. The Kremlin has never confirmed either the name of Putin's daughter or her marriage to Shamalov.
Suleiman Kerimov, 52, is a Russian senator who owns Russia's largest gold producer, Polyus. Kerimov is worth an estimated $5.2 billion, according to Bloomberg. Putin once gave him an award for his "services to the fatherland."
Kerimov is currently being investigated for accusations of tax fraud in France, where authorities believe he brought in suitcases full of hundreds of millions of euros to purchase villas in the name of shell companies. He is a senator representing the largely Muslim region of Dagestan. He is known as a playboy who throws lavish parties. In 2006, he crashed a $650,000 Ferrari in Nice.
Konstantin Kosachev, 55, is the head of the foreign affairs committee in Russia's upper house of parliament. Kosachev frequently uses social media to defend Kremlin policy and blame the U.S. for deteriorating relations between Moscow and Washington. On Friday he told Interfax the sanctions were "illegitimate and unjustified. Russia will not be broken."
Nikolai Patrushev, 66, is the secretary of Russia's Security Council. He is a former director of the FSB, the successor agency of the Soviet-era KGB. Patrushev is believed to be part of Putin's close circle of former KGB agents.
Alexey Miller, 56, is the chairman of Gazprom, Russia's state gas giant and the world's largest natural gas producer. Miller is a close ally of Putin's. Gazprom's oil arm was sanctioned in 2014 after Russia's annexation of Crimea.
Vladislav Reznik, 63, is a deputy in the Duma, Russia's lower house of parliament. He is currently on trial in Spain with 17 other suspects accused of accused of massive money-laundering for a Russian mafia gang. Reznik is worth about $5.5 billion, according to Russian Forbes magazine.
Ayres is a special correspondent.
Sign up for Essential California for the L.A. Times biggest news, features and recommendations in your inbox six days a week.
You may occasionally receive promotional content from the Los Angeles Times.