Despite Russia probe, Trump moves ahead with plans to meet with Putin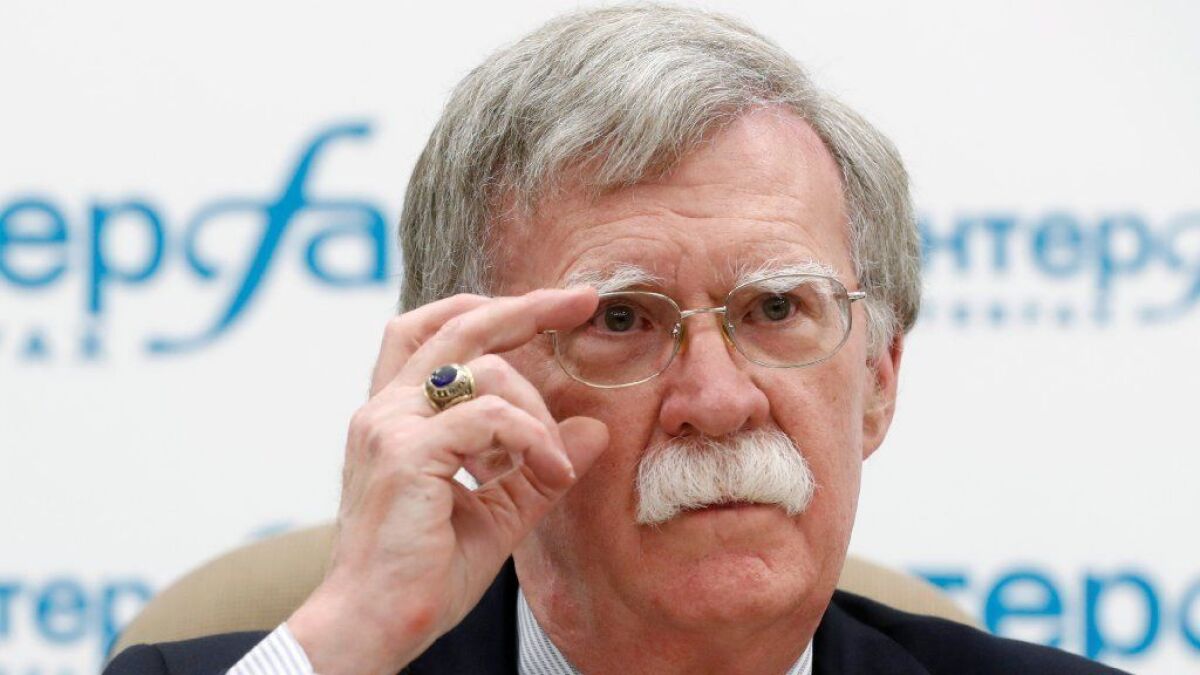 Reporting from MOSCOW —
A much-anticipated summit between President Trump and Russian President Vladimir Putin will likely take place in mid-July in a European capital, a Kremlin aide said Wednesday.
Trump's national security advisor, John Bolton, met with Putin Wednesday to discuss the details of a potential summit that was largely seen here as a significant step toward improving relations between Moscow and Washington.
Yuri Ushakov, a Putin advisor who focuses on U.S. relations, told reporters after Putin's meeting with Bolton that Russia and the U.S. had been ruled out as locations for the summit.
The meeting would coincide with Trump's upcoming visit to Europe. He is expected to attend a NATO summit in Brussels July 11-12, and then make a visit to the United Kingdom.
Both Vienna and Helsinki have been suggested as venues, with dates that would allow Putin to attend the July 15 final match of the World Cup, which Russia is hosting this year.
In Washington, Trump said Wednesday he was awaiting Bolton's full report but confirmed the likely timing of the summit.
"It would look like we will probably be meeting in the not-too-distant future, and I've said it from Day One, getting along with Russia and China and with everybody is a very good thing," Trump told reporters at the White House.
The meeting would be the first time the two presidents have met outside of an international summit. Putin and Trump met on the sidelines of the G20 summit in 2017 in Germany and again briefly shook hands at the Asia-Pacific Economic Cooperation summit in November.
Whether the two men have met before Trump was president is unclear. Trump has said that he was still a businessman when he first met Putin, but he has also denied knowing him.
Bolton's meeting at the Kremlin was aimed at laying the groundwork for the meeting at a time when relations between the nations have deteriorated.
The U.S. has accused the Kremlin of trying to interfere in the 2016 presidential election in favor of Trump's campaign. The U.S. and many of its allies, including the European Union, have placed sanctions on Russian businesses and individuals in retaliation for Moscow's annexation of Crimea in 2014, and subsequent Russian backing of a separatist war in eastern Ukraine.
"Your arrival in Moscow has given us hope that we can make the first steps to reviving full relations between our governments," Putin told Bolton in scenes shown on Russian state television.
Scheduling a meeting with the Kremlin leader has been fraught with criticism, particularly as the investigation into possible collaboration between Trump's campaign and the Kremlin continues.
Trump, who has advocated better relations with Russia, has repeatedly tried to cast doubt on the widely accepted intelligence on Russian interference in the election, lest it raise doubts about the legitimacy of his victory.
Putin blamed the sorry state of relations between Washington and Moscow on "the acute internal political battle in the U.S."
Trump has been at odds with other Western leaders about a united stance on Russia.
He has bucked most of world opinion — and contradicted members of his own administration — by appearing to defend Putin's annexation of Crimea. He has been loath to criticize Putin and on several occasions has praised him.
At the G7 summit in Canada earlier this month, Trump announced that he believed Russia should be brought back into the group of industrialized nations, returning it to the G8. Trump's statement shocked other G7 leaders, particularly those from Europe pushing for a stronger stance against Moscow.
The issue of Kremlin interference in the 2016 U.S. presidential election was raised during the meeting with Bolton, Ushakov said.
Russia has "clearly stated that the Russian state did not interfere and does not interfere in domestic political processes in the United States, and most certainly did not interfere in the 2016 election," Russian media quoted Ushakov telling reporters.
Bolton, long a hawk on Russia, later refused in a news conference to say how he answered Putin's denials. The topic will surely be raised during the Trump-Putin summit, he told reporters.
Other topics that came up in Bolton's meeting with Putin included Syria, the ongoing war in eastern Ukraine, North Korea and the U.S. withdrawal from the landmark 2015 nuclear treaty with Iran.
U.S. ambassador to Moscow, Jon Huntsman, and Trump's National Security Council officials Fiona Hill and Joe Wang also attended the meeting. Putin was flanked by his foreign minister, Sergei Lavrov, and defense minister, Sergei Shoigu, as well as advisor Ushakov.
In three of Russia's major newspapers Wednesday, Bolton's visit was cautiously received. One paper, Kommersant, labeled him the "chief hawk of the White House," citing his previous statements calling Russia's alleged meddling in the 2016 election an "act of war."
Bolton pushed back at reporters' suggestions that there were doubts the upcoming Trump-Putin summit could be a success in improving relations between the two countries.
"Both President Trump and President Putin think they may be able to find constructive solutions," Bolton said Wednesday evening at a news conference in Moscow. "I'd like to hear someone say that's a bad idea."
Bolton, however, did not refute Putin's suggestion that the reason for the delay in a U.S.-Russia summit was related to internal American politics.
"I think a lot of people have said or implied over time a meeting between President Trump and President Putin would somehow prove some nexus between the Trump campaign and the Kremlin, which is complete nonsense," Bolton said. "I don't think that is helpful and as I've said, I think the president recognizes that there may be some criticism of this decision to have the meeting. You've heard some of it here today, but … what must guide his conduct in American foreign policy is the pursuit of American national interests."
He added that Trump believes that the summit with Putin "is something that he needs to do and will do regardless of political criticism at home."
Staff Writer Tracy Wilkinson contributed to this article.
---
UPDATES:
2:30 p.m.: This article was updated throughout with staff reporting.
This article was originally published at 3 a.m.
Must-read stories from the L.A. Times
Get the day's top news with our Today's Headlines newsletter, sent every weekday morning.
You may occasionally receive promotional content from the Los Angeles Times.