At Syria summit, Russian and NATO leaders come up with few answers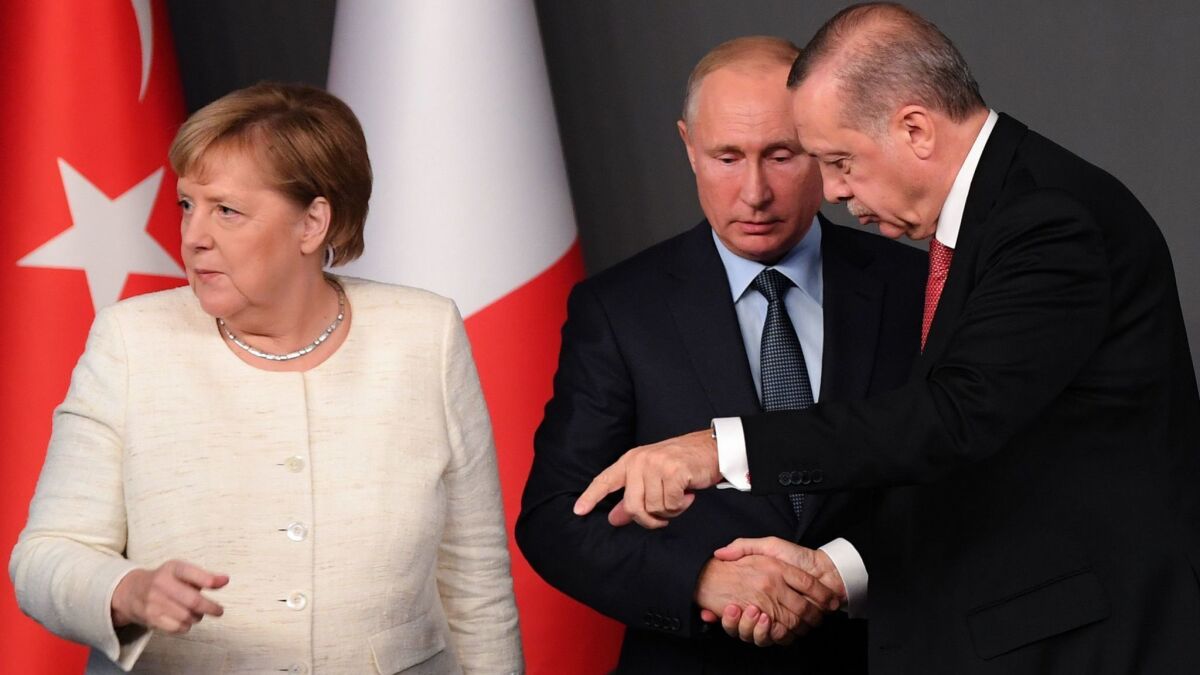 Reporting from ISTANBUL —
The leaders of Russia and three NATO nations met Saturday for talks aimed at finding an end to Syria's long war, whose possible final stages are now being shaped by Moscow and other outside powers.
But while each country stressed its commitment to ending the seven-year conflict, the summit appeared to produce few concrete results — underscoring the challenges of reaching a formula for peace amid rival factions, extremist groups and Western reluctance to reengage with Syrian President Bashar Assad.
At a closing news conference, participants reiterated years-long calls for a political, not military, solution.
Calling the discussions "fruitful and sincere," Turkish President Recep Tayyip Erdogan said all four participants — including Germany and France — agreed to support a United Nations-backed push to form a new constitutional committee for Syria by the end of the year.
"There will be no real, sustainable, credible return of the refugees if the political process is not initiated," said French President Emmanuel Macron.
A final statement released by the leaders called for "an inclusive, Syrian-led and Syrian-owned political process," and the convening of a committee by the end of the year to work on constitutional reform as a prelude to U.N.-backed free and fair elections.
There were few indications that this was likely to materialize in the short-term.
Participants at an earlier peace conference in Russia's Black Sea resort Sochi had agreed to form the 150-member committee to rewrite the Syrian Constitution, with one-third chosen by the government, a third by opposition groups and a third by the United Nations.
But the U.N.'s top diplomat on Syria, Staffan de Mistura, told reporters Friday that Syria's foreign minister, Walid Moallem, had rejected the idea that the United Nations should play a role in forming part of the committee.
"Minister Moalem indicated he would get back to me if new instructions came from his own leadership," Mistura said.
As discussions among the three North Atlantic Treaty Organization nations and Russia wound down Saturday, Turkish state television showed Erdogan, Macron, President Vladmir Putin and German Chancellor Angela Merkel strolling through the gardens of an Ottoman-era mansion, looking relaxed and ignoring the cameras.
Each leads a country to some extent buffeted by Syria's war. Turkey has been hardest hit, taking in 3.5 million refugees while becoming a staging ground for terrorist attacks. "Hundreds of our citizens and security personal have been wounded or even martyred," Erdogan said Saturday.
Russia has intervened militarily to bolster the government of Assad, which is also backed by Iran. Germany and France have taken in tens of thousands of Syrians.
But experts likened Saturday's summit to a high level photo opportunity that mostly reflected Russia's influence over the conflict's end game.
"Nothing big should be expected of this weekend's summit," said Tobias Schneider, a research fellow at the Berlin-based Global Public Policy Institute.
"It's mostly an expression of the very real leverage Russia, which has been lobbying for reconstruction assistance [without] political transition, holds over other outside actors invested in stability in Syria," he added.
Loveluck is a Washington Post writer.
Loveluck is a Washington Post writer.
---
Must-read stories from the L.A. Times
Get the day's top news with our Today's Headlines newsletter, sent every weekday morning.
You may occasionally receive promotional content from the Los Angeles Times.