Steven Seagal, actor, black belt, and now Kremlin 'special representative'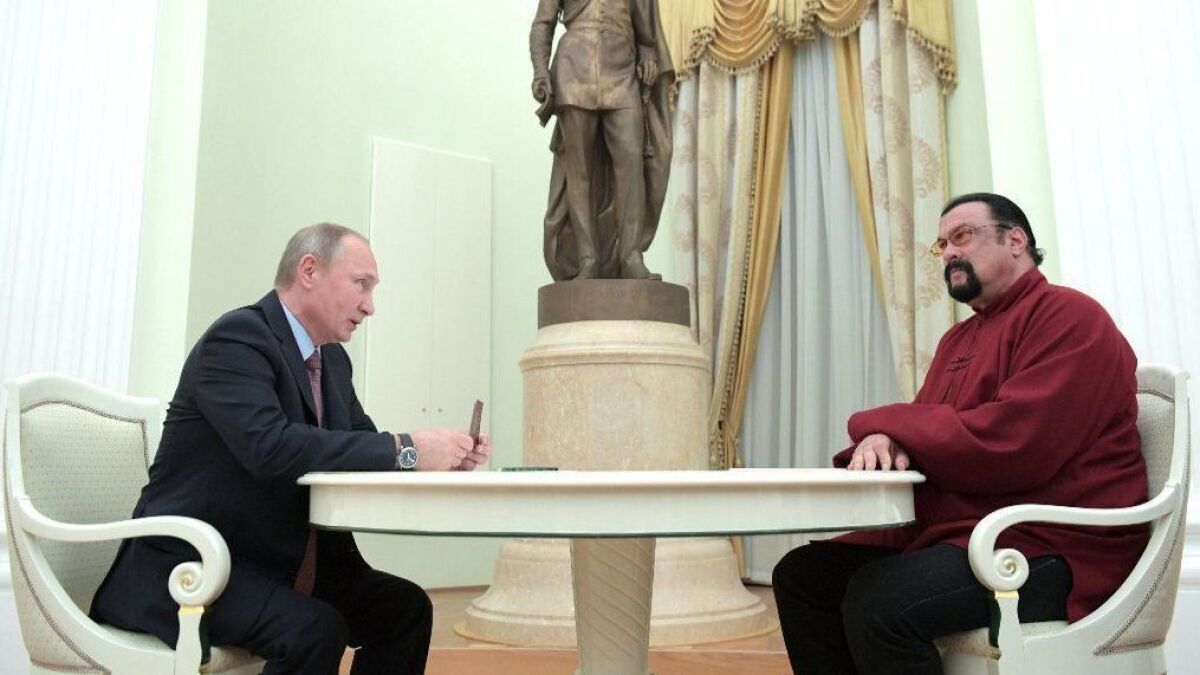 Reporting from Moscow —
As the Kremlin's newest special envoy to the United States, Steven Seagal brings some undeniable attributes to the table.
He's big. He's famous. He's a citizen of both the United States and Russia. And should the going get tough, he's got killer martial arts skills, as displayed in films such as "Hard to Kill" and "Under Siege."

For the record:
12:20 p.m. Aug. 10, 2018This article states that Seagal is a black belt in karate. According to his publicist, he is a black belt in aikido, but not karate.
Seagal, however, isn't looking to dispatch bad guys in his new role. "I hope we can strive for peace, harmony and positive results in the world. I take this honour very seriously," he wrote on his website and on Twitter Sunday.
The Russian Foreign Ministry announced Seagal's appointment as "special representative" to the United States on its social media accounts late Saturday. The ministry's post on Facebook said Seagal's unpaid role would "facilitate relations between Russia and the United States in the humanitarian field, including cooperation in culture, arts, public and youth exchanges."
What precisely the role will entail is anyone's guess. The State Department has not commented on the Kremlin announcement.
Seagal, 66, is best known for his tough-guy roles in the '90s as a cop, a Navy SEAL and a secret agent. His website states that in addition to being an actor, Seagal is a director, producer and musician, as well as a practicing Buddhist, a Zen teacher, a healer and an avid supporter of animal rights.
His name surfaced this spring at the height of the #MeToo movement, with several women claiming he engaged in sexual misconduct with them. An extra on the movie "On Deadly Ground," Regina Simons, accused him of raping her at his house in 1993, when she was 18.
But Seagal's most notable role of late has been as one of Vladimir Putin's biggest supporters at a time when the Western world has shunned the Russian president. When Moscow annexed Ukraine's Crimean peninsula in 2014, the U.S. and the European Union sanctioned Russia and several in the Kremlin's inner circle.
Seagal praised Putin's policies. In a long interview at the time with the Kremlin-friendly newspaper Rossiyskaya Gazeta, Seagal said that Putin's "desire to protect the Russian-speaking people of Crimea, his assets, and the Russian Black Sea military base in Sevastopol is very reasonable."
The actor had previously called then-President Obama's policies in Ukraine "idiotic," Rossiyskaya Gazeta said.
Seagal later told the Kremlin-funded network RT that Putin was "one of the greatest world leaders, if not the greatest world leader, alive today." He is also known to be a fan of President Trump.
In 2017, Ukraine called Seagal a national security threat for his backing of Putin's policies toward the former Soviet neighbor and blacklisted the actor from the country.
Putin and Seagal's bromance sprung over their mutual love of martial arts, the actor has said. Both are black belts, Seagal in karate and Putin in judo. Seagal was a prominent guest at the 2015 Victory Day military parade on Red Square. He also attended Putin's swearing-in for a new term this May.
Both men revel in their strongman images: Seagal's on screen as a daredevil action hero and Putin's while posing shirtless in the Russian wilderness on hunting and fishing trips.
Seagal, who has said he loves America, told the Russian press in 2014 that he would like to receive Russian citizenship such as French movie star Gerard Depardieu did in 2013.
Putin granted Seagal that wish two years later in 2016, personally handing him a Russian passport, an act Putin said he hoped would be a "sign of gradual normalization of the relations between our countries," according to an official Kremlin transcript. Seagal is also a citizen of Serbia.
Autocrats seem especially drawn to his take-no-prisoners persona.
The actor has been chummy with the Kremlin-backed Chechen leader Ramzan Kadyrov, who also loves mixed martial arts. Shrugging off international condemnation of Kadyrov's human rights record, Seagal has visited the leader and even tried his moves in a traditional Chechen dance while in the restive North Caucasus republic.
Last year, human rights groups accused Kadyrov of supporting an intimidation and torture campaign against Chechnya's LGBTQ community. Kadyrov has denied the charges, saying there are no homosexuals in Chechnya.
Alexander Lukashenko, the president of Belarus whom former Secretary of State Condoleezza Rice in 2005 called "the last dictator in Europe," last year gave Seagal a guided tour of some of Belarus' state-owned cooperative farms.
Lukashenko has held power in the former Soviet republic since 1994, during which time he has been accused by Western leaders of quashing political opposition and freedom of speech and ignoring human rights.
During his visit to Belarus last summer, Seagal, dressed in a black, traditional Chinese tunic befitting the self-styled spiritual guru, appeared on state television graciously accepting and biting into a fresh carrot from Lukashenko. The two men later shared a traditional meal of borscht and salo, cured pig fat, all on camera.
California Rep. Dana Rohrabacher (R-Costa Mesa) once made a trip to Russia with Seagal. At the time, he credited the actor with using his Russian contacts to secure high-level meetings for a congressional delegation looking into the perpetrators of the Boston Marathon bombings.
"Because of his black belt in karate and things, he's gotten to know a number of important people in Russia, including Putin, and he was able to use that influence to make sure we got to talk to the very top people," Rohrabacher told CNN in 2013. "Sometimes actors, other than just going out and doing acting, can actually do good things."
Twitter: @sabraayres
Ayres is a special correspondent.
---
Must-read stories from the L.A. Times
Get the day's top news with our Today's Headlines newsletter, sent every weekday morning.
You may occasionally receive promotional content from the Los Angeles Times.