The Russia sanctions bill, explained: 'Putin is kind of giving up hope'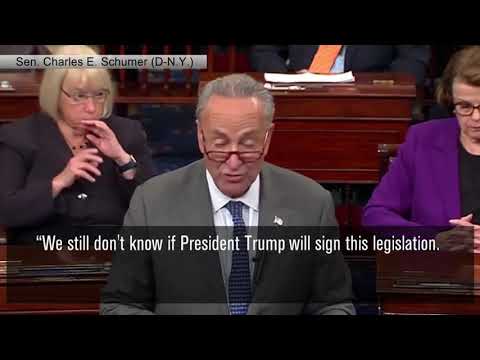 The Kremlin ordered the U.S. to reduce the number of American diplomats in Russia to 455 by Sept. 1.
U.S. relations with Russia were at an all-time low during the last few months of President Obama's administration. The Trump administration signaled that it hoped for better relations with the Kremlin.
But tensions have only gotten worse.
Congress overwhelmingly approved a bill last week to impose new sanctions against Russia, which the White House has said the president will sign. In response, Russian President Vladimir Putin announced Sunday that the U.S. diplomatic mission in Russia would have to dramatically cut its staff.
Here is a look at the new sanctions bill and what Russia's response means for relations between the two powers.
What will the bill do?
The bill adds new sanctions on Russia's defense and intelligence sectors aimed at making it more difficult for the country to export weapons, experts said.
It also targets Russia's energy sector by giving the U.S. the ability to sanction companies involved in developing Russia's energy export pipelines. The move drew heavy criticism from European investors involved in the construction of a natural gas pipeline between Russia and Germany that is known as Nord Stream 2.
The bill also limits the president's ability to scale back any sanctions by enshrining into law sanctions that Obama placed on Russia in December for what U.S. intelligence agencies say was meddling in the 2016 presidential election.
If President Trump wanted to lift sanctions, he would first have to get approval from Congress. Experts said this "congressional review process" is born of worries that Trump would try to act unilaterally.
"The motivation for this part is to constrain Trump and to make sure he isn't able to strike some grand bargain with Putin," said Daniel Treisman, a political science professor at UCLA. "It is highly unusual to give the president no leeway to remove sanctions. But he still has considerable freedom to determine how to enforce sanctions."
The bill also includes sanctions against Iran and North Korea targeting their respective efforts to develop missiles. In fact, the bill was originally created to apply pressure on these two countries. Russia was added only later.
How did Putin respond?
Russia started expressing concern about this bill in June when a group of bipartisan senators agreed to add Russia. Putin announced the retaliatory measures Sunday after it became clear that Trump would have little choice politically but to sign the bill.
Putin announced that the U.S. would have to reduce its embassy and consulate staff by 755 employees, bringing the total down to 455, the same number of diplomatic staff that Russia has in the U.S. The cuts are to take effect Sept. 1.
The Russian Foreign Ministry also said it seized two American diplomatic properties: one on the outskirts of Moscow and the other a warehouse facility in the city.
Experts said that Russia's tit for tat suggests that the Kremlin understands that Trump will not undo the penalties that Obama imposed on Russia for election interference, including the removal of 35 suspected Russian intelligence operatives from the U.S. and sanctions on Russia's two leading intelligence services.
"Putin is kind of giving up hope," said Robert Kahn, a senior fellow at the Washington-based Council on Foreign Relations. "It shows his unhappiness and that he's giving up on progress with the administration."
The U.S. government has not said how many of the 755 employees are critical to maintaining the U.S. mission in Russia. The U.S. diplomatic staff in Russia includes U.S. citizens as well as locally hired Russians who hold a variety of jobs, including drivers, translators, information technology specialists and secretaries.
Analysts said that the majority of the cuts are likely to be Russian employees of the U.S. Embassy in Moscow and consulates in the Russian cities of St. Petersburg, Vladivostok and Yekaterinburg.
Although Russia's announcement is an aggressive response to the new sanctions, analysts said it could have gone further and could easily be reversed. The cuts are also likely to hurt Russians.
"Russians are going to experience longer delays in getting visas to come to the U.S.," Treisman said. "And hundreds of Russians are likely to lose jobs" at the embassies and consulates.
What does Putin's response mean for U.S.-Russia relations?
Putin hoped that the Trump administration would usher in an era of friendlier U.S and Russia relations. The month before Trump took office, then-national security advisor Michael Flynn had discussed the sanctions issue with Sergey Kislyak, Russia's then-ambassador to Washington.
After Putin's latest announcement, many people have drawn comparisons to the Cold War era, when in the 1980s the U.S. and Russia ordered cuts in diplomatic staff and expulsions.
But analysts said the situations are different because the number of cuts is far lower that those made during the Cold War.
With Russia's presidential election scheduled for March 2018, analysts said Putin was hoping to run on a platform of bettering the economy and reintegrating Russia into the world. This new sanctions bill, however, will make that more difficult.
Still, the Russian president may find new opportunities in the growing tensions with the United States. "Putin will exploit this confrontation going forward," Treisman said.
Sign up for Essential California for news, features and recommendations from the L.A. Times and beyond in your inbox six days a week.
You may occasionally receive promotional content from the Los Angeles Times.