Surveillance image purports to show Saudi vehicle scouting wooded area before Khashoggi killing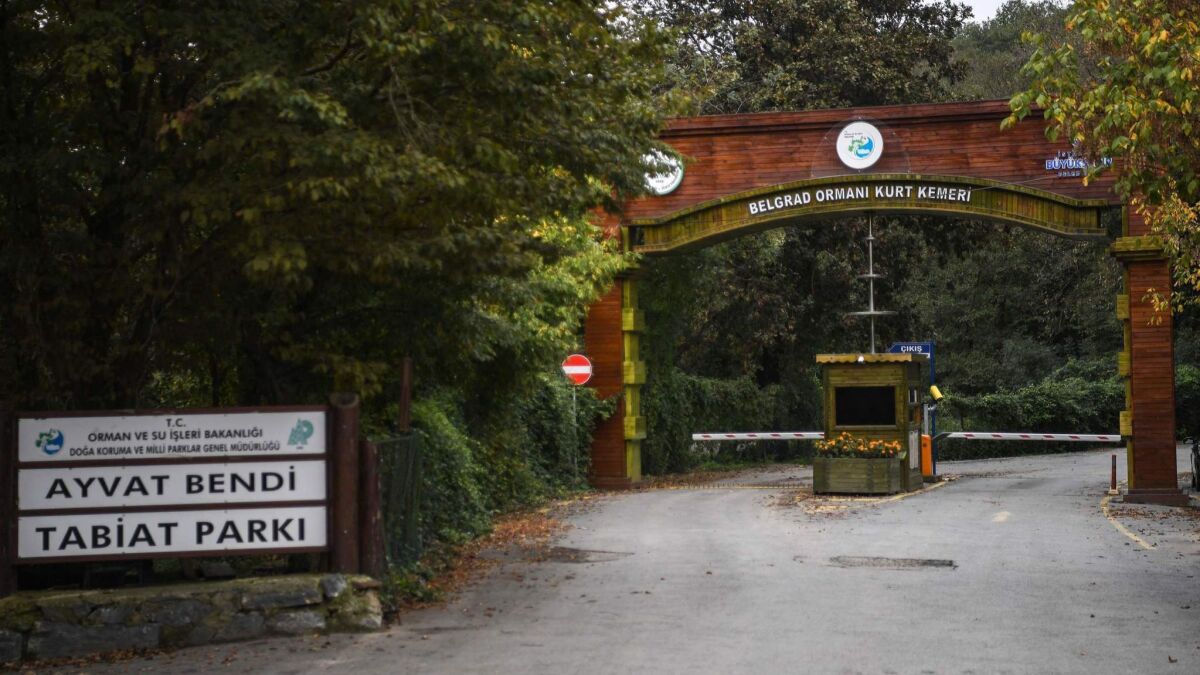 The Washington Post
Reporting from Istanbul —
A surveillance-camera image made public Wednesday purports to show a Saudi consular vehicle at Istanbul's Belgrad Forest the night before Washington Post columnist Jamal Khashoggi was killed, evidence Turkish authorities have said points to his premeditated murder.
Turkish authorities, including the president, said this week that Saudi agents had scouted the forest before Khashoggi's death inside Saudi Arabia's Istanbul consulate on Oct. 2.
The image shown by Turkish media outlets — timestamped from a closed circuit television camera — showed a gray Mercedes-Benz with green diplomatic plates entering the forest gates at 6:28 p.m. on Oct. 1.
A Turkish official previously confirmed that investigators had broadened their search for Khashoggi's body to wooded areas around the city.
Turkey's state-run news agency also reported Wednesday that Saudi officials had prevented Turkish police from searching a water well in the consulate garden in Istanbul's Levent district.
According to private broadcaster NTV, a fire brigade had been called to inspect for methane gas, which can be flammable, in the well before the police search. Saudi authorities did not allow the firefighters to enter, NTV reported, but the issue was later resolved. It was unclear whether the search went ahead.
Both Saudi and Turkish officials say Khashoggi, a writer and critic of the Saudi leadership, died inside the consulate on Oct. 2, when he had entered to obtain paperwork for his upcoming marriage.
Turkey says that Khashoggi's death was the result of a murder plot implicating high-level Saudi officials and has released key details of the probe to the media.
Saudi Arabia acknowledged Khashoggi's death inside the consulate but says he was accidentally killed in a physical altercation with a team sent to negotiate his return to the kingdom. Khashoggi was living in exile in the United States and had planned to move to Istanbul and marry his Turkish fiancee.
Speaking to Parliament on Wednesday, British Prime Minister Theresa May said the Saudi claim that Khashoggi died in a fight "does not amount to a credible explanation" and that there remains an "urgent need" to establish what happened.
She said the United Kingdom would be taking action against "all suspects" to prevent them from entering Britain, following the U.S. decision to revoke the visas of the Saudi suspects Tuesday.
"If these individuals currently have visas, those visas will be revoked today," May said, adding that she will be speaking to Saudi Arabia's King Salman later Wednesday.
"We are determined not to allow a coverup of this murder and to make sure all those responsible — from those who ordered it to those who carried it out — will not be allowed to avoid justice," Turkey's president, Recep Tayyip Erdogan, said Wednesday at a speech in Ankara, news agencies reported.
---
Must-read stories from the L.A. Times
Get the day's top news with our Today's Headlines newsletter, sent every weekday morning.
You may occasionally receive promotional content from the Los Angeles Times.