Singapore preps for Trump-Kim summit with fresh paint and arrests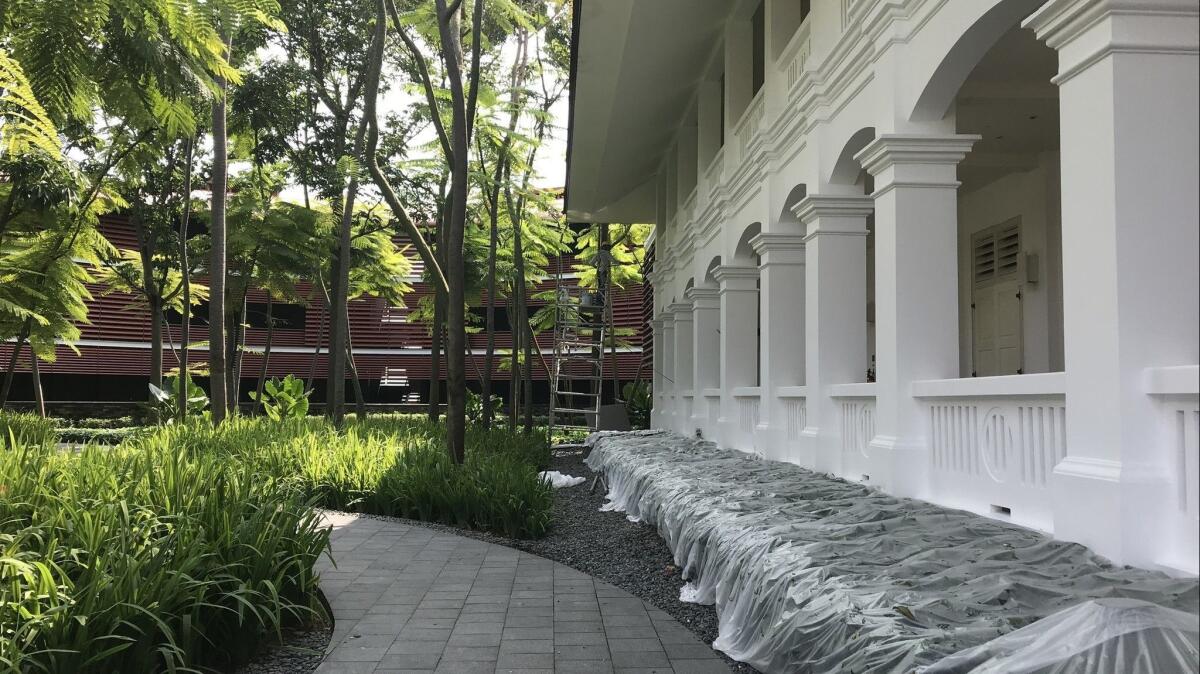 Reporting from Singapore —
Throw on a fresh coat of paint and refresh the tile grout. Install security cameras, start closing streets and putting up security checkpoints. And by all means, keep hordes of pesky reporters away.
As Singapore gears up to host a historic nuclear summit between an unpredictable U.S. president and a little-seen North Korean dictator, an aggressive international press corps is searching for snippets of information in a cat-and-mouse game with local authorities notoriously determined to keep order.

For the record:
11:15 a.m. June 13, 2018Singapore summit: An article that ran in the June 10 Section A about Singapore's preparation for the Trump-Kim summit suggested that Sentosa Island's historic nickname of "Island Behind Death" dated to the Japanese occupation during World War II. The nickname was in use before that period.
Unlike traditional summits, the White House has put out almost no details — and North Korea none at all — about the planned pageantry and preparations for Tuesday's talks. Will the leaders walk in together? Talk to the press afterward, a first for Kim? Walk on the beach together, as Kim recently did with China's president? No one is saying.
About all that's known is they'll meet at the luxury Capella Singapore hotel on Sentosa Island, which is linked to Singapore by a causeway and a cable car, and thus is easy to secure. Trump will arrive Sunday. Kim's travel plans are unknown except that his plane, an aging Russian aircraft, has been dubbed Air Force Un.
Sentosa, which has beaches and a casino, markets itself as the State of Fun — an upgrade from its previous nickname, Island Behind Death, from when the Japanese used it as a prisoner of war camp in World War II.
In the absence of hard information, the hundreds of reporters who have already descended on Singapore — the Straits Times, Singapore's leading paper, claims 3,000 are coming — have resorted to paparazzi-style tactics to track the American and North Korean diplomats who are trying to sort out the logistics and agenda.
Reporters and TV crews, predominantly from South Korea and Japan, have staked out Singapore's Changi Airport and hotel driveways, at times getting drenched in torrential rain or stewing in the tropical heat.
One reporter for a Japanese TV network put on a dress and a pair of heels and held hands with her colleague from the Beijing bureau to arrive incognito at the restaurant at the opulent Capella resort, which overlooks the South China Sea.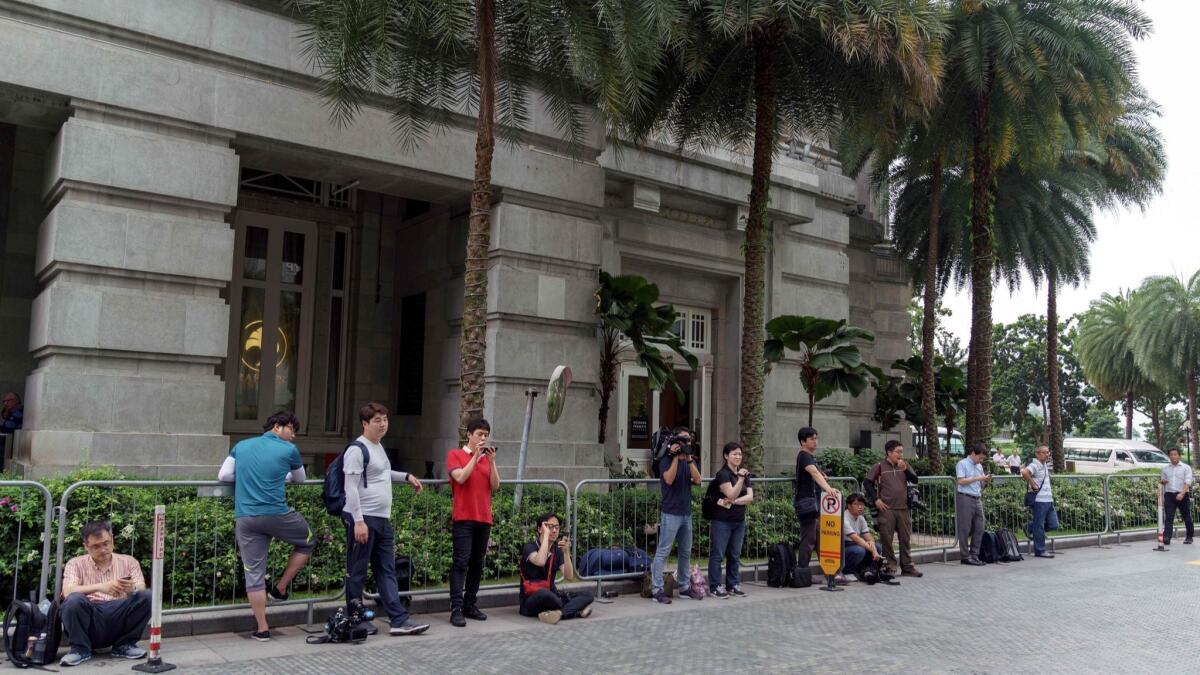 It paid off. The reporters ran into Kim Chang Son, Kim Jong Un's chief aide, on their way in. They got shaky footage of the North Koreans and their U.S. counterparts taking a tour of the property. The hotel wised up to the scheme when another reporter arrived for his own restaurant reservation and staff searched his bag, saw his laptop and camera, and turned his crew away.
The zealous media coverage came to a head Thursday when two broadcast journalists from South Korea were arrested by local police for allegedly trespassing at the North Korean ambassador's residence. Two other men, including an interpreter for the group, were under investigation, according to police. Singapore police said the men face up to three months' imprisonment if convicted.
Singapore, a city state about half the size of Los Angeles and about 1.5 times its population, is no stranger to hosting high-profile meetings. In 2015, it hosted the first summit between the leaders of China and Taiwan in nearly seven decades.
Last week, it was the site of the annual Shangri-La Dialogue, a meeting of defense ministers and military chiefs from 28 nations in the Asia-Pacific region. The gathering is named for the five-star Singapore hotel where it takes place, not the fictional enchanted valley, and Trump is expected to stay there while he's in town.
The island nation does not take security lightly. When an intoxicated man drove through a security barrier during the Shangri-La Dialogue in 2016, he was swiftly shot and killed by an officer of the Gurkha Contingent, a specialized counterterrorist police force.
Singapore is also a rare government with friendly ties to both the U.S. and North Korea. Singapore has diplomatic ties with the pariah nation, which has an embassy in a downtown high-rise. Until recent sanctions kicked in, Singapore allowed North Koreans in on work visas, a key source of income for the cash-strapped government in Pyongyang.
"They admire the Singaporean system. It looks like an autocratic democratic system," said Hoo Chiew-Ping, a senior lecturer in strategic studies and international relations at the National University of Malaysia. She said Singapore's restrictive laws on public gatherings and demonstrations would make it a comfortable venue for the North Koreans.
Protests are rare here, and none of the angry crowds that sometimes greet Trump or visiting foreign leaders in New York and Washington are expected for the summit. Public gatherings without a police permit are illegal in Singapore.
[The North Koreans] admire the Singaporean system. It looks like an autocratic democratic system.
— Hoo Chiew-Ping, senior lecturer, National University of Malaysia
While it's Kim's first known visit to Singapore, his family has a long history with the Southeast Asian nation.
When Singapore's longtime autocratic prime minister Lee Kuan Yew died in 2015, North Korea's government-run press expressed its condolences and called Lee a "close friend" of the Korean people.
Kim's oldest brother, Kim Jong Nam, reportedly lived in Singapore for a period of time and another brother, Kim Jong Chul, was spotted attending an Eric Clapton concert here.
In advance of Tuesday's summit, the government of Singapore has issued public orders designating two areas — the island where the summit is being held, and streets around the hotels where Trump and Kim are expected to stay — as special event areas.
Anyone entering will be subject to strict searches. No large flags, banners or bullhorns will be permitted.
At the Capella Singapore hotel this week, police cars streamed in and out of the property as workers spruced up the grounds and applied a fresh coat of white paint to the exterior. Staff turned away taxi after taxi at the resort's entrance, saying the property was reserved for a private event.
Camera crews parked on the sidewalk across the driveway, within earshot of the nearby Universal Studios theme park, where visitors could be heard screaming on roller coasters. A reporter who walked up the driveway on foot was swiftly whisked onto a golf cart and driven back down the hill.
"In terms of Trump's taste for a resort-like environment, Capella suits his taste I would say. A luxury hotel resort located on an island," said Calvin Chua, an architect and urban planner who is also an associate at Choson Exchange, a Singapore-based volunteer program offering training and mentors for potential entrepreneurs in North Korea.
Chua said the seaside venue may also have been appealing to Kim, who has expressed interest in building a coastal resort town on the eastern coast of his country, in Wonsan.
He said the North Koreans he had met here and in Pyongyang expressed keen interest in Singapore's development into a global financial and trade center.
"They are very interested in foreign investment, especially in economic zones, joint ventures and direct investment," he said. "When they came to Singapore, they were very interested in how to structure a land lease, taxation for foreigners, how to give them concessions, what kind of land ownership to give, how to safeguard their assets."
One Singaporean who will be watching the summit closely is Airul Qaiz, an official delegate with the Korean Friendship Assn. in Singapore. It's an overseas fan club of sorts for the North Korean regime, where a few dozen people gather to read the writings of the Kim dynasty and to arrange visits to Pyongyang.
Qaiz, a 26-year-old business management student, said he was looking forward to a day when he would be able to do business in North Korea, which he has visited three times.
"We're excited that [Kim] chose Singapore," he said. "A peace agreement is possible with [his] wise leadership."
The latest sighting of Kim Chang Son, nicknamed the "butler" of the Kim dynasty by the South Korean media in the past, came just after midnight Thursday at the upscale St. Regis, fueling speculation that Kim Jong Un would be staying in the hotel's opulent presidential suite.
The hotel's concierge declined to answer questions about any prominent guests staying there in the near future. On Thursday and Friday, dozens of plainclothes security agents with earpieces and walkie-talkies milled about the lobby.
They were outnumbered by the reporters similarly milling about.
For more California news, follow me on Twitter @vicjkim
Sign up for Essential California for the L.A. Times biggest news, features and recommendations in your inbox six days a week.
You may occasionally receive promotional content from the Los Angeles Times.