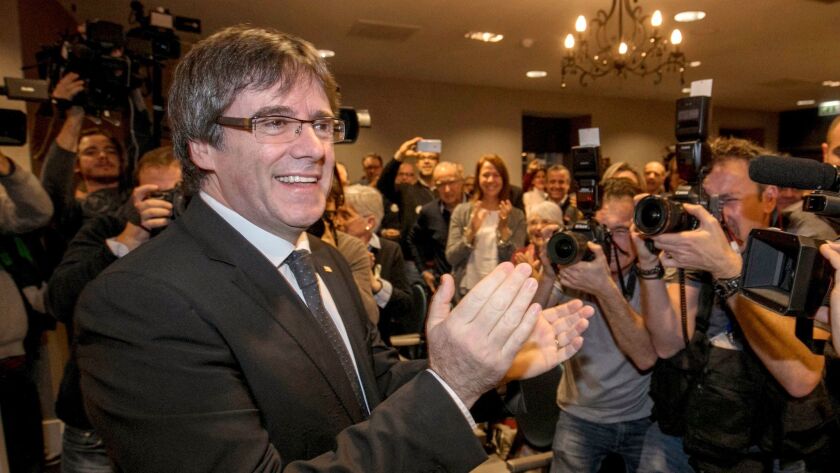 Reporting from MADRID —
A Spanish judge on Tuesday withdrew international arrest warrants for ousted Catalan leader Carles Puigdemont and four members of his former cabinet who have been fighting extradition from Belgium.
A Supreme Court spokesman said that the five could still be arrested if they go back to Spain, however, because they are still being sought for possible crimes related to the independence bid in the northeastern region of Catalonia.
In a surprise move, Supreme Court magistrate Pablo Llarena said on Tuesday that individual warrants don't apply anymore because the alleged crimes were a group action, according to new evidence.
He also said that the targeted politicians have shown their "intention to return to Spain" in order to run for regional elections in Catalonia.
But Puigdemont's Belgian lawyer said that the Catalan separatist leader wasn't planning to return to Spain immediately. "For the moment he stays in Belgium," lawyer Paul Bekaert told VTM network, adding that he assumed the extradition process in Belgium against the five Catalans would be ended now.
The five fugitives are facing charges of rebellion, sedition and embezzlement among others for their roles in staging an illegal independence referendum in October that led to an independence declaration in the region's parliament.
The crimes are punishable in Spain with decades in prison.
Spanish, European and international arrest warrants for the five who fled to Belgium were issued on Nov. 3, after members of Puigdemont's government who remained in Spain were jailed on provisional charges.
The Spanish court spokesman said that the judge's decision applies to both European and international warrants, not to the domestic ones. He asked not to be named, citing internal court rules.
Two ex-Cabinet members, including former Vice President Oriol Junqueras, and two separatist activists remain in custody.
Tuesday's decision seemed to leave up in the air the battle in Brussels over extradition of the five Catalan separatist politicians. A decision was to have been announced Dec. 14, but the Belgian prosecutor's office said it was assessing the new situation.
The Belgian judge could reject the Spanish request, agree to send the five back as requested, or reduce the number of crimes that Spain could try them for.
That possibility was mentioned by the Supreme Court judge in a nine-page document issued on Tuesday to withdraw the warrants. Responsibility should be shared among all the defendants, Llarena said in the document, adding that diminished charges would mean a "distortion" for those already facing investigation in Spain.
Puigdemont is leading his party's campaign for the Dec. 21 election called by Spain's government in an attempt to find a democratic fix to the nation's worst institutional crisis in nearly four decades.
Campaigning officially began Tuesday and early polls are predicting a close race between the parties for and against independence, foreshadowing a scenario of difficult post-electoral deals to end the deadlock.
---