Syria says it repelled an enemy attack — but won't name the enemy. Fingers point at Israel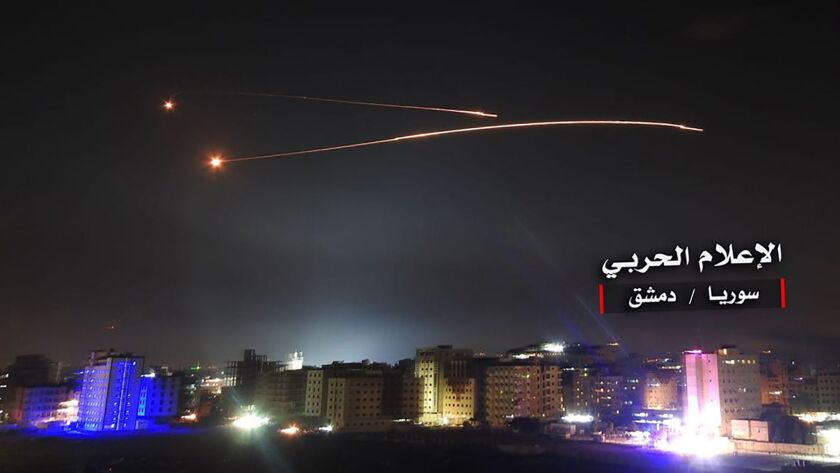 Reporting from Jerusalem —
Syrian state media said the country's air defense systems had deterred a major bombardment of military bases in the south of the country late Thursday, and suspicion immediately fell on Israel, which has attacked military targets there before.
Citing military sources, Syrian television said its air force had "successfully repelled enemy targets," but did not specifically identify the enemy or the targets. The Saudi-owned TV network Al Arabiya reported that Israeli planes had attacked positions held by Iranian militias near the town of Kiswah, south of the capital, Damascus.
The Israeli army did not claim responsibility for the bombardment and declined to comment on the report. It did say that a missile was launched from Syria toward the Israeli-held Golan Heights, but that it did not know if the missile had landed in Israel.
A reporter with state-run Syrian Arab News Agency said that air defense systems had been able to stop all incoming missiles and that none had reached their targets. An earlier report said Syrian air defenses had shot down unspecified targets over Kiswah.
Images posted online by individual Syrians showed a heavy bombardment and the contrails of antiaircraft missiles against the night sky.
The Israeli army said reports that its aircraft had been hit were false.
Syrian opposition forces reported that the bombing was taking place close to an area where the Iranian-backed Lebanese militia Hezbollah has a growing military presence that has deeply concerned Israel, which shares tense borders with Lebanon and Syria.
Iran and Russia are the principal allies of Syrian President Bashar Assad, whose government has been fighting a civil war for nearly eight years.
Iran sponsors and trains several militias that support Syria's military effort and Israel fears Tehran is using the cover of war as a pretext to establish permanent military bases at short distances from Israel's border.
Hezbollah, a regional powerhouse, has won significant victories over insurgent groups that held the border area, expelling them and allowing Iran to expand its positions in southern Syria into established military bases.
The latest outbreak occurred hours after flight tracking services indicated that an Iranian cargo jet had landed in the Lebanese capital, Beirut.
It is the first known Israeli military engagement in Syria since the downing of a Russian intelligence-gathering jet on Sept. 16, when Syria's aerial defense system mistakenly targeted the plane after an attack by the Israeli air force near the Syrian city of Latakia.
In a radio interview earlier Thursday, reserve Maj. Gen. Amos Yadlin, a former head of military intelligence, said that Israeli airstrikes in Syria, a regular if infrequent occurrence since the start of the Syrian civil war, "have been reduced almost to zero" since the Russian plane was downed.
Yadlin, the head of the Institute for National Security Studies in Tel Aviv, said he believed Russian anger over the jet's loss had been directed not only at Israeli Prime Minister Benjamin Netanyahu, whom Russian President Vladimir Putin has refused to meet since, but also at Iran, which was disrupting Russia's attempts to stabilize Syria "by developing precision missile-building facilities."
One result, he said, was that Iran was "changing tactics" and was transferring some weapons-building capabilities from Syria to Iraq and Lebanon.
Tarnopolsky is a special correspondent. Times staff writer Nabih Bulos in Beirut contributed to this report.
---
The Latinx experience chronicled
Get the Latinx Files newsletter for stories that capture the multitudes within our communities.
You may occasionally receive promotional content from the Los Angeles Times.