Syrian government insists it does not use chemical weapons; US vows serious response to attack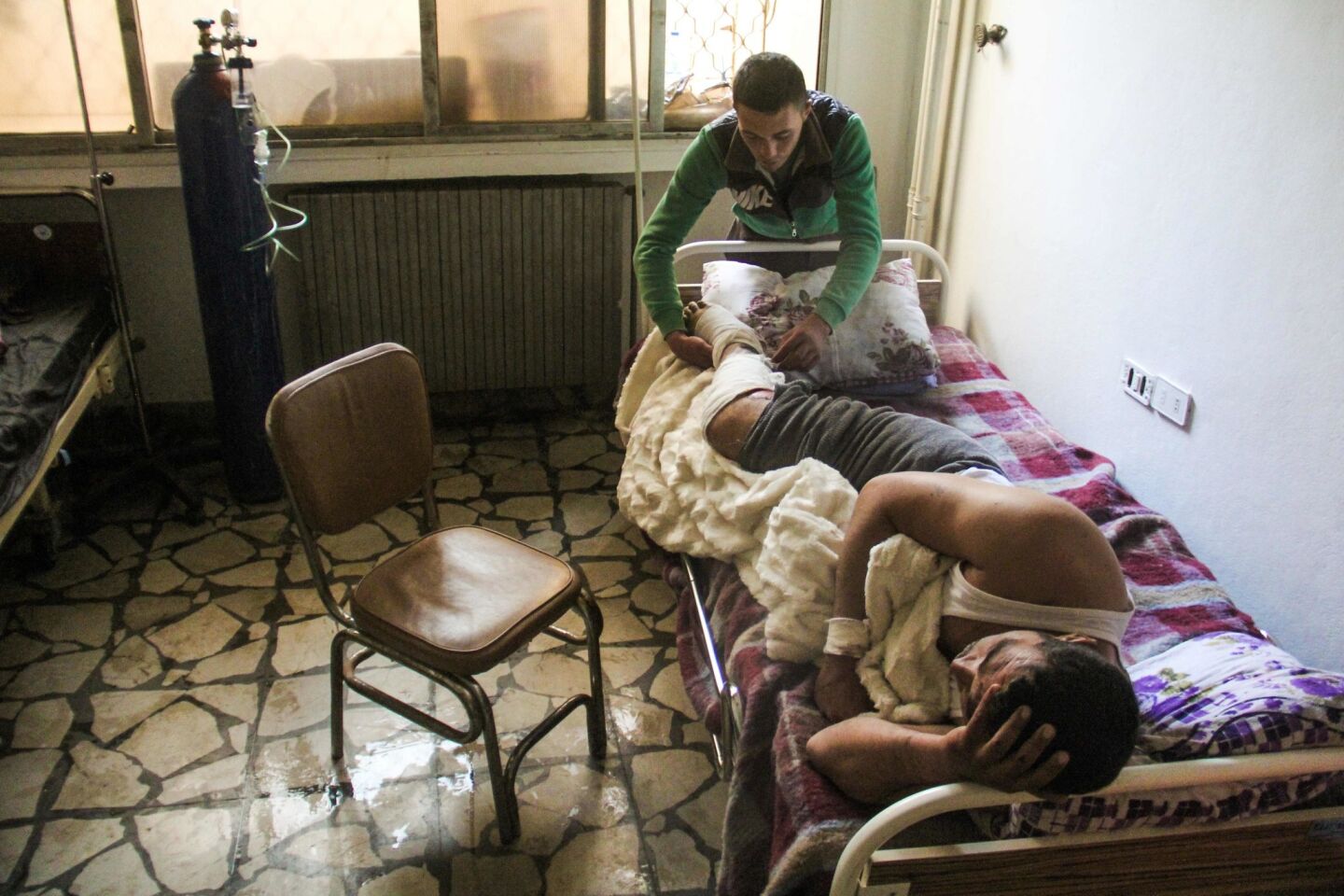 Hassan Youssef, a victim of the April 4, 2017, attack in Khan Sheikhun is treated at a hospital in the nearby city of Idlib.
(Omar Haj Kadour / AFP/Getty Images)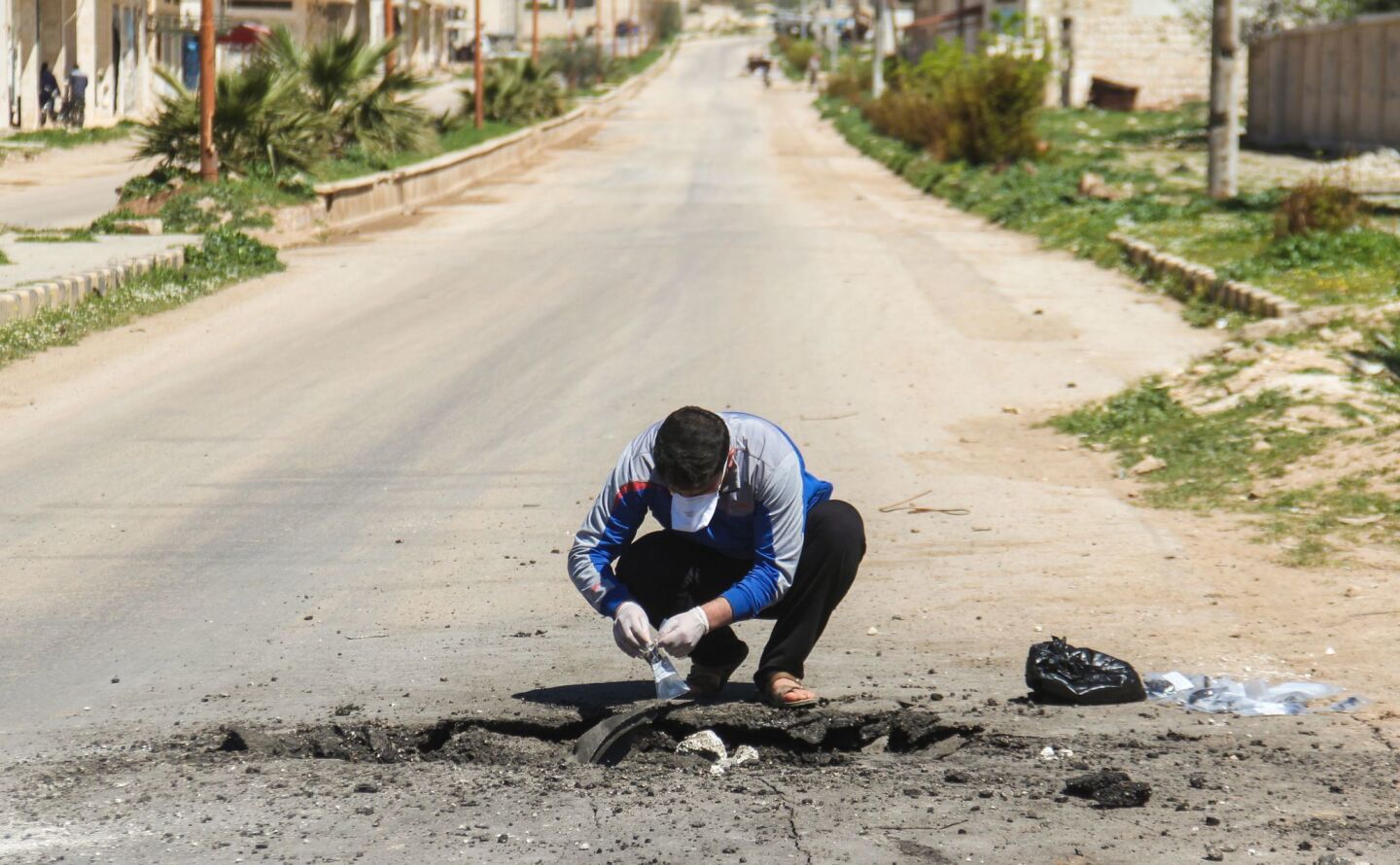 A Syrian man collects samples of possible remnants of toxic chemicals from the site of the attack in Khan Sheikhun.
(Omar Haj Kadour / AFP/Getty Images)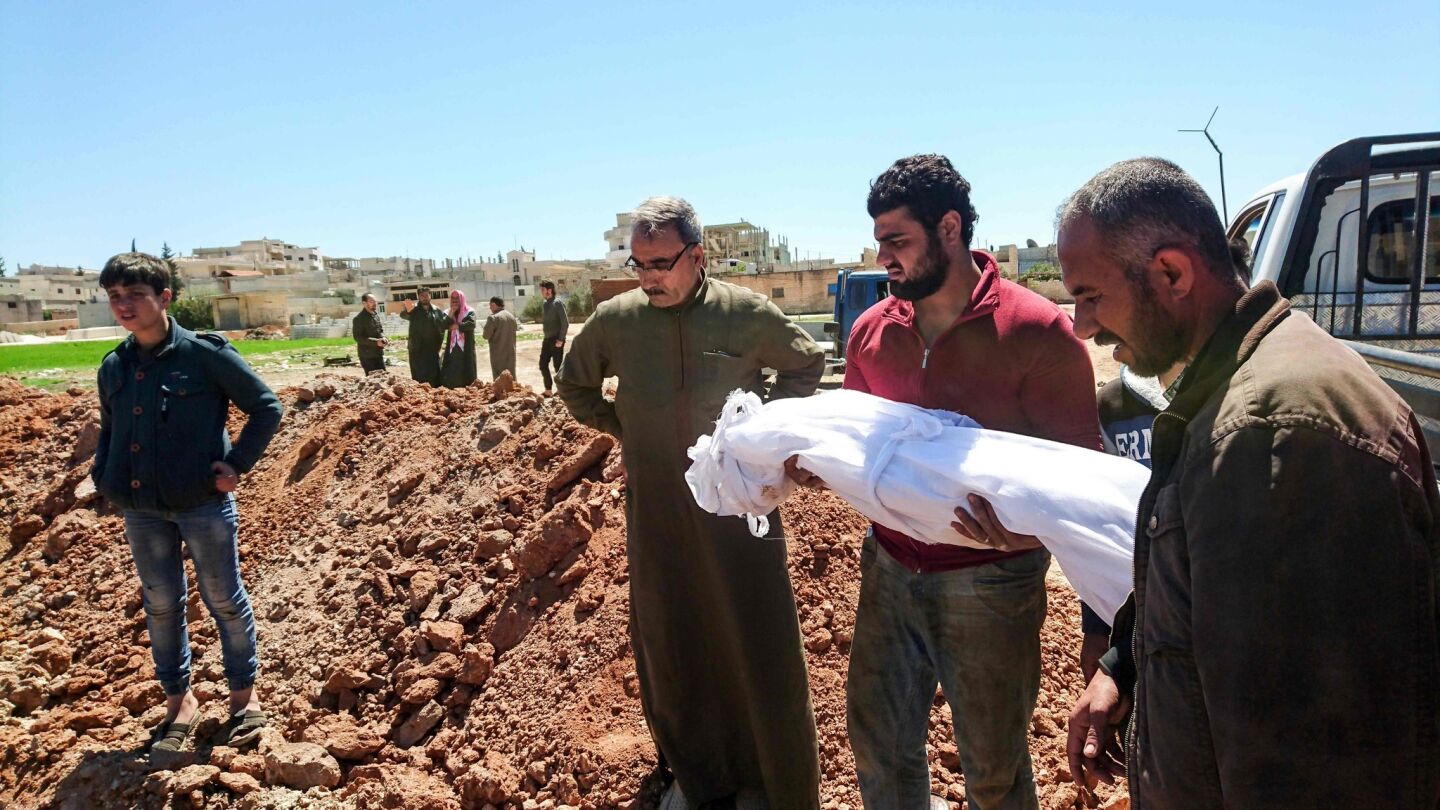 Syrians bury victims of a suspected toxic gas attack in Khan Sheikhun.
(Fadi al-Halabi / AFP/Getty Images)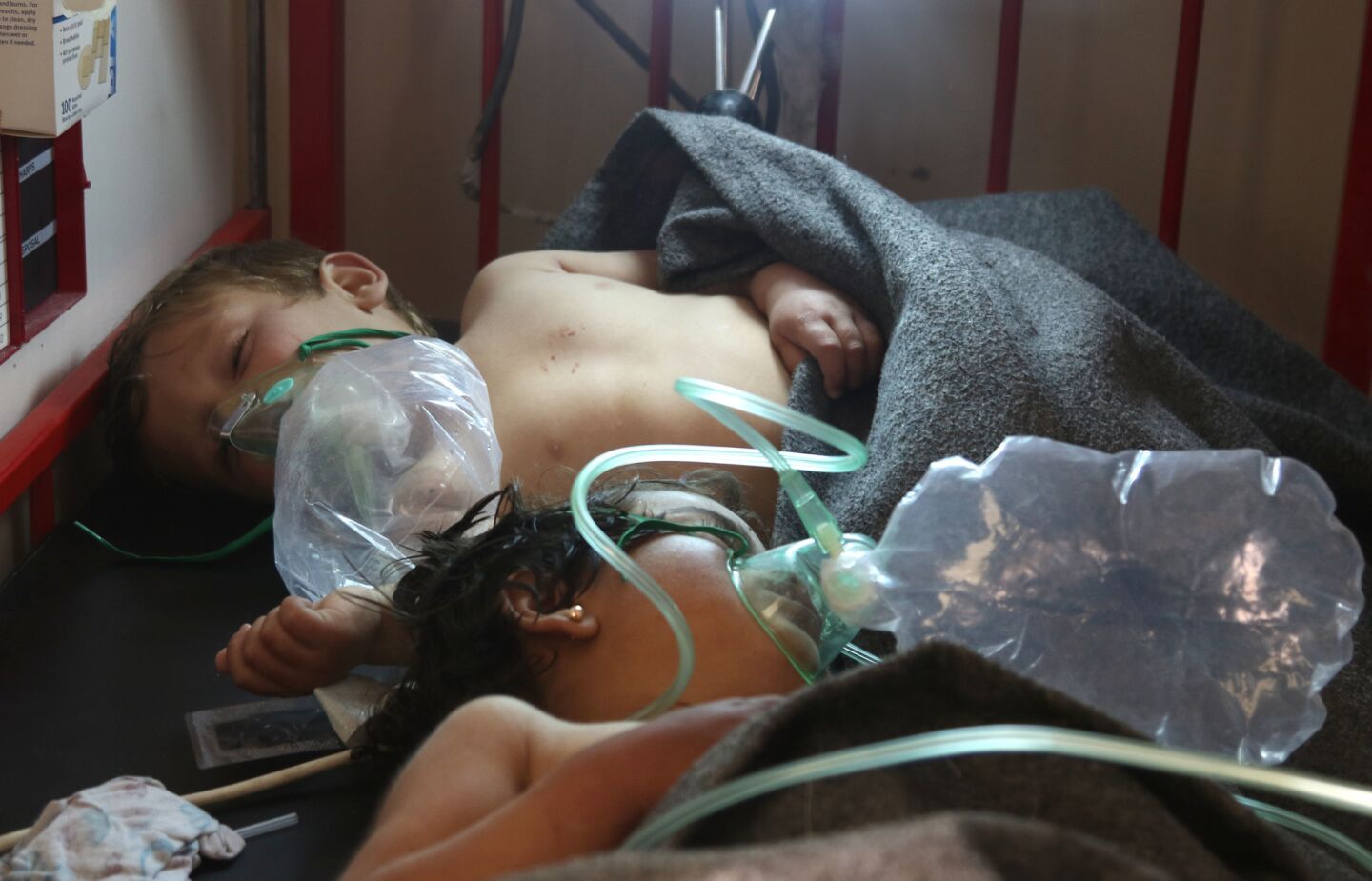 Masks help children injured in the attack breathe at a hospital in Maaret al-Noman.
(Mohamed al-Bakour / AFP/Getty Images)
An unconscious Syrian child is carried in a hospital in the rebel-held town of Khan Sheikhoun following a suspected toxic gas attack on Tuesday.
(Omar Haj Kadour / AFP/Getty Images)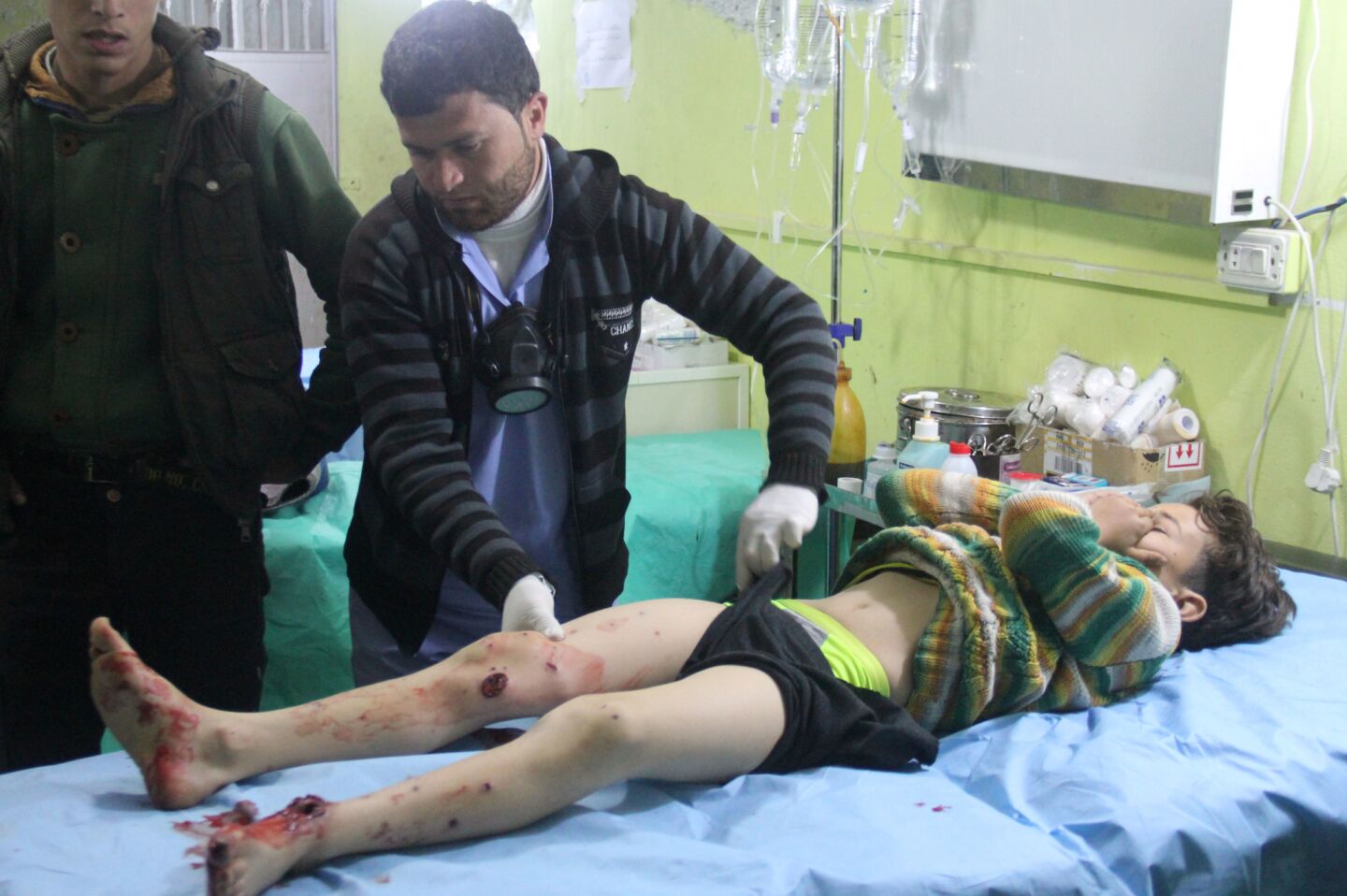 A Syrian child receives treatment at a hospital in Khan Sheikhun.
(Omar Haj Kadour / AFP/Getty Images)
Reporting from BEIRUT —
Syrian Foreign Minister Walid Moallem on Thursday insisted the nation's armed forces do not use chemical weapons, despite international suspicion that Syria was behind such an attack this week that killed dozens of people in northwestern Idlib province.
Moallem, in a televised news conference from Damascus, the capital, reiterated the government's position, categorically denying it used chemical weapons.
"We condemn such a criminal act," he said, emphasizing "that it is not reasonable that the Syrian army could use chemical weapons now at the time when it has been achieving victories on various fronts."
The U.S. and other nations accused the government of Syrian President Bashar Assad of carrying out the attack Tuesday, which appeared to involve the use of sarin, a nerve gas, in an area controlled by rebels.
In addition to killing more than 70 people, the attack on the town of Khan Sheikhoun injured hundreds.
Secretary of State Rex Tillerson on Thursday vowed a serious response by the U.S.
"There is no doubt in our minds that Syria and the regime under Bashar Assad were responsible for this attack," Tillerson said. "It's a serious matter; it requires a serious response."
The Trump administration is weighing options including a military attack that could involve limited airstrikes.
Trump suggested to reporters aboard Air Force One that Assad might not be able to remain in power.
"What Assad did is terrible. What happened in Syria is truly one of the egregious crimes and it shouldn't have happened. And it shouldn't be allowed to happen," the president said.
Trump declined to indicate what what steps he might take: "I don't want to say what I'm going to be doing with respect to Syria."
Tillerson, making rare public comments after receiving Chinese President Xi Jinping for a two-day summit in Florida, also held Russia at least partly to blame for the gas attack and, reversing a position from last week, said there was "no role" for Assad to continue to govern the people of Syria.
"It is important that [the Russians] consider carefully their continued support for the [Assad] regime," Tillerson said.
Dmitry Peskov, spokesman for Russian President Vladimir Putin, said the nation's support for Assad is not unconditional and that Russia expects an investigation of the attack, the Associated Press reported.
Turkish officials Thursday said that autopsies of three victims showed they were killed by toxic chemicals.
Opposition activists in Khan Sheikhoun reported an airstrike early Tuesday morning. In its aftermath, rescue workers and activists said, victims exhibited symptoms of a poison gas attack.
The Syrian government has denied it carried out any chemical attack on the town. (Sign up for our free video newsletter here http://bit.ly/2n6VKPR)
Moallem said a government strike Tuesday had targeted a weapons depot belonging to the Al Qaeda-affiliated Nusra Front (now known as the Organization for the Liberation of Syria); it was a reversal of an earlier denial from the Syrian government, which said its warplanes had not been in the vicinity.
A Syrian warplane conducted the strike at 11:30 a.m. local time, Moallem said, while the reports of a chemical attack had come hours earlier.
He added that if the explosions reported in the morning had been an airstrike, they would have left behind a crater almost a mile long. Pictures uploaded by activists of the site of the attack depict craters of the type more usually caused by mortar rounds.
U.S. radar spotted Syrian aircraft in the area around Khan Sheikhoun about 7 a.m. local time Tuesday, according to U.S. officials who requested anonymity because they weren't authorized to speak on the intelligence.
Khaled Ibrahim, a pro-opposition activist, said in an interview that the town had no military targets or storage depots for any rebel group.
Asked whether the government would allow an international investigation into the chemical weapons allegations, Moallem said Syria's past experience in similar fact-finding missions "were not encouraging."
However, Damascus would demand that such a committee be "neutral" and "not politicized." It would also have to begin its operations from Damascus and not from Turkish territories, Moallem said.
Meanwhile, Turkey's Justice Minister Bekir Bozdag announced autopsy results from three victims that had been brought from Idlib to the southern Turkish province of Adana, according to the state-run Anadol News agency.
"These scientific tests reveal that Assad used chemical weapons," Bozdag said.
Turkey's health ministry said in a statement that sarin had been found in the victims, the Daily Sabah reported.
Tillerson heads to Moscow next week on his first official trip there. Although the trip had already been planned, it will focus in part on Russia's continued support for Assad, officials said.
Tillerson called Russian Foreign Minister Sergei Lavrov on Wednesday to hear Russia's version of the Syria attack, a senior State Department official said. No further details were available, but Moscow has parroted Assad's claims that it used no chemical weapons and that it was a rebel storage facility that likely contained the gas that was released in an airstrike.
Last week, both Tillerson and the U.S. ambassador to the United Nations, Nikki Haley, said the U.S. had abandoned its demand that Assad be removed from power and that the only priority in the Middle East was the defeat of Islamic State, which is concentrated in Syria and Iraq.
Special correspondent Bulos reported from Beirut and Times staff writer Wilkinson from Washington. Times staff writer W.J. Hennigan in Washington contributed to this report.
ALSO
Russian police arrest 3 suspected of links to subway bombing
Nearly 300 died in Mosul airstrike, making it one of the deadliest attacks on civilians in recent memory
She met 'El Chapo'. Now, Kate del Castillo is afraid to return to Mexico
---
UPDATES:
1:35 p.m.: This article was updated with comments by President Trump and Secretary of State Rex Tillerson.
10:30 a.m.: This article was updated with a comment from a Russian spokesman.
10:20 a.m.: This article was updated throughout with Times reporting.
This article was originally published at 3:35 a.m.
---
Must-read stories from the L.A. Times
Get the day's top news with our Today's Headlines newsletter, sent every weekday morning.
You may occasionally receive promotional content from the Los Angeles Times.