Thai boys practicing with diving masks, but it's still too early to attempt evacuation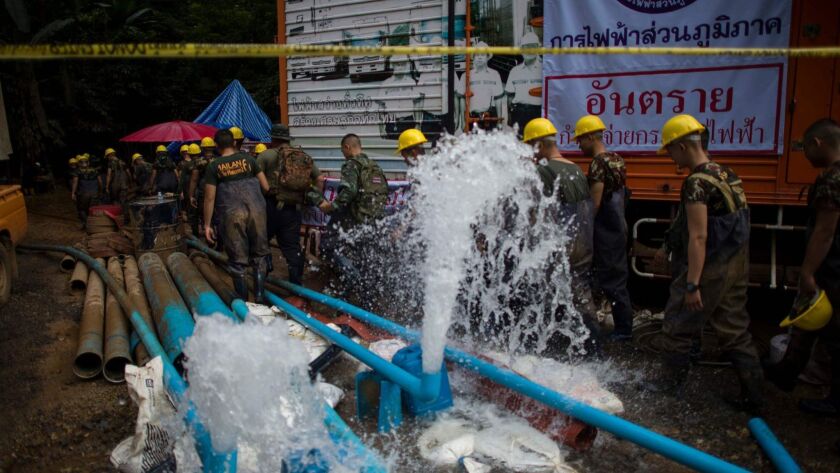 Reporting from MAE SAI, Thailand —
Some smiling, some dozing in foil blankets, the 12 boys trapped in a cave in northern Thailand were captured on new videos released Wednesday as navy medics tended to their wounds and divers continued to prepare them for a possible swim to safety.
The boys and their 25-year-old soccer coach were in good health, but officials said it was still too soon to attempt to extract them from more than one mile inside the cave.
The boys were practicing wearing scuba masks and breathing, the first step in what could be an extremely challenging underwater swim — accompanied by naval divers — through the dark, narrow and partially flooded passageways of the cave complex in Thailand's Chiang Rai province.
None of the boys has experience with diving equipment, and only some are believed to know how to swim. But Thai media reported that a rope was being installed along the route to guide the evacuation.
Warm in blankets, Thai soccer players smile, joke with rescuer in cave »
"We have to be 100% sure," said the provincial governor, Narongsak Osatanakorn, adding that rescue divers might not evacuate all 13 at the same time.
"Some might be ready before others," Narongsak said. "If they're not ready or it's too risky, we will not take them out."
One diver assisting in the rescue effort, who spoke on condition of anonymity, said the boys would need to carry out a two-hour underwater dive in order to reach the cave's third chamber, where crews have established a makeshift command post stocked with food, oxygen and other equipment. From there it would be relatively less difficult to make their way back out of the cave the way they entered, officials say.
The boys were trapped while exploring the cave after soccer practice on June 23 when rains filled the complex with water, blocking their exit. They were stuck for 10 days before rescuers found them Monday.
British divers bring experience to Thai cave drama »
The rescue effort, which has riveted the nation and generated world headlines, was further complicated by heavy monsoon rains forecast for this weekend.
Teams were using high-powered pumps to drain as much water as possible from the Tham Luang Nang Non cave, perhaps lowering the water levels to the point where the group could float to safety, but further rains would stymie that effort.
Authorities also said they had constructed a temporary dam to divert a stream that was flowing into the cave, adding to the water levels.
"The water has decreased a lot, but when it's raining, we can't fight it," Narongsak said. "If it doesn't rain, we can have good results. Time is limited in getting the kids out."
The boys were being looked after by a rotating team of Thai navy SEALs and medics who were staying with them on a dry outcropping above a partially flooded chamber of the maze-like, six-mile-long cave.
A fiber optic line was being established so the children could talk to their relatives, many of whom have been holding vigil near the mouth of the cave, although they had not spoken to them yet.
In a video shot Tuesday and released by the Royal Thai Navy on its Facebook page, a medic applies brown disinfectant to the wounded feet of one skinny boy, still wearing his soccer uniform.
The diver holding the video camera then points the lens at another boy, who holds up two fingers and smiles.
Special correspondent Styllis reported from Mae Sai and Times staff writer Bengali from Karachi, Pakistan.
Shashank Bengali is South Asia correspondent for The Times. Follow him on Twitter at @SBengali
---
Must-read stories from the L.A. Times
Get all the day's most vital news with our Today's Headlines newsletter, sent every weekday morning.
You may occasionally receive promotional content from the Los Angeles Times.