Who are the 11 human rights activists going on trial in Turkey?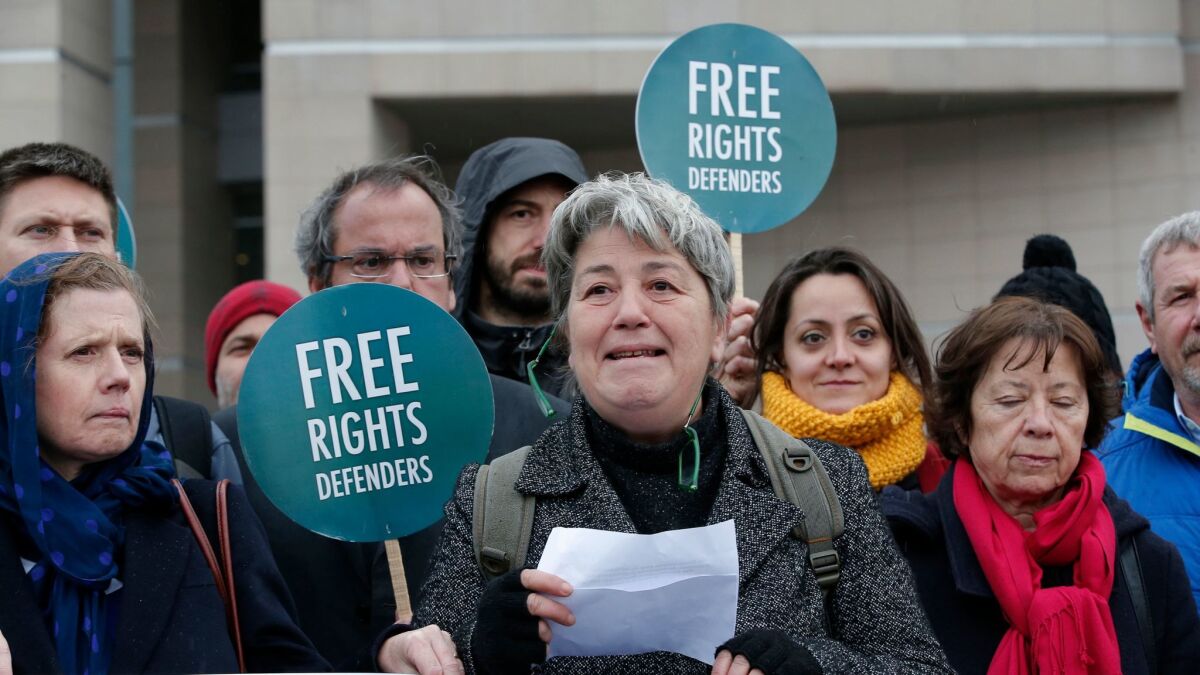 Reporting from ISTANBUL, Turkey —
Eleven human rights activists — nine Turks, a Swede and a German — are scheduled to appear in court in Istanbul on Wednesday despite an international groundswell of condemnation over the Turkish government's decision to try them on charges of aiding terrorist organizations.
Turkey has been under a state of emergency since July 2016, when an attempted military coup was put down by President Recep Tayyip Erdogan with public support, resulting in the deaths of 249 civilians.

For the record:
5:10 p.m. Nov. 26, 2017An earlier version of this article incorrectly described Ali Gharavi as a Swede with dual U.S. citizenship. He is an Iranian-Swede with dual citizenship.
More than 50,000 people are in prison after the coup attempt, most charged with aiding what Turkey considers terrorist organizations. The Kurdistan Workers Party is one group designated by Turkey and its NATO allies as a terrorist organization. The Turkish government has also branded as a terrorist organization a group led by Fethullah Gulen, an aging cleric living in Pennsylvania whom Ankara blames for the attempted coup.
Since the failed coup, 150,000 people have been purged from the public sector over suspected ties to terrorist organizations but have yet to be detained or charged with a crime.
The 11 rights activists were detained by police in July while they were participating in a conference on Princes' Islands, near Istanbul. Speaking at a G-20 summit in Germany days after the detentions, Erdogan said police acted because of intelligence that revealed the activists were planning a new coup.
"They gathered there for a meeting which has the nature of the continuation" of the July 15, 2016, coup attempt, he said.
Almost two decades ago, in 1998, Amnesty International adopted Erdogan as a prisoner of conscience after he was jailed for reciting a poem the then-secular government of Turkey said incited hatred.
Who is on trial?
Amnesty International's Turkey chairman, Taner Kilic, was arrested separately from the other 10 defendants and faces 7½ to 15 years in prison on charges of "being a member of an armed terror organization." He is the only defendant who was not granted bail. Prosecutors allege Kilic is a member of Gulen's organization because he had used a smartphone messaging application called ByLock. Authorities allege the application, downloaded more than 600,000 times between 2014 and 2016 by users all over the world, was developed by Gulen's followers to allow secret communication among themselves. Tens of thousands of people in Turkey have been arrested and charged, like Kilic, with membership in the group based on allegations they downloaded the application.
On Wednesday, Kilic's lawyers presented findings by two independent forensic analysts showing his phone never had ByLock.
The other defendants include some of Turkey's most well-known rights activists — Idil Eser from Amnesty International, Gunal Kursun, Ozlem Dalkiran, Veli Acu, Ilknur Ustun, Nalan Erkem, Seyhmus Ozbekli, and Nejat Tastan — as well as Ali Gharavi, a Iranian-Swede with dual citizenship, and Peter Steudtner, a German national, who were both attending the conference to present workshops on how to secure data to the rights defenders and deal with stress.
At a hearing in October, Steudtner recounted what he said was a 20-year history of using his expertise in information technology to support nonviolent movements, and said he had never backed any terrorist organization. He also said some of the evidence presented against him, including images and other files allegedly found on his computer, had been planted by police.
Gharavi, Steudtner and the eight Turkish activists are charged with "aiding an armed terror organization without being members" and also face between 7½ and 15 years in prison.
Prosecutors have said the meeting on the Princes' Islands was meant to foment "chaos" akin to 2013 protests in Istanbul against Erdogan and the failed 2016 coup. As evidence, they presented campaign material used by Amnesty International to call attention to alleged human rights abuses in Turkey, activities the defendants say are within the normal purview of their organization.
What has international reaction been?
Twenty-two members of the U.S. Congress have written letters to Erdogan asking for the charges to be dropped. More than 700,000 people have signed a petition by Amnesty International calling for the release of the activists. Calls for dropping charges have also come from the European Commission, the U.S. State Department, German Chancellor Angela Merkel and several European governments.
"The 11 face outlandish 'terrorism' charges in what can only be described as a politically motivated prosecution aimed at silencing critical voices within the country," read a letter released ahead of the hearing on Wednesday. The signatories include National Security Agency leaker Edward Snowden and Human Rights Watch head Ken Roth, along with other rights advocates such as artists Ai Weiwei, Sting, Peter Gabriel and several actors. "The Turkish authorities must know that the eyes of the world will be on Istanbul's central court for this trial. We will not stay silent. Defending human rights is not a crime."
What is at stake?
In Turkey, the post-coup crackdown has largely decimated the country's media, political opposition and civil society landscape. More than 150 journalists are behind bars, many facing terrorism charges, and scores of television stations and newspapers have been shut down. Thousands of nonprofit groups have also been shuttered, and dozens of opposition lawmakers, especially from the pro-Kurdish People's Democratic Party, have been jailed on terrorism charges.
Still, the arrests of the country's leading human rights activists are more worrying for many, a sign the crackdown is expanding to include organizations and personalities with international reach who would be capable of at least documenting what is going on. "When human rights defenders are silenced all our rights are put at risk," reads the letter released ahead of the hearing. "They are the ones that stand up for us. Now we must stand up for them."
On Nov. 1, police arrested Osman Kavala, a philanthropist and one of the country's best known human rights activists, later charging him with being involved in the failed coup and being a "manager and organizer" of the 2013 anti-Erdogan protests in Istanbul.
Despite international condemnation of the crackdown, the Turkish government appears to be unwilling to back down, even when it comes to arresting foreign nationals. Dozens of Germans and Americans are in prison over charges related to the coup attempt, insults against President Erdogan or aid to terrorist organizations. A continuing row over the arrests of locals working in U.S. diplomatic missions has meant a bilateral freeze on issuing visas between Turkey and the U.S., and this week Turkish Foreign Minister Mevlut Cavusoglu echoed conspiracy theories touted in Turkey's largest media outlets, saying the "American system" had been "infiltrated" by Gulen.
Farooq is a special correspondent.
Must-read stories from the L.A. Times
Get the day's top news with our Today's Headlines newsletter, sent every weekday morning.
You may occasionally receive promotional content from the Los Angeles Times.