Turkey says joint 'inspection' planned at Saudi Consulate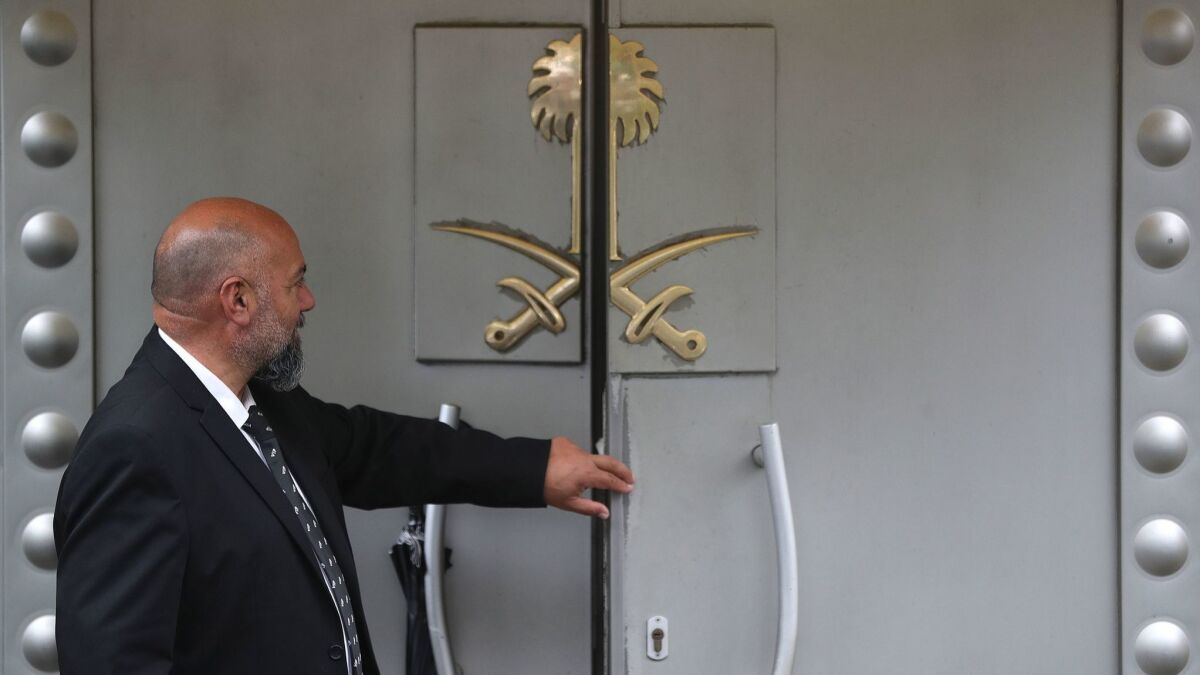 Reporting from ISTANBUL, Turkey —
Turkey and Saudi Arabia are expected to conduct a joint "inspection" of the Saudi Consulate in Istanbul on Monday, nearly two weeks after the disappearance of Washington Post columnist Jamal Khashoggi, Turkish officials said.
The announcement from an official at Turkey's Foreign Ministry comes as international concern continues to grow over the writer who vanished on a visit to the consulate on Oct. 2. American lawmakers have threatened tough punitive action against the Saudis, and Germany, France and Britain jointly called for a "credible investigation" into Khashoggi's disappearance.
The Foreign Ministry official spoke on condition of anonymity in line with government regulations.
Turkish officials have said they fear a Saudi hit team killed and dismembered Khashoggi, who wrote critically of Saudi Crown Prince Mohammed bin Salman. The kingdom has called such allegations "baseless" but has not offered any evidence Khashoggi ever left the consulate.
President Trump has said Saudi Arabia could face "severe punishment" if it was proved it was involved in Khashoggi's disappearance. On Sunday, Saudi Arabia warned that if it "receives any action, it will respond with greater action, and that the kingdom's economy has an influential and vital role in the global economy."
"The kingdom affirms its total rejection of any threats and attempts to undermine it, whether by threatening to impose economic sanctions, using political pressures or repeating false accusations," said the statement, carried by the state-run Saudi Press Agency.
The statement did not elaborate. However, a column published in English a short time later by the general manager of the Saudi-owned Al-Arabiya satellite news network suggested that Saudi Arabia could use its oil production as a weapon. Benchmark Brent crude is trading at around $80 a barrel, and Trump has criticized OPEC and Saudi Arabia over rising prices.
Late Sunday, Saudi King Salman spoke by telephone with Turkish President Recep Tayyip Erdogan about Khashoggi. Turkey said Erdogan "stressed the forming of a joint working group to probe the case." Saudi Arabia, meanwhile, said King Salman thanked Erdogan "for welcoming the kingdom's proposal" for forming the working group.
The king also said Turkey and Saudi Arabia enjoy close relations and "that no one will get to undermine the strength of this relationship," according to a statement on the state-run Saudi Press Agency. Though Turkey and the kingdom differ on political issues, Saudi investments are a crucial lifeline for Ankara amid trouble with its national currency, the Turkish lira.
---
Must-read stories from the L.A. Times
Get the day's top news with our Today's Headlines newsletter, sent every weekday morning.
You may occasionally receive promotional content from the Los Angeles Times.