Turkey puts down roots in a corner of war-torn Syria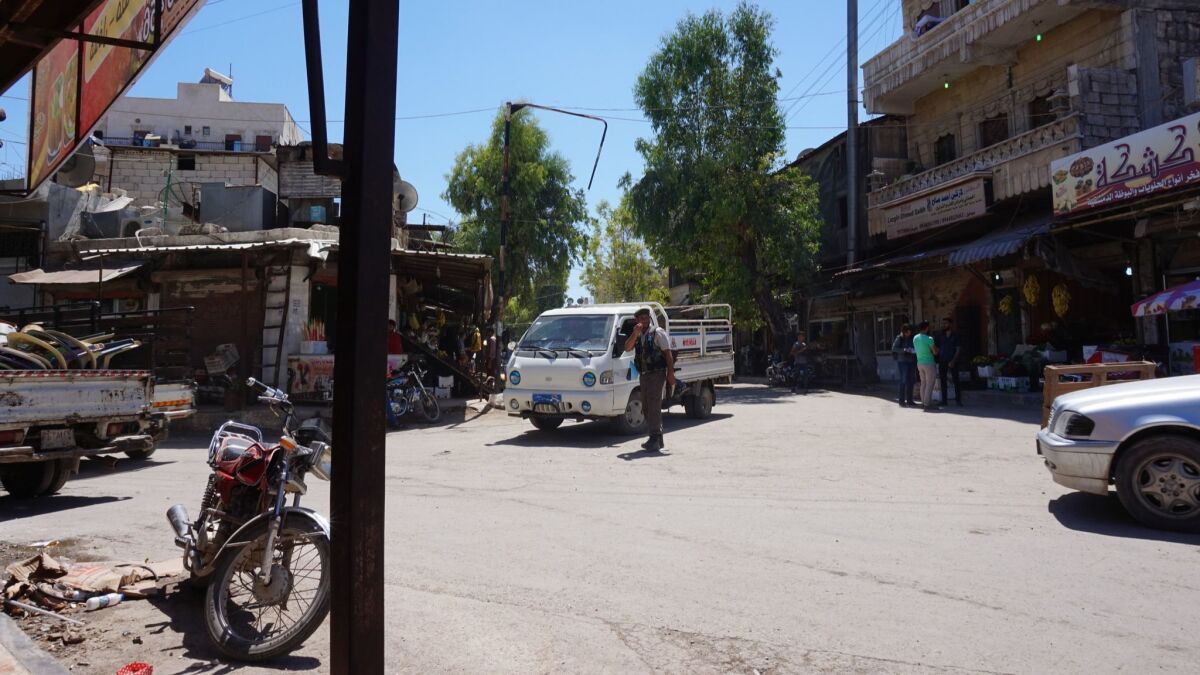 Reporting from Afrin, Syria —
This pocket of northwestern Syria is starting to look a lot like neighboring Turkey.
Many buildings bear signs in Turkish in addition to Arabic. Portraits of Turkish President Recep Tayyip Erdogan adorn public schools, where students learn Turkish as a second language instead of English or French. Three new hospitals built by Turkey are run by Turkish administrators and fly the Turkish flag.
Over the last two years, Turkey and an alliance of Syrian rebels it supports have taken control of 1,500 square miles here, driving out both Islamic State militants and Kurdish militias fighting the Syrian government.
After years of civil war, the local Syrian population has welcomed the takeover for the measure of stability it has brought. But some also worry that the area will permanently lose its Syrian character and in effect become a Turkish colony.
"People are in a way more comfortable now," said Hatem, a pediatrician from the embattled city of Aleppo who works in a hospital near Jarabulus who asked that his last name not be used out of fear for family in other parts of Syria. "When this place was under Islamic State, women could not go outside, you couldn't even smoke."
"But they are also confused even now, about the education system, about who is running the place, about all the people carrying guns," he said. "They don't know what will happen in the future."
The region, which is home not only to Arabs but also large numbers of the Kurdish and Turkmen minorities, became a coveted prize for all sides after Syria's civil war began in 2011.
Syrian government forces were driven out of Afrin and its surrounding districts in 2012, leaving the area under the control of Kurdish rebels backed by the United States.
The rebels' enemies also included Islamic State, which began capturing territory in this part of Syria in 2014.
Turkey entered northwestern Syria in 2016 in an incursion known as Operation Euphrates Shield, which targeted Islamic State as well as Kurdish forces.
Turkey considers both groups to be terrorist organizations, and it wants them nowhere near its border.
Backed by thousands of Turkish soldiers and special forces, tanks and airstrikes, as many as 30,000 rebels of the Free Syrian Army took control of an area from the city of Al Bab east to the Euphrates River.
In the first three months of this year, Turkey carried out Operation Olive Branch, defeating Kurdish forces to capture more territory to the west.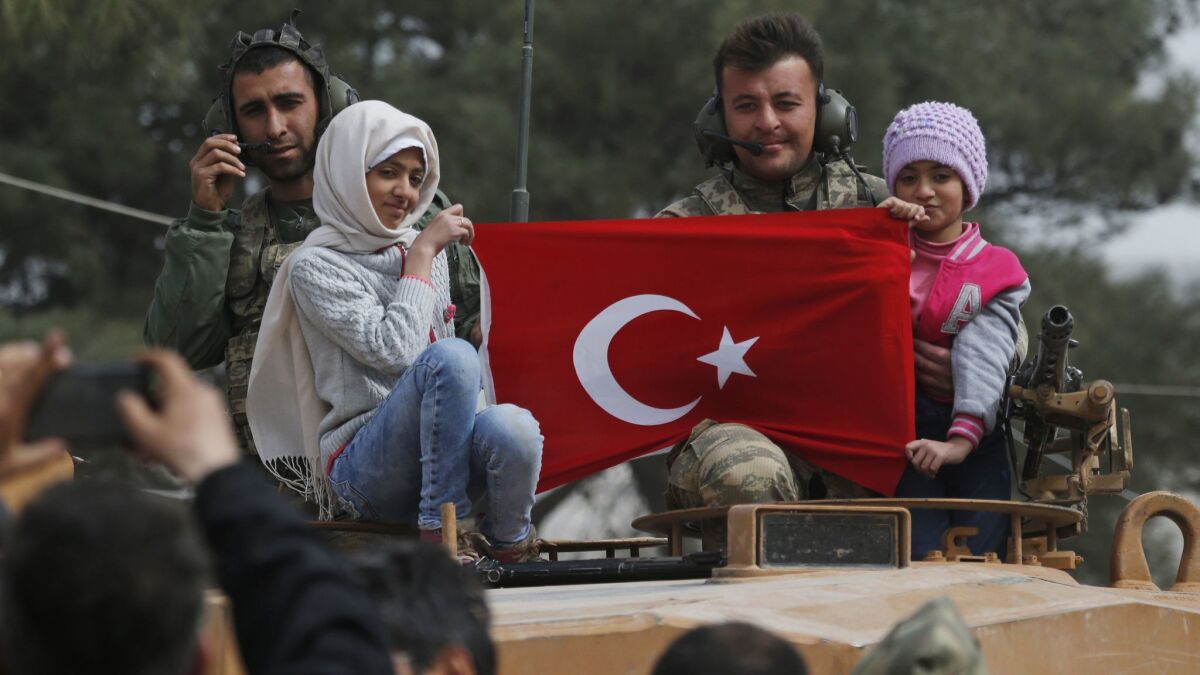 The intervention put Turkey in the center of the region's ethnic tensions. In Afrin, a largely Kurdish city, the new occupiers toppled two Kurdish monuments and looted shops. The population dropped from 350,000 in March to 115,000 today as residents fled to government-held areas of Aleppo or territory still controlled by Kurdish rebels.
"Half of my neighbors and family have left," said 75-year-old Jamal Battal, the Kurdish owner of a corner shop. "There is no electricity here, there is almost no work. I would leave, but I am too old to try and settle in a new place."
But other parts of Syria seized by the Turkish alliance have seen their populations rise dramatically. Roughly 215,000 Syrians who had been refugees in Turkey have moved back to their country and settled in the region, according to Turkish officials. Tens of thousands of other Syrians fleeing violence in other parts of the country have also come here.
The city of Azaz — which sits four miles from the border with Turkey and has served as a way point for humanitarian aid, weapons and anti-government fighters — has swelled from 30,000 people to 200,000.
They come because the presence of Turkey means the area is now free of airstrikes and other attacks by the Syrian government and its allies.
But they are also drawn by the infrastructure and development rising from the rubble of the war-torn region, thanks to Turkey.
The evidence of war is still everywhere: buildings destroyed by shelling, checkpoints run by Syrian rebels and Turkish soldiers and police, earthen berms meant to deter snipers from shooting at vehicles. In Afrin last month, at least 11 people were killed in a double car bombing just outside the municipal headquarters building.
But rebuilding and optimism prevail. Motorcycles jostle for space with trucks carrying cement to be used in the rash of construction projects underway here. Diesel imported from Turkey tax-free is sold at newly constructed gas stations for about $3.80 a gallon, significantly cheaper than elsewhere in Syria. A Turkish firm is constructing a thermal power station near Azaz, and the town of Jarabulus to the east gets its electricity from a power station across the border in Turkey.
The Turkish postal service now has three branches here. Most cellphone signals are routed through Turkey. Residents will soon be able to dial 112 for an ambulance, just like in Turkey.
Each day several hundred Turkish government workers commute into Syria. Turkey is training and employing thousands of police officers and Free Syrian Army fighters in the area.
The Turkish government coordinates much of its work through local councils, elected bodies that existed in opposition-controlled areas before Turkey's arrival. The councils have used funding from Turkey and other international donors to pay schoolteachers, dig wells, collect trash and paint over Islamic State graffiti.
Sinan Hatahet, a researcher at the Istanbul-based Al Sharq Forum, said that although Turkey has been crucial in rebuilding and establishing stability, its influence has also left many residents questioning the independence of the councils it funds.
Many of the members spent much of the war in Turkey and grew close to the government there.
Monzer Sallal, who heads the Stabilization Committee, a body formed in 2015 to help strengthen local councils, pointed to the bustling streets and markets as evidence of the region's progress.
"But the long-term question is what comes next after stability," he said.
The answer depends in part on whether Syrian President Bashar Assad remains in power and tries to reclaim the region.
Ziad Mohammed, a Syrian businessman who recently returned with his family to their village near Afrin, said he cherished the security Turkey offered from a Syrian government that "would not hesitate to kill my children."
"If the Assad regime remains in power, I and many Syrians would prefer to have Turkey [controlling the area], to protect us," he said.
But Mohammed, who had been living in Turkey to escape the violence, also worried that Turkey could overstay its welcome if left unchallenged.
"If Assad leaves, then all these areas should be returned to us, to a free Syria," he said.
Amer Muhammed, a Free Syrian Army fighter now working as a police officer in Afrin, said he does not have a strong opinion about whether Turkey should eventually pull out.
His bigger concern is whether his nine children may soon be able to attend school.
"As soon as Turkey leaves, we are responsible for security here," he said. "And if they decide to stay, they are our brothers and we will work together."
That spirit was on display here in Afrin the night of June 24, as presidential election results in Turkey rolled in showing a victory for Erdogan. Hundreds of Turkish-backed fighters celebrated by firing automatic rifles and antiaircraft guns into the air.
Farooq is a special correspondent.
---
Must-read stories from the L.A. Times
Get the day's top news with our Today's Headlines newsletter, sent every weekday morning.
You may occasionally receive promotional content from the Los Angeles Times.