Ukrainian soldiers in Crimea reject Russian demands of allegiance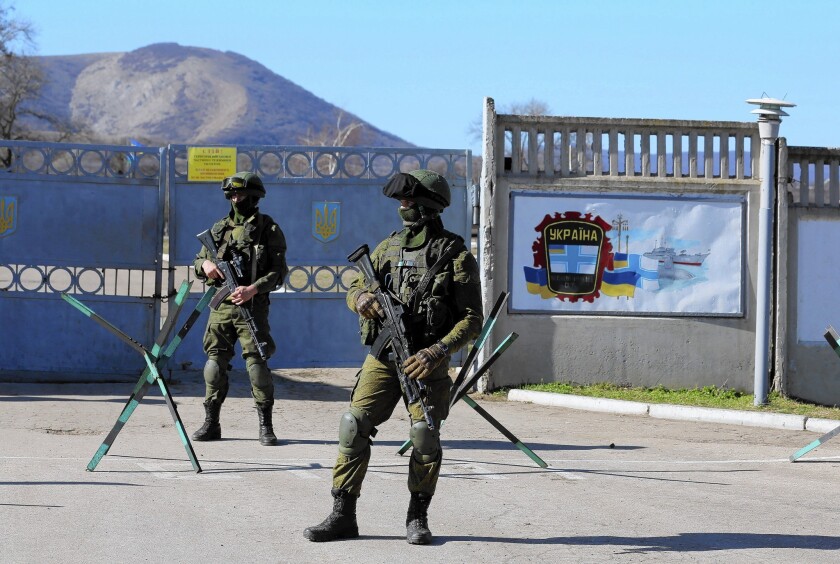 BAKHCHISARAY, Ukraine — The Russian soldiers outside an army base in this Crimean city had demands Monday for the Ukrainian soldiers inside: Pledge allegiance to the Russian military or put their weapons in storage, abandon their post and go home.
The Ukrainians refused.
"They must know that should they attempt to storm the base, we will fight back until the last drop of our blood," Col. Sergei Stashenko, the site's Ukrainian commander, told The Times. "Whatever they are up to, we will not allow them to get hold of our weapons."
Outside the base, armed Russian soldiers strolled around on a sunny afternoon, petting stray dogs and joking with a couple of young women in a nearby park. Over the barbed wire, armed Ukrainian soldiers watched their movements through binoculars.
Of the Russian demands, Stashenko was adamant: "This is absurd and totally unacceptable to us. We remain committed to the oath we took before our country and the Ukrainian people."
Throughout Ukraine's Crimea region Monday, Russia ratcheted up its pressure on Ukrainian forces, demanding their virtual surrender, even as Moscow continued to defy international demands that it withdraw its troops. A Ukrainian coastal defense unit in the town of Perevalnaya, under siege by Russian forces for three days, faced demands that it give up its weapons.
Russian naval forces, which have long leased a base in Crimea, blockaded two Ukrainian navy vessels in the port of Sevastopol and issued what was becoming a familiar demand to the sailors: Surrender and swear allegiance. The Interfax news agency in Moscow denied that the ultimatum had come from the Kremlin.
Russian troops also seized control of the commercial port of Kerch, on the far eastern point of the diamond-shaped peninsula, and shored up patrols of military installations throughout the region.
Moscow has defended the chokehold its forces have put on the region — which so far has not led to a shooting war — as necessary to protect Russian citizens and military installations in Crimea after the ouster late last month of Ukraine's pro-Russia president. But the intervention has spurred outrage in the Ukrainian capital, Kiev, and throughout the international community.
After an emergency meeting in Brussels of European Union foreign ministers, the 28-nation bloc issued a statement condemning the incursion and warning that Western Europe's "ambitions" for closer relations with Russia had been put in doubt. Several countries have already announced they will not attend a June meeting in Sochi, Russia, of the Group of 8 industrialized nations.
British Foreign Secretary William Hague, in Kiev on Monday, warned that the tense standoff over Crimea constitutes "the biggest crisis in Europe in the 21st century" and that Russia would face "other consequences and other costs" if it did not back down. U.S. Secretary of State John F. Kerry was en route to Kiev for meetings Tuesday to show support for Ukraine's interim leaders.
Russian officials have cast the tumultuous leadership change in Ukraine last month, which drove their ally President Viktor Yanukovich from power, as a "bandits' coup." Their arguments have stirred fears among Ukraine's Russian speakers, who are a minority in the country but a majority in the east, that their rights and safety are at risk under the former opposition politicians now in power.
The demands being issued by the expanding Russian forces are an alarming sign that they might be in Crimea to stay, one analyst said.
"It means that Ukraine is steadily losing the Crimea to Russia and it will be extremely difficult to get it back, as the Ukrainian army is incapable of opposing Russia," said Kost Bondarenko, head of the Ukrainian Policy Institute, a Kiev-based think tank.
One glimmer of hope emerged but appeared to gain little traction. During a phone call from German Chancellor Angela Merkel late Sunday, Russian President Vladimir Putin reportedly agreed to a fact-finding mission under the auspices of the Organization for Security and Cooperation in Europe.
Kazakhstan, another former Soviet republic that remains closely tied economically to Russia, urged peaceful resolution of the Ukraine crisis and appeared to criticize Moscow by calling "on all the parties to renounce options that imply the use of force."
In the towns and cities of Crimea, meanwhile, soldiers and civilians alike expressed fears that the confrontation will turn into a shooting war.
Here in Bakhchisaray, the ancient capital of Tatar rulers, not all of the Russian soldiers seemed committed to the threat to storm the Ukrainian military strongholds unless the troops surrendered.
"We don't need their weapons," said a young Russian soldier who refused to give his name and rank. "I am not going to fight with my brothers and shoot at them. I have many relatives and friends in Ukraine.
"We are here only to prevent the bases' weapons from getting into the hands of fascists and extremists," he said, echoing Moscow's description of Ukraine's new leaders and their supporters.
Close to the gates of the coastal defense unit in Perevalnaya, women who work at the base or have relatives within were gathered, tense and agitated.
"What Russia is doing here is extremely ugly," said Svetlana Gorbacheva, 50, a librarian for the unit and a mother-in-law of one of its officers. "We are extremely scared that some lunatic may make the first shot and the whole situation will deteriorate into bloodshed, if not a real war between our fraternal peoples."
A shot had already been fired Monday morning by a Ukrainian soldier guarding a military air base in Belbek, near Sevastopol, the port leased by Russia's Black Sea fleet. The soldier fired in the air when Russian servicemen threw stun grenades at Ukrainian troops.
After the warning shot, the Russians retreated. But one Ukrainian officer was hospitalized after being lightly wounded by a stun grenade, said Vladislav Seleznev, spokesman for Ukraine's Defense Ministry.
"So far this conflict has claimed no deaths," Seleznev told The Times, expressing fear that any miscalculation could change that. "Russians are using dishonest and unfair arguments. No one is encroaching upon the lives of Russian nationals in Crimea and no one is threatening the lives of Russian navy personnel stationed here."
Denis Berezovsky, the Ukrainian rear admiral who defected to Russian forces Sunday, appeared at the gates of the Ukraine naval headquarters and sought to persuade other Ukrainian officers to cross to the Kremlin's side, Seleznev said.
The officers gathered in a courtyard of the base responded, he said, by singing the Ukrainian national anthem.
Loiko reported from Bakhchisaray and Williams from Moscow.
---
Must-read stories from the L.A. Times
Get all the day's most vital news with our Today's Headlines newsletter, sent every weekday morning.
You may occasionally receive promotional content from the Los Angeles Times.