Drug tests and dueling videos: Ukraine's presidential election enters second, more surreal round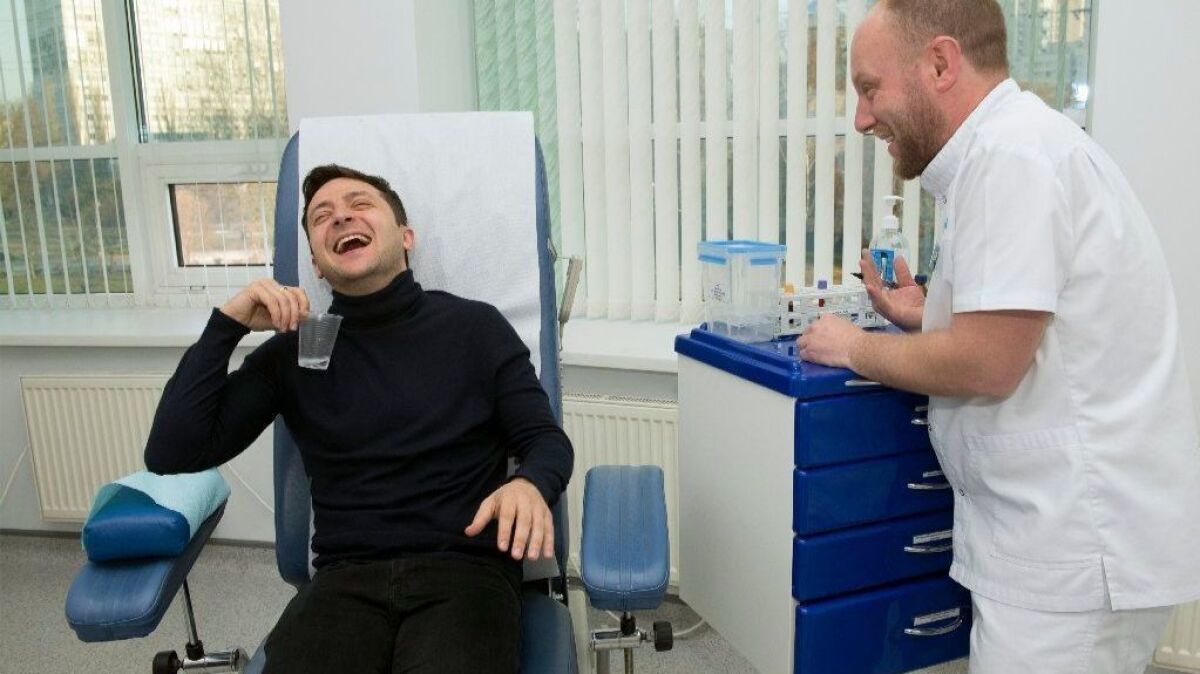 Reporting from Moscow —
A series of escalating video challenges between the two remaining candidates in Ukraine's presidential election led Friday to the two men — one a comic and political neophyte, the other the incumbent — having doctors draw blood from their arms as cameras rolled.
Less than a week into the second round of campaigning for the leadership of this post-Soviet nation, the Ukrainian election has come to resemble a reality show.
On Friday morning, Ukrainian President Petro Poroshenko and his opponent, Volodymyr Zelensky, gave urine, blood and hair samples for an alcohol and drug test, part of a challenge from Zelensky.
The challenger put the idea to Poroshenko in a slickly produced video challenging the incumbent to a debate before April 21, when voters go back to the polls to determine who will lead this nation of 43 million for the next five years.
The 41-year-old Zelensky is well-known for a TV sitcom in which he stars as a schoolteacher who becomes president and takes on the political elite. The actor won 30% of the vote in the first round on Sunday, beating out 38 other candidates. Poroshenko, 53, Ukraine's president since 2014, received 16% of the vote.
Zelensky's supporters said they are looking for a new face in Ukrainian politics to weed out the oligarchs and entrenched corruption that have dominated the nation's political elite for decades.
Poroshenko, whose campaign highlights his role as commander in chief against Moscow-backed separatists in the country's war in the east, has criticized the comedian for lacking a clear policy agenda and political experience.
Less than a week into the second round of campaigning, the Ukrainian election has come to resemble a reality show, with parrying video challenges from each side. It culminated Friday with the very public drug tests.
Drenched in euphoria after the surprise upset on election night, Zelensky told reporters at his campaign headquarters Sunday that he was ready to debate the president.
On Wednesday, Zelensky's campaign followed up with a video challenging Poroshenko to a debate. The video showed the political newcomer confidently walking into the center of Kiev's Olympic stadium, telling the president he would face him not as the "clown" Poroshenko has labeled him, but as a candidate for the presidency of Ukraine.
"I'm not you in 2014," Zelensky said, taking a stab at Poroshenko's refusal then to debate Yulia Tymoshenko, when Ukraine held snap elections after the Maidan square mass protest movement led to the ouster of Kremlin-friendly President Viktor Yanukovich.
Tymoshenko ran again this year, coming in third behind Poroshenko with 13% of the vote.
Zelensky's challenge had list of conditions: The debate should be held at the 70,000-seat Olympic stadium in central Kiev, not on the national public broadcaster. All Ukrainian television networks and journalists must be allowed to cover the debate, Zelensky said.
In Ukraine, which channel airs the debate holds significance. Oligarchs own most of Ukraine's top television networks, and their owners frequently use the popular medium to push their own political agendas.
Poroshenko owns one of the country's biggest networks, Channel 5. Zelensky's popular television show, "Servant of the People," and Kvartal 95, his comedy troupe, air on 1+1 Channel, which is owned by Ukrainian oligarch Ihor Kolomoysky.
The big loser in Ukraine's presidential election? Vladimir Putin »
Critics and skeptics of Zelensky's presidential run have accused the comic of being a puppet of Kolomoysky, who fell out of favor with Poroshenko.
But Zelensky's most unusual demand was for each candidate to undergo a medical examination and drug and alcohol test. "The country needs a healthy president," Zelensky said.
Zelensky gave his opponent 24 hours to respond. Poroshenko came back even sooner with his own video, shot in front of the presidential administration building, saying he'd happily debate his challenger.
"This is no joke," Poroshenko said. Then, turning to the camera to address Zelensky by his formal name and patronymic, he said: "I'll be waiting for you, Volodymyr Oleksandrovych."
The comedian came back the next day with another video, this time suggesting Tymoshenko should moderate the debate.
Poroshenko said that was taking things too far.
"The Debate is not a show," Poroshenko tweeted. Zelensky's suggestion that Tymoshenko act as debate moderator was "disrespectful of [Ukraine's] politics and its voters," he wrote.
"It really is fantastic theater," said Balazs Jarabik, a nonresident scholar with the Carnegie Endowment, a think tank. "From Zelensky's point of view, the show must go on. And he needs to keep the voters motivated, particularly young voters."
But now that Poroshenko has accepted the challenge, Zelensky must face the reality and hype of the debate he sought.
Zelensky's upset win on Sunday was a referendum on Poroshenko's five years as president and Ukraine's political elite, Jarabik said. Poroshenko's quick acceptance of the debate challenge could now easily be spun into "a referendum on Zelensky's policy incompetence," he said.
On Friday, Poroshenko took his drug test at Olympic stadium. More than 100 reporters showed up at the arena.
"I'm here," Poroshenko said into cameras after his test, addressing Zelensky. "You are not."
Zelensky, meanwhile, was at a private Kiev clinic. He said he didn't trust the state labs that work with the doctors at the Olympic stadium. His doctor's visit was streamed live on his campaign's social media accounts.
Poroshenko's express lab results came back clean. So, too, did Zelensky's test, the results of which he posted on his campaign's Instagram account.
The debate is scheduled tentatively for April 19, two days before the polls open.
Twitter: @sabraayres
Ayres is a special correspondent.
---
Must-read stories from the L.A. Times
Get the day's top news with our Today's Headlines newsletter, sent every weekday morning.
You may occasionally receive promotional content from the Los Angeles Times.