Comedian with no political experience heads to runoff for Ukraine presidency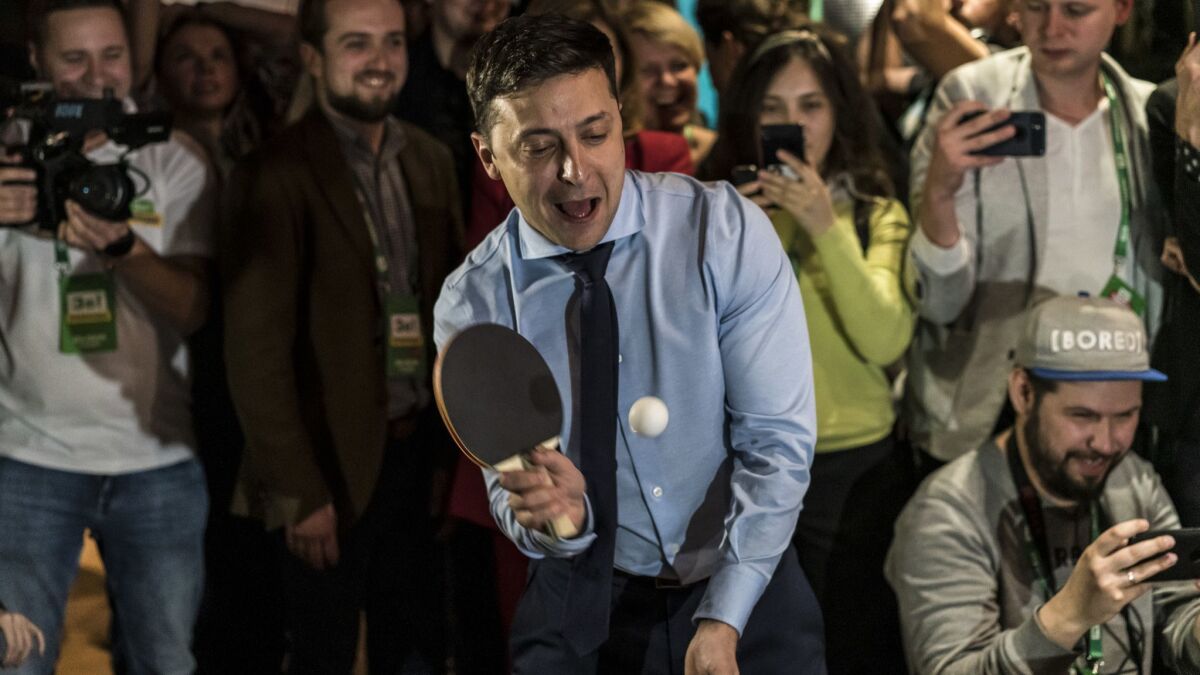 Reporting from Kiev, Ukraine —
A comedian who plays an accidental president on TV was leading all candidates for the real job Sunday as exit polls showed him poised to advance to a runoff in Ukraine's presidential election.
Moments after voting ended, exit polls showed Volodymyr Zelensky leading the field of 39 candidates with 30.4% of the vote, trailed by incumbent President Petro Poroshenko at 17.8%.
Former Prime Minister Yulia Tymoshenko, who had warned darkly of a rigged election, was in third at 14.2%, according to the exit polls. She said that the polling was wrong and that final results, due early Monday, would show her in second place. Only two candidates will advance to the April 21 runoff.
In his sitcom, Zelensky, 41, plays a schoolteacher who stumbles his way into the presidency and stands up to the country's political elite. That persona clearly appealed to many Ukrainians, especially the young, who saw a fresh face and the promise of relief from politics as usual.
Lest that message be lost, Zelensky threw a raucous election night party at a hip Kiev nightclub, where he played pingpong with a journalist and verbally tweaked the more staid Poroshenko, a 53-year-old confectionery magnate.
"There are many exit polls, but there's only one winner," Zelensky said, twisting Poroshenko's campaign slogan, which is on billboards throughout the country: "Many candidates, only one president."
Zelensky, who has never held any political office, has naturally been compared to another TV star and political novice who became president. But parallels with President Trump are shaky at best. Both may have campaigned as policy novices, but Trump was rarely accused of reticence in declaring his prescriptions: Build the wall, overturn Obamacare, get tough with China.
By comparison, Zelensky's platform and agenda for ending the country's war in the east against Russian-backed separatist rebels remain unclear, as does his plan for ending Ukraine's endemic corruption.
Still, both he and Poroshenko — as well as nearly all the other candidates in the race — maintained an anti-Russian stance that continued to look westward toward some kind of European integration for the post-Soviet nation of 43 million.
If the exit poll results hold, the outcome may be a relief for Poroshenko, who was elected after the 2014 Maidan revolution and appeared in danger of finishing out of the running. The Maidan mass protest movement, centered on Kiev's Independence Square, ousted a Kremlin-favored president, Viktor Yanukovich.
"I'm ready for a deep and substantive dialogue with those whom I did not manage to convince in the first round," Poroshenko said in a statement issued after the polls closed.
He specifically addressed young voters, saying he understood their need for deeper, faster change. "We must unite in order to achieve this," he said, "and not lose time."
Poroshenko, sometimes referred to as the "Chocolate King" because of his candy business, has been a wartime president and is trying to convince voters that sticking with him means continuing to fight against Russian aggression. His campaign has been marred by accusations from Tymoshenko that he tried to buy votes and register a candidate with a name similar to hers, Yuri Tymoshenko, to confuse voters at the ballot box.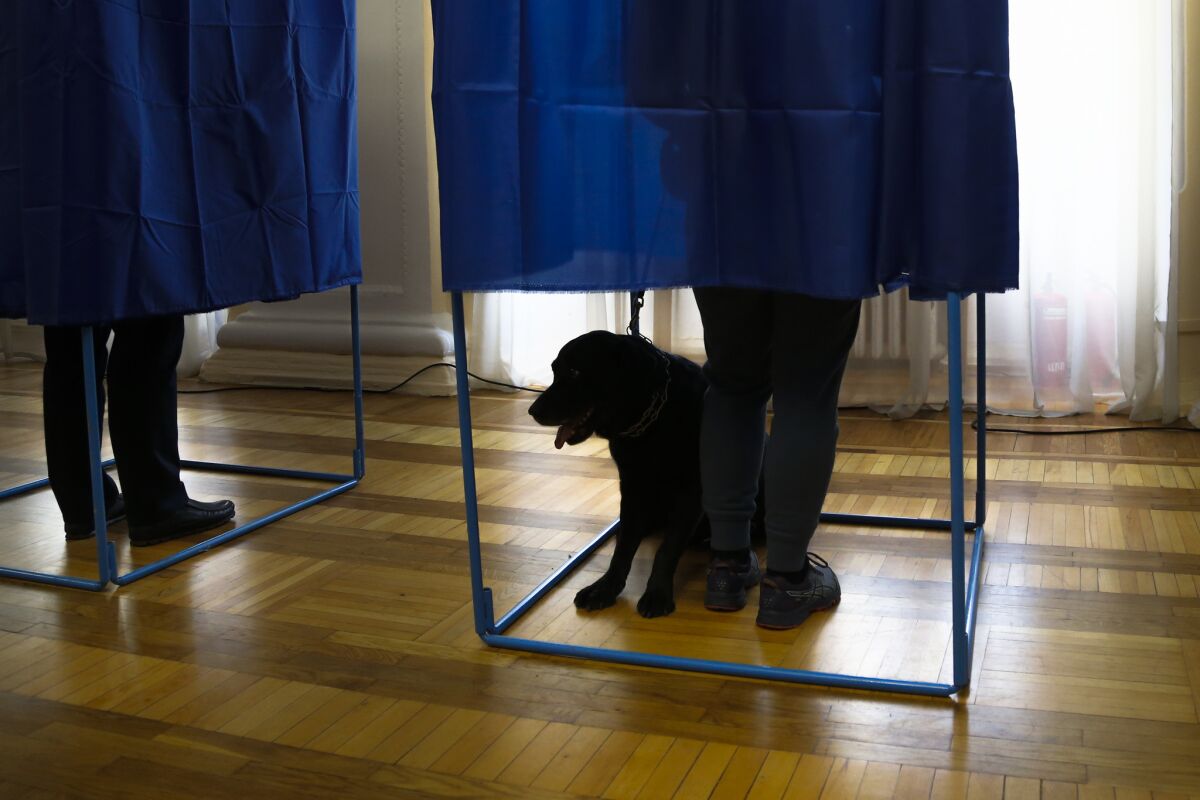 The gambit may have worked, or voters may simply have been turned off by Tymoshenko, who came to the race carrying considerable baggage.
She is a member of the Ukrainian parliament, or Rada, and has been a staple of Ukrainian politics for at least two decades. In 2004, she became an international symbol of the Orange Revolution, in which protesters angry over ballot fraud demanded new elections. She later served two terms as prime minister, and a prison term for abuse of power in a natural gas deal she brokered for Ukraine with Russia.
Turnout for the election was 64%, which is close to average in Ukraine. Many voters said they were frustrated with the quality of the candidates.
"There's no one I really like," said Mikhail Fesenko, 29, who works in marketing in a Kiev advertising company. "We need someone to start building our country.... But I don't know which of these guys can really do that."
Fesenko, still undecided, was on his way to the polls with his wife and young daughter after walking along Kiev's central street, Khreshchatyk. On a warm, sunny day that felt, at long last, like spring, people were strolling, sitting outside on benches and eating ice cream or drinking coffee at one of the capital's many cafes.
Polls released before election day showed that 1 out of 6 voters were, like Fesenko, undecided on the cusp of voting.
Before Zelensky launched his campaign officially on New Year's Eve, Yulia Drozdova, 23, said she didn't know for whom — or if — she would vote. When Zelensky announced, she said, everything fell into place.
"Zelensky 100%," she said. "He's a new face. He loves Ukraine, and he supports the new generation of Ukrainians."
Hundreds of international observers were scattered across the country to watch for irregularities. Cindy McCain, the widow of Sen. John McCain (R-Ariz.), who died in August, was heading up the delegation for the International Republican Institute, a quasi-governmental agency that supports democracy-building programs around the world.
There were no immediate reports on the IRI's or other monitoring agencies' conclusions.
Virginia Dronova, a spokeswoman for Poroshenko's campaign, said there had been evidence of Russian efforts to manipulate the vote, including "numerous cyberattacks" and an uptick in shelling in eastern Ukraine aimed at dissuading people there from voting. She insisted that the efforts were specifically aimed at hurting Poroshenko.
That conformed with a worldwide threat assessment made by U.S. intelligence agencies in January. It concluded that Russia was "applying a range of tools to exert influence and exploit Kiev's fragile economy, widespread corruption, cyber vulnerabilities, and public discontent in hopes of ousting Poroshenko."
Yevhen Fedchenko, director of the Mohyla School of Journalism in Kiev and cofounder of the nonprofit organization StopFake.org, said Russia had "weaponized Facebook" and undertaken other efforts to spread propaganda aimed at undermining faith in the electoral system.
Ayres is a special correspondent and Landsberg is The Times' Foreign editor. Reporting for this article was partially funded by KfW Development Bank, which supports nonpartisan, nonprofit German Marshall Fund of the United States fellowships.
Must-read stories from the L.A. Times
Get the day's top news with our Today's Headlines newsletter, sent every weekday morning.
You may occasionally receive promotional content from the Los Angeles Times.