United Nations mourns 21 employees killed in Ethiopian Airlines plane crash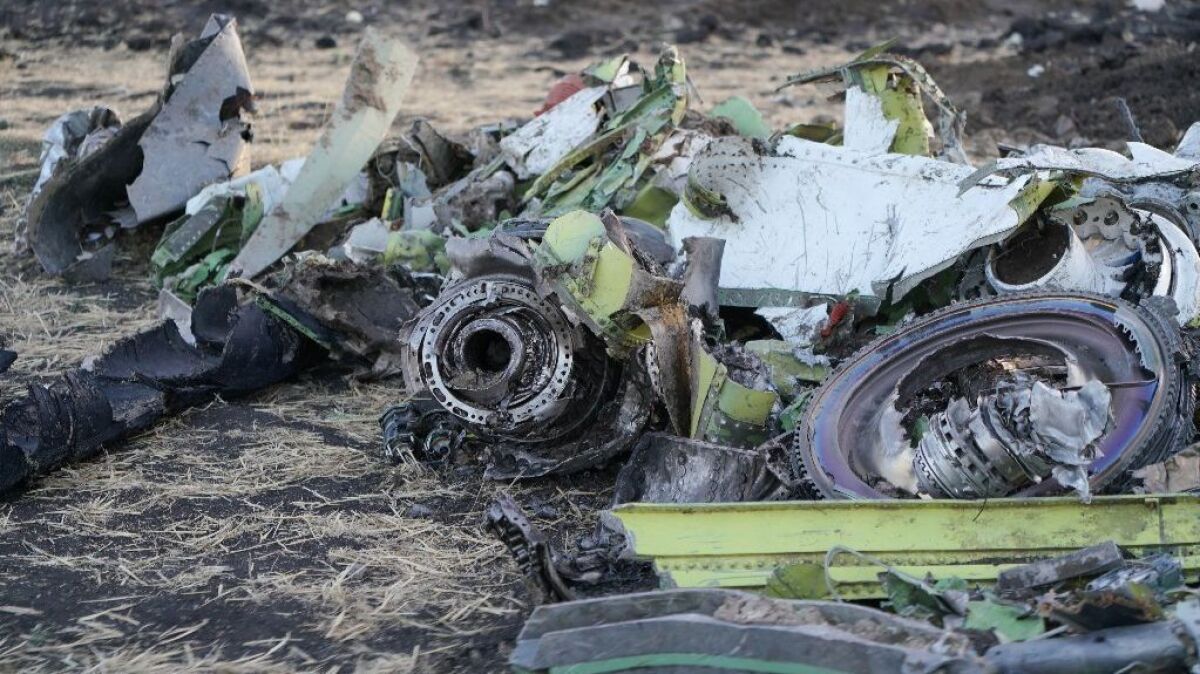 Reporting from Washington —
People who work for the United Nations and its many agencies know what they are getting into, especially in the field. From all over the world, they distribute food and water, teach farming techniques, supply medicines and healthcare, and advocate for the human rights of the marginalized.
They face hardships. Disease. Even death.
When Ethiopian Airlines Flight 302 crashed in rural Ethiopia on Sunday, killing all 157 passengers and crew aboard, the U.N. was among those groups that took a significant hit — 21 of its employees died.
Though devastating, it was not the single largest death toll for the U.N. community. In 2010, a catastrophic earthquake in Haiti flattened the hotel where many U.N. officials lived, killing 102. Twenty-three were killed when insurgents bombed the organization's offices in Baghdad in 2003, shortly after the U.S. invaded Iraq and toppled Saddam Hussein. Among the dead was the chief of mission, veteran diplomat Sergio Vieira de Mello.
And hundreds of U.N. peacekeepers have been killed in conflicts through the years.
The flight from Addis Ababa to Nairobi, Kenya, however, was routine, with ostensibly no cause for fear. The route is so frequently traveled — the U.N. has its headquarters for Africa in Nairobi — that the flight is sometimes called the U.N. shuttle.
U.N. Secretary-General Antonio Guterres held a minute of silence at the New York headquarters Monday and ordered flags flown at half-staff at many of the organization's offices and installations.
"A global tragedy has hit close to home, and the United Nations is united in grief," Guterres said, extending his "deepest condolences" to the relatives and loved ones of all those who died.
"Let us honor the memory of our colleagues, by keeping their spirit of service alive," he said.
The U.N. dead included two Italian women in their 20s, Virginia Chimenti and Maria Pilar Buzzetti, who worked at the World Food Program's headquarters in Rome. Victor Tsang, who was from Hong Kong and specialized in gender issues, according to his agency's website, had left the WFP to join the U.N. Environmental Program.
"As we mourn, let us reflect that each of these WFP colleagues were willing to travel and work far from their homes and loved ones to help make the world a better place to live. That was their calling," said WFP director David Beasley.
Many travelers were flying to Nairobi for a major meeting of the U.N. Environment Assembly.
Another WFP employee who was killed was Michael Ryan of Ireland. His work included the creation of safe ground for Rohingya refugees in Bangladesh, according to the Associated Press.
"Michael was doing life-changing work in Africa," Irish Prime Minister Leo Varadkar said.
Workers for other humanitarian agencies, including Catholic Relief Services and Save the Children, were also among the dead, officials said.
"U.N. workers face unbelievable risks to help people all over the world," Peter Yeo, senior vice president of the U.N. Foundation, which works to improve relations between the U.N. and Washington, said in an interview. "This is a reminder of the exposure U.N. workers have, with so much travel in high-risk areas.
"What a loss of talent," Yeo said. "A tragic loss for the families, for the people they were serving and for the institution."
For more on international affairs, follow @TracyKWilkinson on Twitter
Must-read stories from the L.A. Times
Get the day's top news with our Today's Headlines newsletter, sent every weekday morning.
You may occasionally receive promotional content from the Los Angeles Times.