Global Development: Escaping Venezuela: They pour into Brazil by the thousands looking for work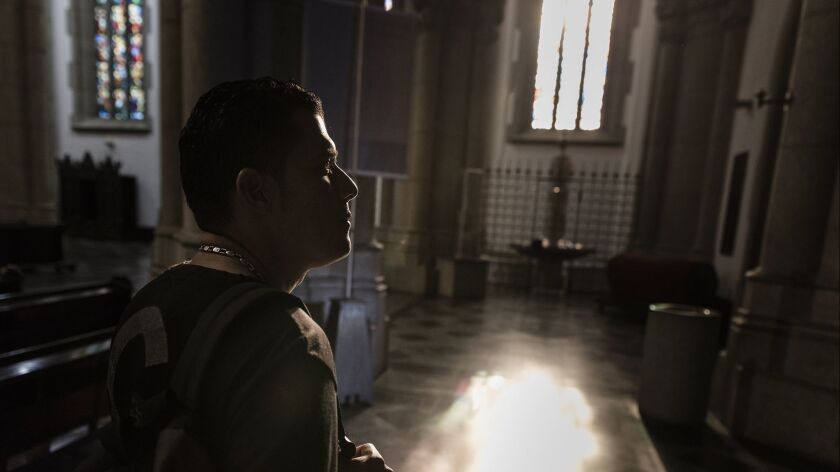 Reporting from SAO PAULO, Brazil —
Luis Baena shares a room with 127 other men.
During the day he looks for work or sings on the streets of downtown Sao Paulo for a few reals. When he sits down for a meal, he feels pangs of guilt, wondering whether his wife and children back in Venezuela even have food on the table. The last time he spoke with them, they were making do with cachapas, a corn pancake with beans, and eating once, maybe twice, a day.
His search for work took him first to Praca das Aguas, a public square in the city of Boa Vista in northern Brazil, where he slept outdoors. When he heard there were jobs in Sao Paulo, he accepted the government's offer to be relocated to the mega-city and in early April landed at the municipal shelter in Sao Mateus, a neighborhood east of Sao Paulo.
Sao Paulo's then-mayor, Joao Doria, promised jobs. A telemarketing company in need of Spanish speakers was on board, and other companies would follow its lead. There would be ample work for the Venezuelans.
But Baena is still looking, searching for the panacea that will help him rescue his family from the violence and crushing inflation that have staggered his homeland. He is among 52,000 Venezuelans who have crossed into Brazil in the last year, all looking for the same thing: work and a chance at a new life.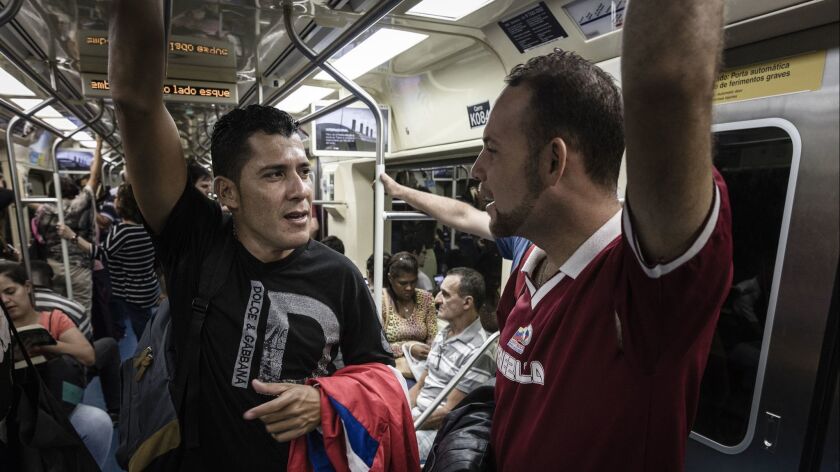 The exodus has strained the social safety nets of Venezuela's neighbors, particularly in Boa Vista, where the 40,000 who have settled in shelters and public spaces now account for 10% of the city's population. The state of Roraima has become so overwhelmed that in mid-April, Gov. Suely Campos filed suit in Brazil's Supreme Federal Court demanding the federal government temporarily close the border. An average of 800 Venezuelans a day cross into Brazil. Others flood into Colombia. The exodus never seems to slow.
To alleviate some of the stress, the federal government partnered with the United Nations to relocate some of the Venezuelans in Boa Vista to other cities across Brazil. Baena, 42, and his nephew Teoscar Mata, 29, were among those who agreed to be moved to Sao Paulo by the Brazilian army.
Baena left his home in El Tigre, a small town in Venezuela's oil-rich Orinoco Belt, just over six months ago. The meager wages he made every month as a supervising drilling technician for a Chinese company was no longer enough to feed his family.
Even with his wife's earnings as an elementary school teacher, the hyperinflation pushed even basic groceries out of their reach. Suddenly, a second-rate cut of beef cost nearly 900,000 bolivars a pound — more than he earned in a year.
At the shelter in Sao Paulo, Baena now eats three meals a day.
"It's hard to sit with a plate of food in front of you and wonder, are my wife and kids eating today?" Baena says.
He and Mata, who also hopes to bring his wife and three children to Brazil, have befriended two other men in the shelter, Willian Jose Sotillo Henriquez and Hugo Enrique Ford Rivas. Both are older than 60, which makes it even more difficult to find work. Like the others, they left Venezuela because the hyperinflation made it nearly impossible to survive.
Sotillo's wife, Amarilys, needs surgery for uterine cancer. One of Ford's twin 17-year-old daughters is pregnant, and the other just gave birth, they say. One of them, Eudymar, hitchhiked to Boa Vista with Ford, but it's too soon for her and the newborn boy to fly to Sao Paulo to join her father.
"I know it's difficult for her here too, but at least in Brazil there are hospitals with medications and the baby [is] born somewhere safe," Ford says.
The other daughter, Eudybell, didn't know she was pregnant when her dad and sister left her in Venezuela for Brazil. She hopes to join her family in Brazil once she gives birth and they have enough money for a bus ticket. The girls' mother died of ovarian cancer eight years ago.
The four men have been looking for work since arriving in Sao Paulo. They have their documents in order and are taking Portuguese classes offered by the city, but they still find it difficult to navigate the massive metropolis. An aid organization gave Baena and Mata bus passes, but without any cash they have to return to the shelter at specific mealtimes if they hope to eat.
The bus ride from the city center to the shelter takes more than an hour. Baena and Mata have tried making a few reals by singing on the streets in the city's downtown, but most of their time is spent looking for work or making the trip from the city core to the shelter so they don't go hungry.
Filipe Sabara, the municipal secretary of social assistance and development, insists the distance between the shelter and the city center, where most immigrants and refugees find work and help from aid groups, shouldn't make a difference. He says at least 20 companies have shown interest in having Venezuelans take part in a selection process for available jobs that was expected to begin in May. He didn't, however, name any of the companies and was unsure when work might actually begin.
"It all depends on the companies," he says. "There's no way for us to guarantee they'll be employed right away."
But for Sotillo, time matters. A friend of his wife's managed to get her enough money to buy medications she needs for cancer surgery. However, because Sotillo wasn't able to earn enough yet for the surgery, the medications — which expired at the end of May — were wasted. Amarilys was diagnosed last June, and he worries because she hasn't seen a doctor since February.
Carlos Bezerra Jr., a Sao Paulo state representative and president of the state's human rights commission, says the municipal government is failing the Venezuelans who arrive in Sao Paulo. He blames a lack of proper planning. Providing them shelter so far from downtown, he says, denies them the opportunity to be close to the resources they need.
"It's a way to make them invisible. Invisibilize and forget," he says.
If there are companies out there hiring, as Sabara suggested, the four men haven't found them. So they continue to hand out resumes, seeking advice from anyone they meet.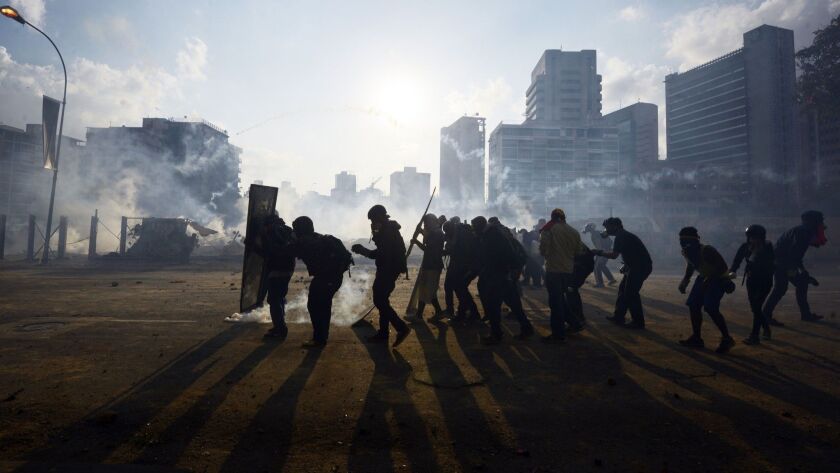 Sotillo completed a course offered by the city on working in Brazil but is still unsure of labor laws and worker rights in the country. Ford was already the victim of forced labor in Boa Vista and wants to make sure he doesn't get caught up in the same situation again. Originally hired to work on a farm outside the city for two weeks, he and three other men were forced to work for a month at gunpoint before they escaped, he said. They were never paid.
But essentially, Sotillo and Ford are willing to take any job they can find. They're planning to register at the city's Work Support Center in the downtown neighborhood of Luz, home to immigrants and refugees. They remained hopeful the cellphone they share will ring soon with an opportunity for at least one of them.
There is a glimmer of hope. Fraternity Without Borders, an aid group that gave Baena and Mata their bus passes, recently offered the pair a place to stay at a house in Indaiatuba, two hours outside Sao Paulo. They'll share it with two other Venezuelan men, and all necessities will be provided. Job interviews have already been set up for when they arrive.
"At my age, I know I'll probably never make it home again," Sotillo says. "But at least here I have hope.
"If I'm here I might be able to save my wife's life."
Langlois is a special correspondent.
---
Must-read stories from the L.A. Times
Get the day's top news with our Today's Headlines newsletter, sent every weekday morning.
You may occasionally receive promotional content from the Los Angeles Times.