For some world leaders, 2018 is a year best forgotten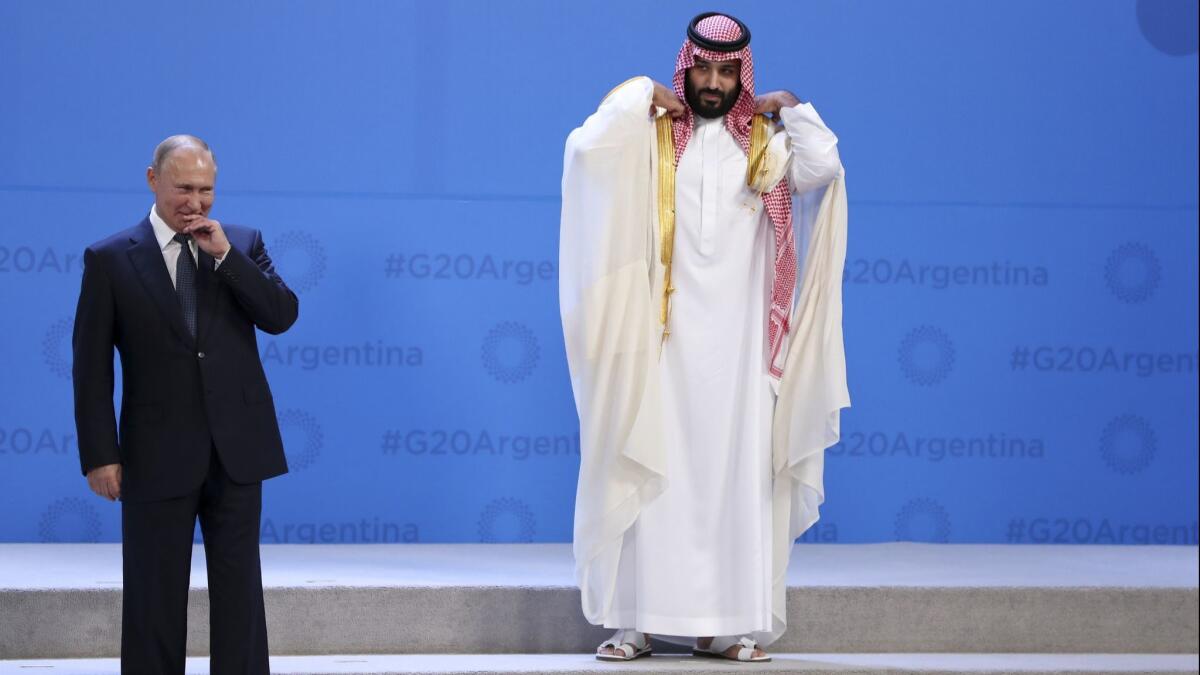 Reporting from Washington —
Whether by sudden reversal of fortune or disastrous slow-motion slide, 2018 proved a bruising year for some of the world's leaders.
Some of the heads of state or government are globally recognized figures; others are little known outside a limited sphere. Some are veterans of the halls of government; others are newcomers who may have gotten more than they bargained for when they sought to shake things up.
For more than a few of these leaders, the political wounds of 2018 were self-inflicted, or carried the whiff of a reckoning come due. For others, a fall from grace seemed driven more by bad luck, or bad timing, or both.
Of the presidents, prime ministers and others who counted this year a watchword for adversity, the setbacks of some could be read as an anomaly, a departure from an otherwise buoyant trajectory. For others, 2018 might appear, at least in retrospect, to be the beginning of the end.
Leaving aside the travails of President Trump, who serves as both role model and villain for peers on the world stage, here is a sampling of leaders elsewhere who had a notably difficult year:
Mohammed bin Salman
The initials by which Saudi Arabia's young crown prince is so widely known — MBS — were transformed by critics into a darker sobriquet: "Mister Bone Saw." As the year drew to a close, the outcry over October's gruesome killing and dismemberment of Jamal Khashoggi, a palace insider turned outspoken critic and opinion writer for the Washington Post, had abated somewhat, but the fallout was far from over.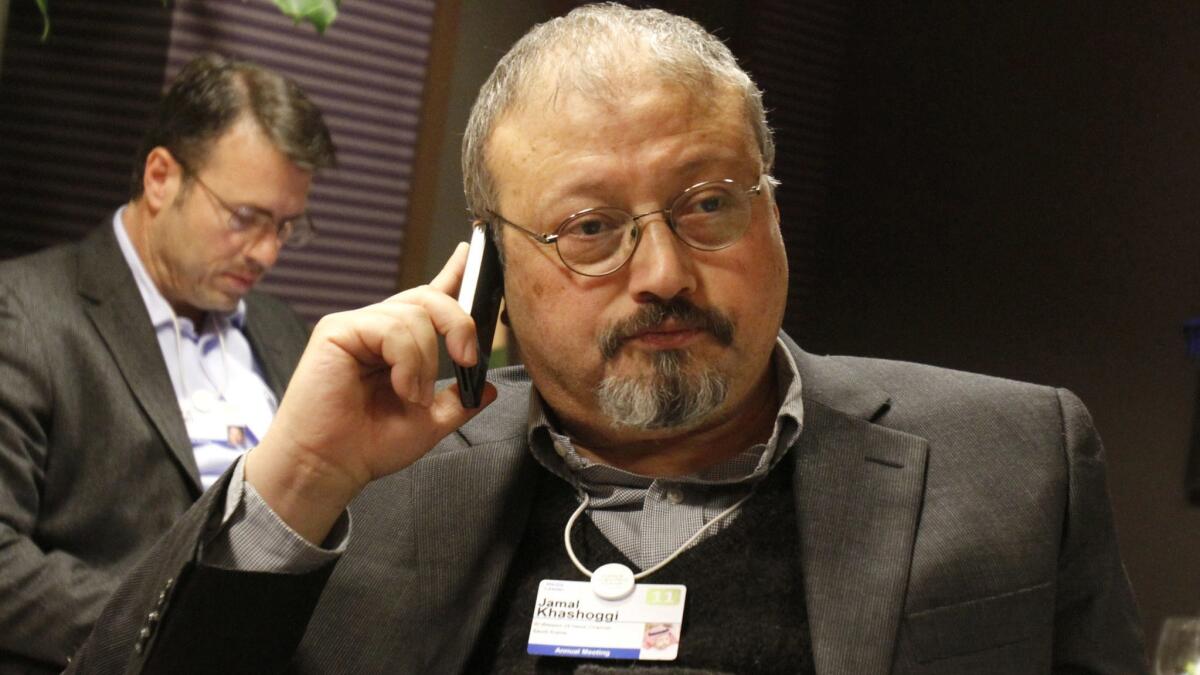 U.S. intelligence pointed to the strong likelihood of responsibility resting with Mohammed, but Trump ignored the finding. The U.S. Senate, however, pushed back with a sweeping condemnation and put the disastrous Saudi-led war in Yemen under scrutiny. Immense Saudi wealth and influence helped contain regional repercussions of the Khashoggi affair, but the crown prince's reformist image overseas was shattered. A year-end Cabinet shakeup did little to restrict the crown prince's powers, but royal rivals at home might yet find ways to rein in an impetuous monarch-in-waiting.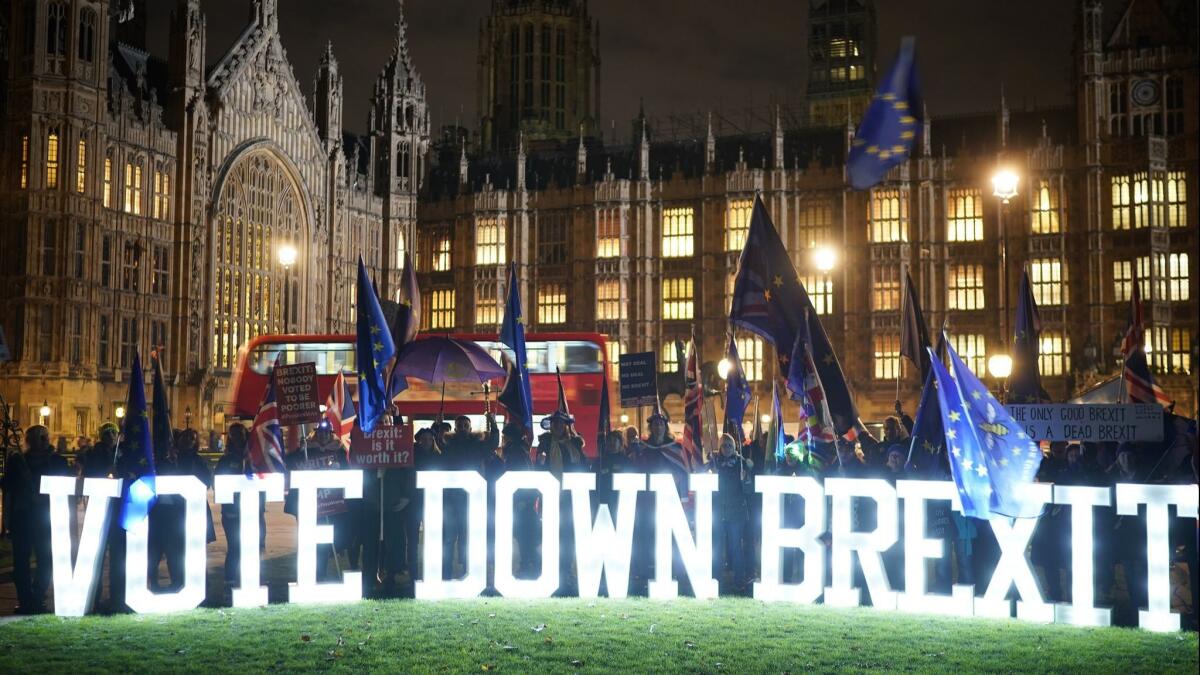 Theresa May
It's not as if the year started out swimmingly, but it definitely got worse as it went on. May, who had personally voted "Remain" in the 2016 referendum on Britain leaving the European Union, faced an onerous task as prime minister: making an enormously complicated exit process orderly and workable.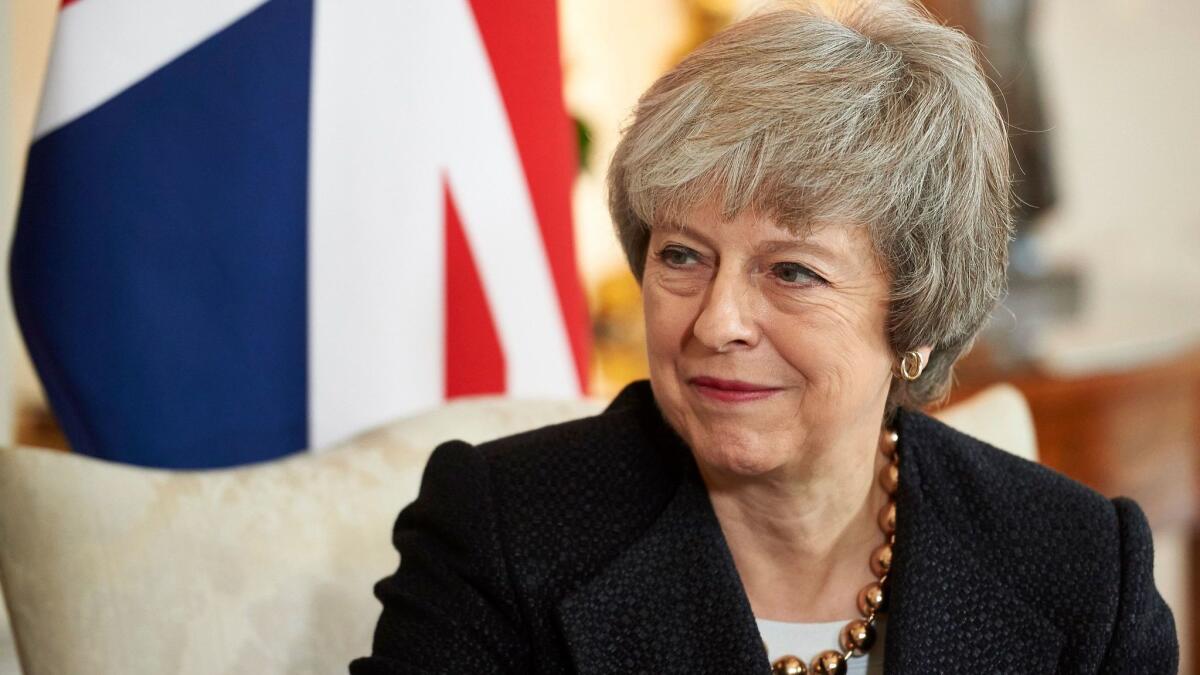 By year's end, with a scant three months remaining before a scheduled March 29 break with the bloc, May found herself savaged by lawmakers inside and outside her Conservative Party, and the divorce terms she negotiated with the EU were embraced by almost no one. She survived a December no-confidence vote in Parliament, buying her another year as her party's leader, but at a humiliating price — she had to promise not to try to lead the Conservatives in the next election. Now, with fears building over dire projected consequences of Britain separating from the EU, May faces an acrimonious showdown early in the new year over how — and perhaps whether — Brexit can actually come to pass.
Emmanuel Macron
Macron once likened the role of the French head of state to that of Jupiter, the ancient Roman king of the gods. He struck that comparison from his public repertoire after jeers from critics, but his ascent was undeniably a stunning one: Last year, at 39, he became his country's youngest elected president, vanquishing a far-right rival to sweep into office with ambitious plans for economic and social reform. This year, though, has brought a succession of woes: plummeting popularity, a deep slump in consumer confidence and a fiery challenge in the form of the gilet jaunes, or yellow vests, street-protest movement, named after the high-visibility hazard vests that French motorists must carry in their cars. The protests began as a revolt against a proposed fuel tax but quickly widened into a broader denunciation of inequality and a stinging critique of Macron's mode of governance. A presidential address this month, directly aimed at the yellow vests protesters, struck a sour note with some, delivered as it was from one of the most gilded rooms at the opulent presidential palace. Macron, who has since turned 41, acknowledged that there was cause for "anger and indignation" but defended himself as well, declaring: "If I fought to shake up the political system … it is precisely because I believe, more than anything, in our country."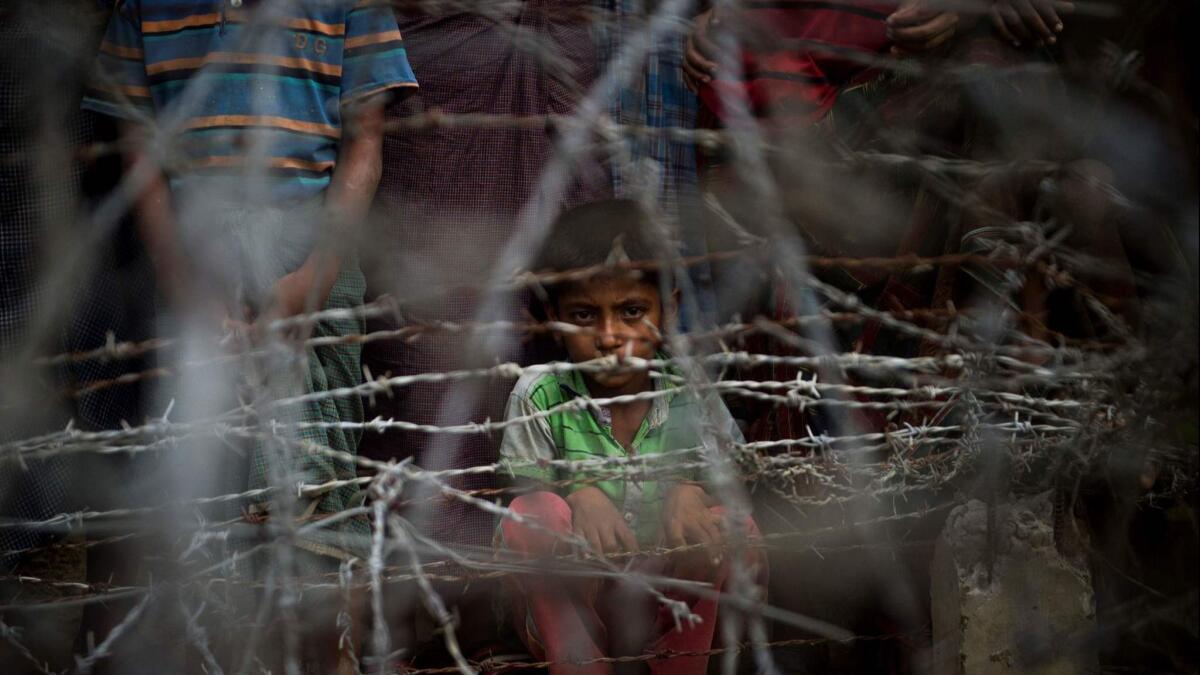 Aung San Suu Kyi
She was once a beacon of democratic aspirations, a symbol of principled resistance, a Nobel laureate revered as "the Lady." But in her three years as Myanmar's de facto leader, Aung San Suu Kyi has largely thrown her support to the generals she once so bravely confronted. Her condoning of the brutal repression and displacement of the Rohingya, a Muslim minority, was for many critics the last straw.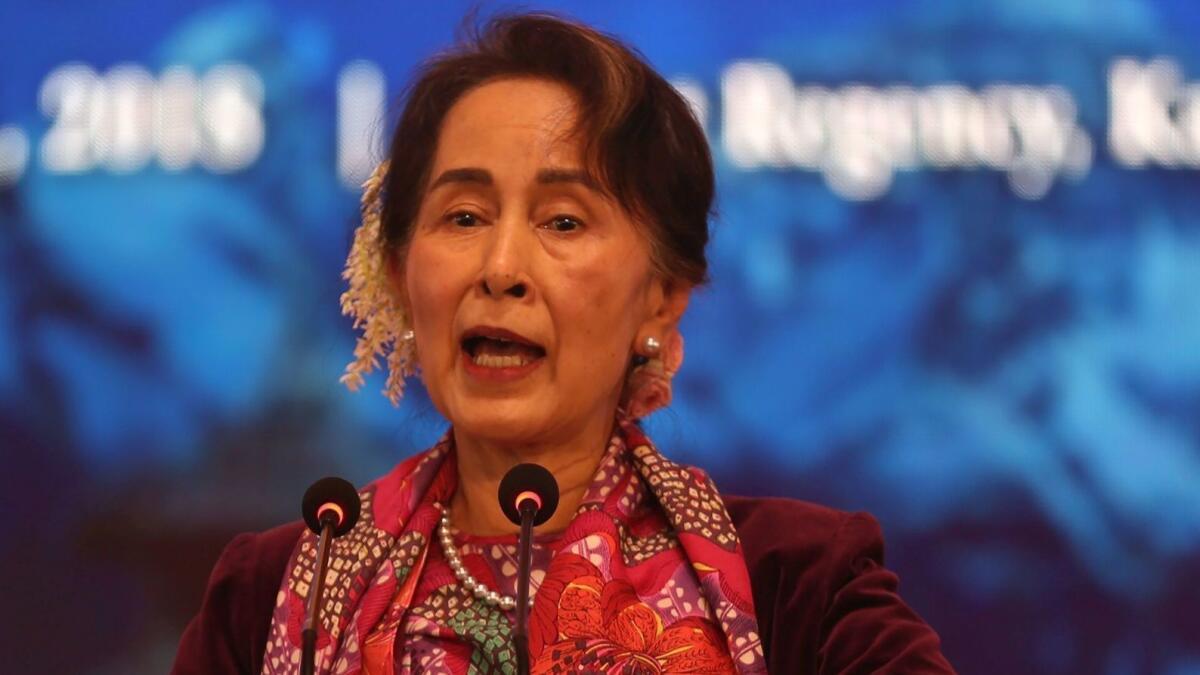 This year, she saw her reputation further battered by formal rebukes from many of the same prestigious organizations that had honored her during her long years of house arrest. Amnesty International was among the latest, in November, to rescind a prior honor. She missed another chance at redemption in 2018, choosing to defend Myanmar authorities' prosecution of two Reuters journalists whose plight became an international cause celebre. The pair, Wa Lone and Kyaw Soe Oo, who had reported on atrocities against the Rohingya, were sentenced in September to seven years in prison.
Benjamin Netanyahu
To many, the Israeli leader is the ultimate political survivor, canny and charismatic, improbably clinging to long-lived power in the face of setbacks that would have sunk any other politician's career without a trace. But the 69-year-old prime minister, who spent much of 2018 reveling in the patronage of a powerful friend in the Oval Office, ended the year eyeing peril on several fronts, including Trump's abrupt declaration that he would pull U.S. troops out of Syria, a move seen as empowering Israel's nemesis, Iran. Enveloping corruption scandals appear closer than ever before to visiting ruin on Netanyahu and his family. Nonetheless, he appears likely to win early elections set next year, and if he does, he could surpass founding father David Ben-Gurion as Israel's longest-serving prime minister. Unlike Trump, he is not presumptively shielded from indictment or trial while in office, and friends and foes alike predict if his legal troubles go that far, he would fight any charges rather than step aside.
Viktor Orban
A good year or a bad year can be hard to measure. For much of the last decade, Hungary's prime minister has made consistent strides toward achieving his own particular brand of success: the methodical weakening of his country's democratic institutions, including the courts and the independent media, and the amassing of personal power. But the end of this year brought an unaccustomed stumble: days of significant street protests in several cities including the capital, Budapest. The catalyst was a labor measure that critics angrily denounced as a "slave law," giving employers the right to demand hundreds of hours annually of mandatory overtime. And the televised spectacle of opposition politicians being manhandled by authorities this month helped unite a normally fractious political opposition. But it wasn't clear whether the unrest posed any significant threat to Orban's tightening grip on power. One telling chant heard at protests: "Vik-a-tor" — a mashup of his first name and diktator — dictator.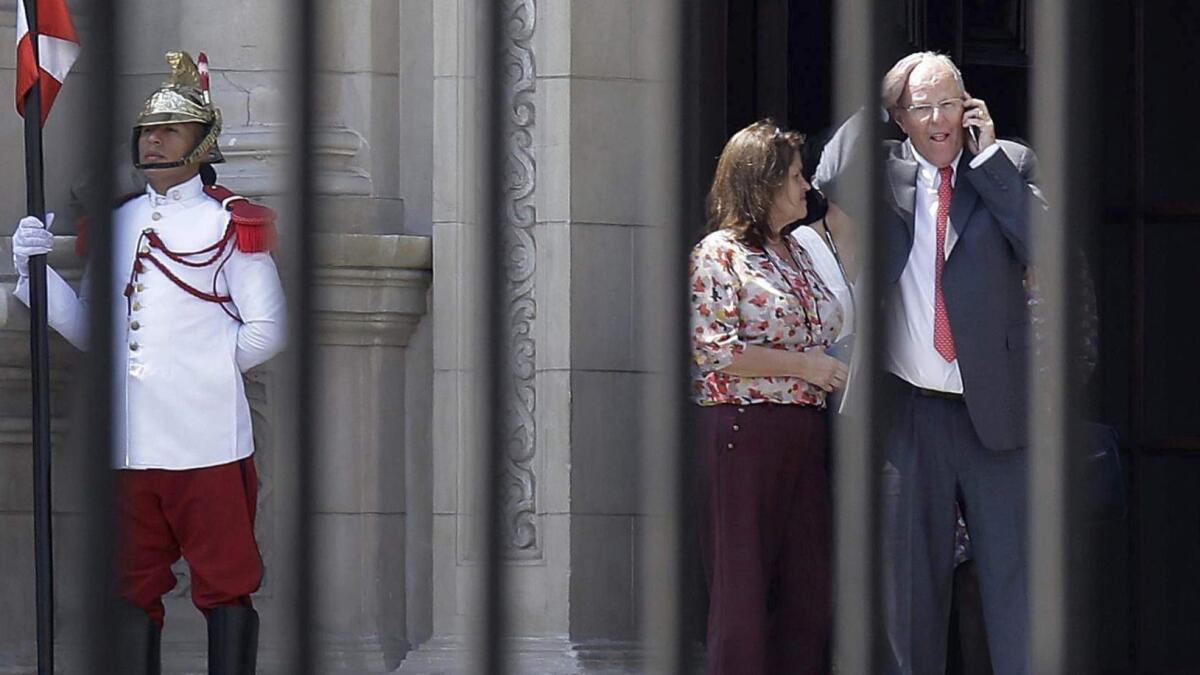 Pedro Pablo Kuczynski
He saw the writing on the wall. Days away from an impeachment trial, Kuczynski, an Oxford- and Princeton-educated former banker who had pledged to modernize Peru, stepped down from the presidency in March over a vote-buying scandal. Although he had served less than two years of his five-year term, his downfall was a long-running saga, with the Peruvian leader spending months battling attempts to eject him. The mounting scandals included construction-contract graft and a pardoning of a former president that appeared to be part of a sweetheart deal. Despite it all, Kuczynski managed to hang on until secret videotapes emerged, appearing to show his allies trying to pay off opposition figures with major political favors. To the end, though, the 79-year-old president's message stayed consistent: He had done nothing wrong, he said, but was resigning for the good of the country.
Twitter: @laurakingLAT
Sign up for Essential California for news, features and recommendations from the L.A. Times and beyond in your inbox six days a week.
You may occasionally receive promotional content from the Los Angeles Times.