Zimbabwe fuel protests grow violent; gas prices now highest in the world
Reporting from JOHANNESBURG, South Africa —
Burning tires blocked the streets as outraged Zimbabweans marched in the nation's main cities Monday to protest the government's sudden and jarring move over the weekend to more than double fuel prices.
President Emmerson Mnangagwa announced in a televised address late Saturday night that his administration was increasing gasoline prices the next day to $12.51 per gallon to combat fuel shortages driven by "rampant" illegal trading.
According to the website Globalpetrolprices.com, that makes Zimbabwe's gasoline the most expensive in the world, with Hong Kong coming in a distant second. Diesel prices were also raised to $11.77 per gallon.
The unexpected move sparked quick and widespread frustration among weary Zimbabweans who have endured months of fuel and food shortages.
As Mnangagwa touched down in Russia for an official visit, police clashed with protesters in Harare and the southern city of Bulawayo, and soldiers were deployed in parts of the capital, according to the Associated Press. The country's largest labor union federation called for workers to stay home in a three-day national shutdown.
More than a year after authoritarian leader Robert Mugabe was forced out of office, many Zimbabweans are fed up with their new government's failure to deliver any meaningful change.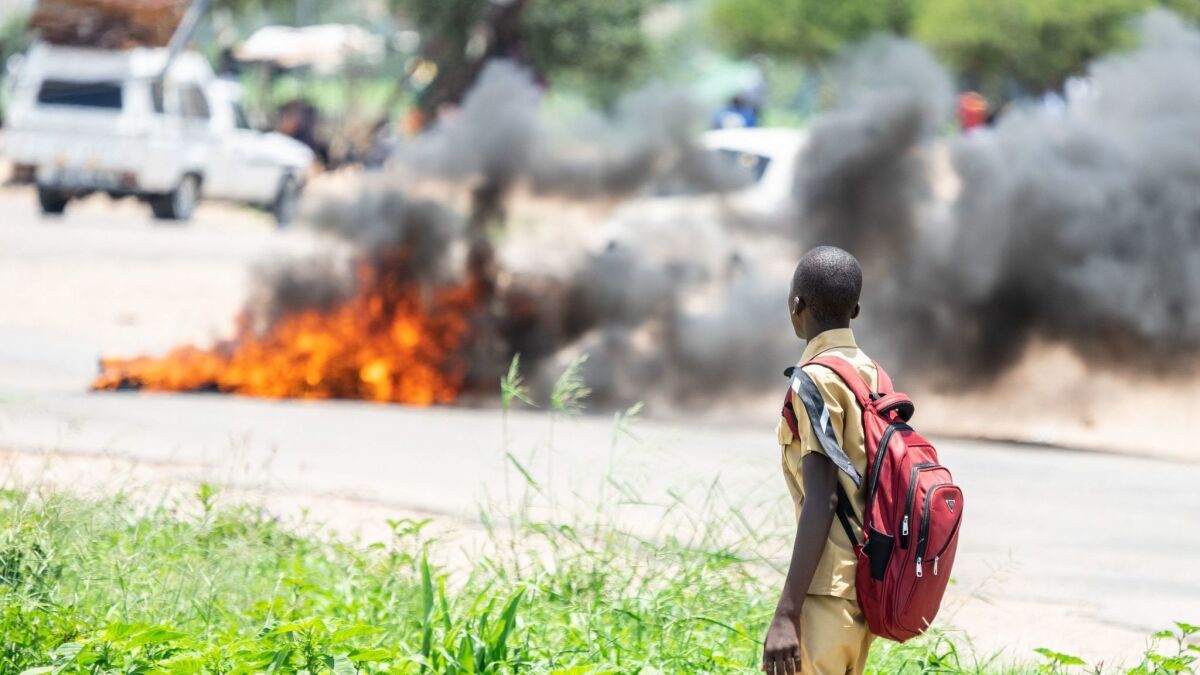 Mnangagwa, a longtime member of Mugabe's ruling ZANU-PF party, pledged to overhaul the hollowed-out economy when he was elected in July, but his critics regularly say they are worse off now than they were under his predecessor.
Many are still out of work. Doctors just ended a weeks-long strike over pay, and teachers and civil servants have warned they may do the same. For months, Zimbabweans have waited for hours in lines for gas and faced empty shelves at markets as cash shortages have left many basic goods in scarce supply.
The demonstrations that kicked off Monday raised the specter of the sort of violent crackdown that marred Mnangagwa's victory in July, when the army opened fire on demonstrators in downtown Harare, killing six.
Civil society leaders and the country's main opposition called for demonstrations to remain peaceful Monday, but police and state media condemned protesters for resorting to violence, accusing them of looting and illegally blocking roads.
Police spokesperson Charity Charamba said in state media that police had gathered video footage of the demonstrations and warned they would "arrest anyone found on the wrong side of the law."
Mahr is a special correspondent.
---
Must-read stories from the L.A. Times
Get the day's top news with our Today's Headlines newsletter, sent every weekday morning.
You may occasionally receive promotional content from the Los Angeles Times.