Asian, European markets drop on news of Britain's EU exit
Reporting from Beijing —
International markets reeled on Friday as Britain voted to leave the European Union in a shock referendum result, with the value of the pound falling to its lowest level against the U.S. dollar since 1985.
As of early Friday morning in Britain, 52% of British voters had chosen to leave the EU and 48% to remain, marking a stunning victory for the country's "leave" camp.
The results threw financial markets into turmoil. The pound plunged more than 10% against the dollar, to a 30-year low of below $1.34. Oil prices sank. And stocks in Asia tumbled, with Japan's Nikkei index off more than 7%.
Markets in Europe tanked too, with Britain's FTSE 100 losing more than 8% after the opening bell. Investors in the U.S. were bracing for huge hits when markets open Friday as their stock futures were down sharply.
"What we're seeing now is the market reacting with complete shock and bewilderment as the results unfold," said Trevor Charsley of the foreign-exchange trading firm AFEX. "The market will now question the validity of the European project and the existence of the euro," he said, as the euro skidded against the dollar as well.
Singapore's Straits Times Index, a bellwether for Southeast Asia, fell more than 2% on Friday.
"It's predominately on the back of what's happening in the U.K. — it's the general volatility and uncertainty about what happens next," said Rahul Bajoria, a Southeast Asia economist with Barclays in Singapore. "Obviously there's a great deal of integration within markets. If there are growth shocks emerging from the EU, it will spread out over time. The main channel is expected to be trade."
Many analysts and economists have said that a vote to leave the European Union would probably push Britain into recession, with its annual economic output dropping 1% to 6% in coming years, although proponents for the "leave" campaign have disputed that. Many other nations in the EU will feel the pinch too, as Britain is the continent's second-largest economy, after Germany.
The European Central Bank, worried about a panic and possible run on the financial system, has pledged to backstop markets. Britain's vote also will give the Federal Reserve more pause in raising interest rates in the U.S., as the results of the vote and ensuing period of uncertainty are expected to heighten volatility in financial markets.
Asian markets also took a particularly strong hit on fears of global economic instability. Japan's Nikkei index fell by 7.92% -- the most in 16 years -- while Hong Kong's Hang Seng Index and Sydney's S&P/ASX 200 dropped by about 3%.
"It looks like all of Asia went lower today," said Liang Kuo-yuan, chairman of the Yuanta-Polaris Research Institute in Taipei, which focuses on financial markets.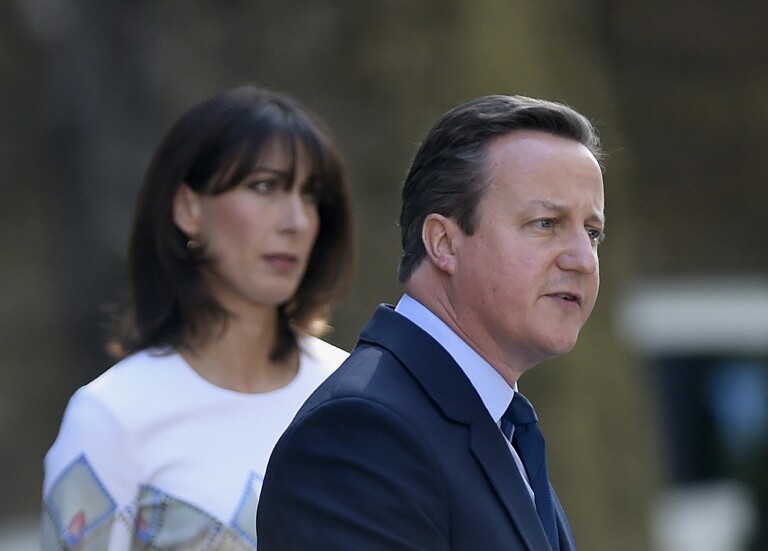 Britain's Prime Minister David Cameron speaks outside 10 Downing Street as his wife Samantha looks on Friday.
(Lauren Hurley / Associated Press)
Former London Mayor Boris Johnson leaves his home in London a day after Britain's vote to leave the EU.
(Andy Rain / EPA)
Italian Premier Matteo Renzi reacts at a news conference in Rome after Britain's vote to leave the European Union.
(Angelo Carconi / EPA)
Stock exchange boards in Madrid show a sharp drop Friday after Britain's vote to leave the European Union.
(Curto de la Torre / AFP/Getty Images)
Leader of the UK Independence Party, Nigel Farage, emerges from a "Leave EU Referendum Party" in London.
(Hannah McKay / EPA)
Supporters of Britain leaving the European Union celebrate at a London gathering as they watch results come in from around the country.
(Stefan Rousseau / Associated Press)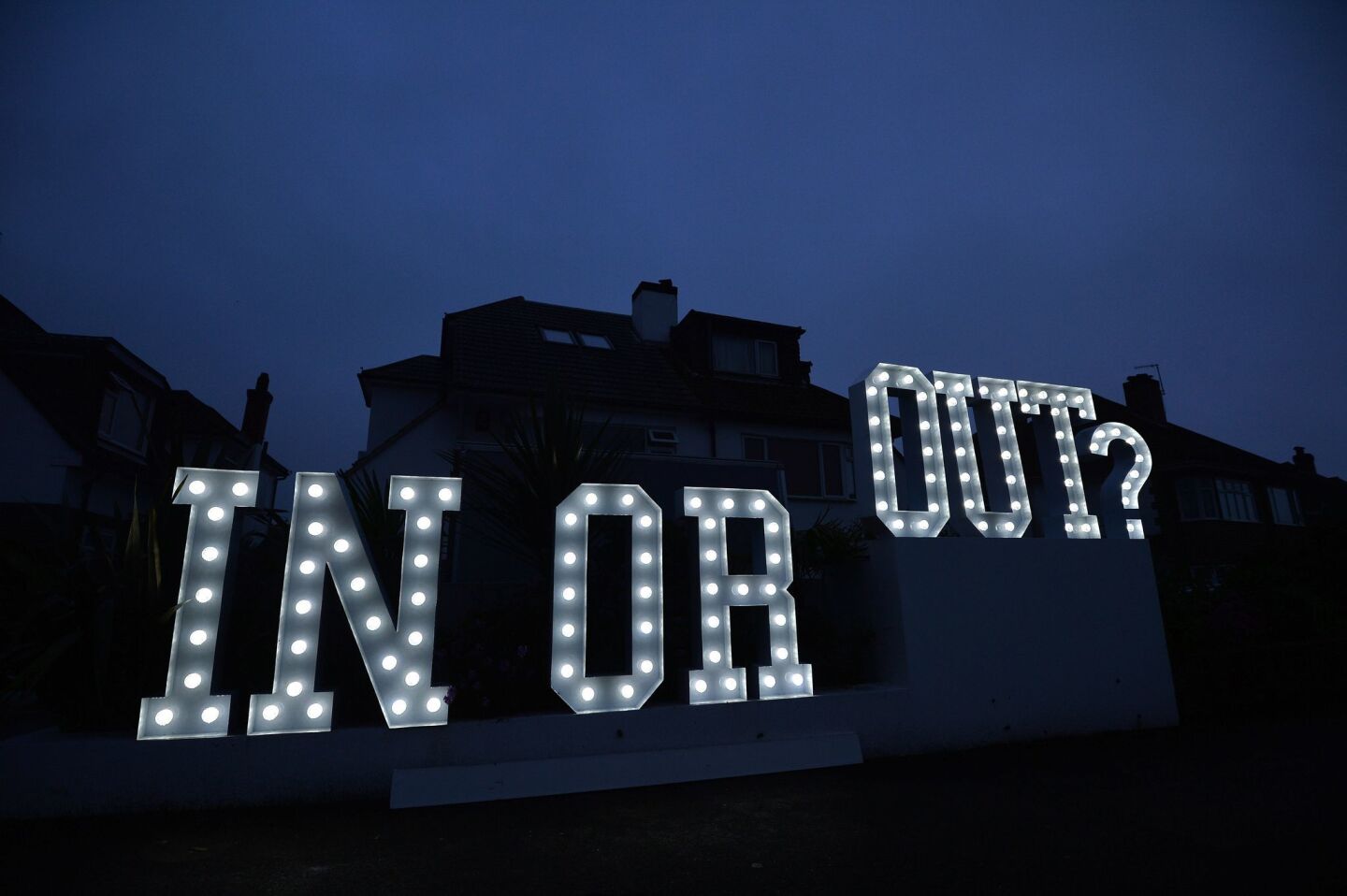 A sign outside a house in Hangleton near Brighton in southern England asks the question that faced British voters in Thursday's EU referendum.
(Glyn Kirk / AFP / Getty Images)
Supporters of the "Stronger In" campaign react after hearing results in the EU referendum at London's Royal Festival Hall.
(Rob Stothard / Associated Press)
Supporters of keeping Britain in the EU react after hearing referendum results at London's Royal Festival Hall.
(Rob Stothard / Associated Press)
Bundles of ballots at a counting center in Manchester.
(Danny Lawson / EPA)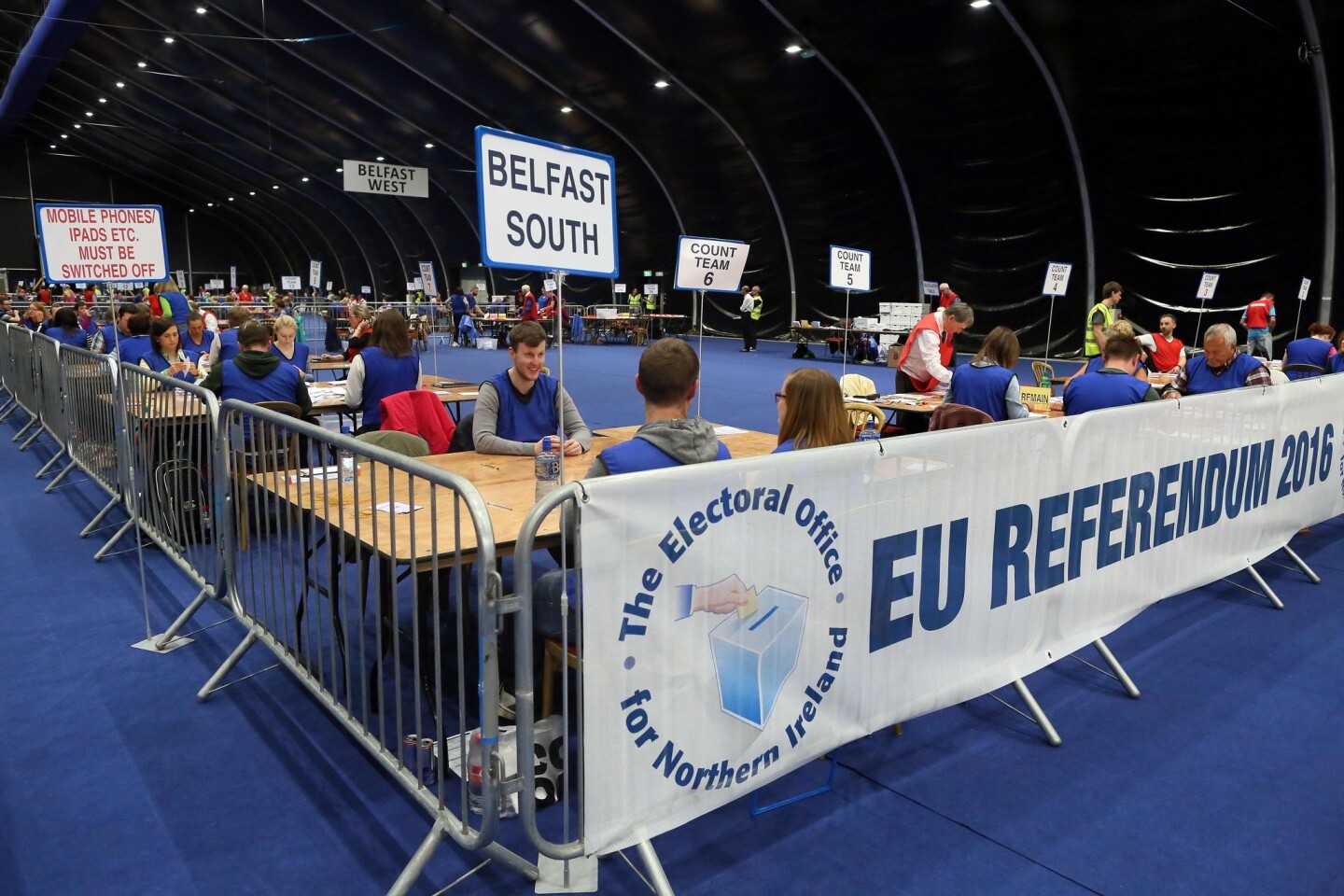 Ballots are tallied in Belfast, Northern Ireland.
(Paul Faith / AFP / Getty Images)
Ballots are delivered for tabulating at a counting center in Glasgow, Scotland.
(Robert Perry / AFP/Getty Images)
Ballots are sorted at Lindley Hall in London.
(Anthony Devlin / Associated Press)
"Stronger In" campaign supporters view referendum results at Royal Festival Hall in London.
(Rob Stothard / AFP / Getty Images)
"The U.K. leaving the EU will cause all sorts of disturbances. Those disturbances have political and economic elements. [Foreign exchange] markets will immediately be affected," he said.
"For stocks, investors will feel sentiment is not good and will start to sell off," he continued. "The global economy is always in a fragile situation. The disintegrated situation will make everyone nervous [about another country breaking away]. The long-term impact is something you can't overlook."
The Chinese yuan also dropped to its lowest level since January 2011, hitting a low of 6.6148 against the U.S. dollar.
"China respects the choice of the U.K. people," and "a prosperous and stable Europe is in the interest of all parties," said Chinese Foreign Ministry spokesperson Hua Chunying at a news briefing on Friday, according to the state-run People's Daily.
Li Daokui, an economics professor at Tsinghua University, said the Brexit could adversely affect the Chinese economy, but likely only in the short term. "The U.K. is China's strongest ally in the internationalization of the renminbi [RMB]," he said. "When the U.K. leaves the EU, London's financial influence will shrink. That will negatively impact the internalization of the RMB."
In the long run, "It might be a good thing for China's economy," he continued. "The U.K.'s exit will diminish the power of the euro, so the RMB might have a chance to replace the EU's position as the second-strongest currency next to the U.S. dollar."
The yen, considered a haven currency, surged to 100 per dollar. The stronger yen is poised to make Japanese exports less competitive, striking a blow to Japanese Prime Minister Shinzo Abe's plans to revive the economy.
Ryo Sahashi, associate professor of international politics at Kanagawa University in Japan, called the turn of events "shocking" and said it would probably diminish Japanese investment in Britain.
"The Japanese business community has been really worried about this, not only because of the impact on their access to EU markets, but also because of their inherent dislike of uncertainty and preference for long-term planning," said Sarah Parsons, managing director of Japan in Perspective and an expert on doing business with Japan. "With discussions I've had with Japanese business community here, [my feeling] is that this is a big shock for them."
Japanese companies, she said, now might turn their focus to Germany, where they already have a corporate footprint and English is widely spoken. She added that she expects British investment in Japan to stay stable, although an EU-Japan trade agreement currently under discussion "may well be affected."
"However, my experience is that the Japanese don't act impulsively, and really value their investments in the U.K.," she said. "It would be a really painful decision for them to pull out, and [that] would not happen in the short term."
Nikkei futures trading was halted because of the drop, while the regular market continued trading. Japanese analysts struggled to seek a silver lining in the securities market and exchange rate moves.
"The only good thing about today," said Sahashi, "is that we can now buy Scottish whisky at a cheaper price."
Kaiman reported from Beijing and Makinen reported from Tokyo. Special correspondents Ralph Jennings in Taipei and Yingzhi Yang in Beijing contributed to this report.
ALSO
Opinion: The isolationist catastrophe of 'Brexit'
Armed man storms German theater, is shot to death by police
'Catastrophic humanitarian emergency' at Nigerian refugee camp
---
UPDATES:
3:54 a.m.: Updated with fresh market data.
1:19 a.m.: Updated with quotes from Japan and China.
11:44: This story was updated with information from Singapore and China.
11:03 p.m.: This story was updated with comments from financial analysts.
10:51 p.m.: This story was updated with staff material.
This story was originally published at 9:47 p.m.
---
Must-read stories from the L.A. Times
Get the day's top news with our Today's Headlines newsletter, sent every weekday morning.
You may occasionally receive promotional content from the Los Angeles Times.