Anguish after Venezuela jail fire kills at least 68: 'Those who did this should pay'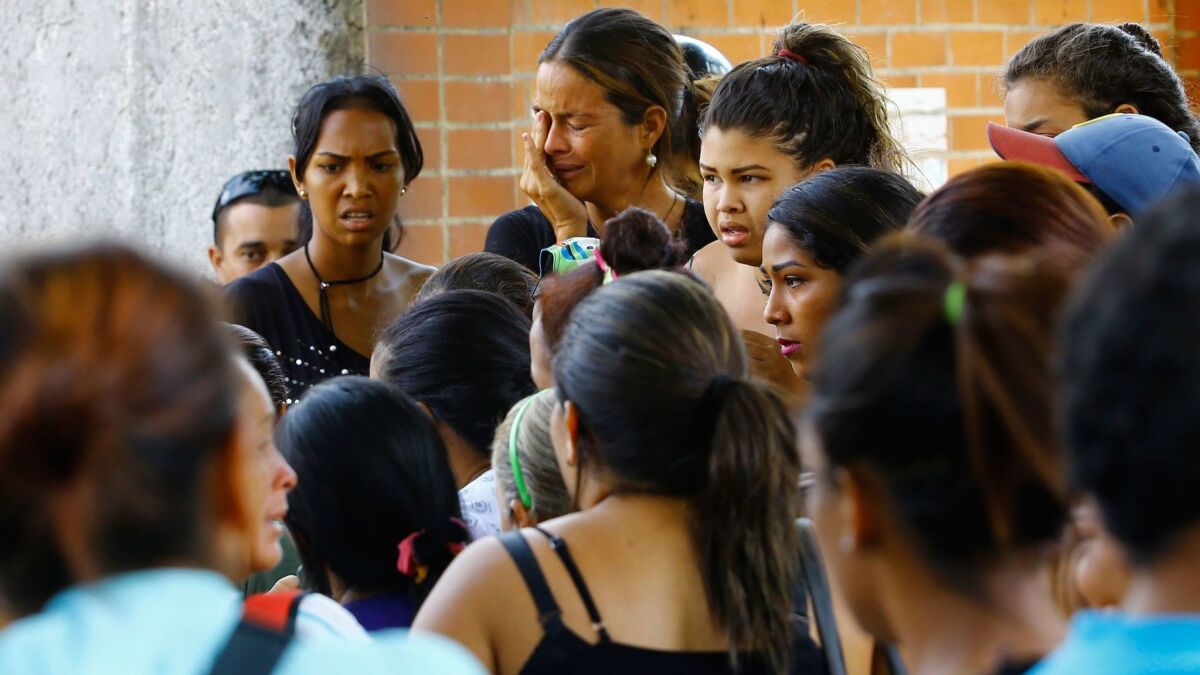 Reporting from Caracas, Venezuela —
As relatives waited for officials to hand over the remains of loved ones killed in a jailhouse fire, anger flared again in this economically pressed country as residents and activist groups demanded an explanation for one of the worst catastrophes in the nation's notoriously overcrowded jail and prison system.
The fast-moving fire on Wednesday swept through a police station where prisoners were being kept, killing at least 68 people packed into jail cells designed to accommodate a fraction of its inmate population. Several officials said they expected the death toll to climb.
As smoke and flames engulfed the jail, television news footage showed desperate families pushing toward a line of police officers before being driven back by tear gas and rubber bullets. Some people stumbled in the chaos as the bullets kicked up puffs of dust in the road outside the police station.
"I want justice for my son," said Rocky Varela, 53, who said his 27-year-old son had been killed in the blaze. "Those who did this should pay."
Venezuela has been staggered by its economic crisis. Hyperinflation, food shortages, a lack of jobs and waves of lawlessness have made life intolerable for many, some who have fled to neighboring countries to seek relief.
Conditions in the prisons are even worse, advocate groups say, with inmates going without food or basic sanitation for days and drugs and weapons traded among prisoners with the help of corrupt guards.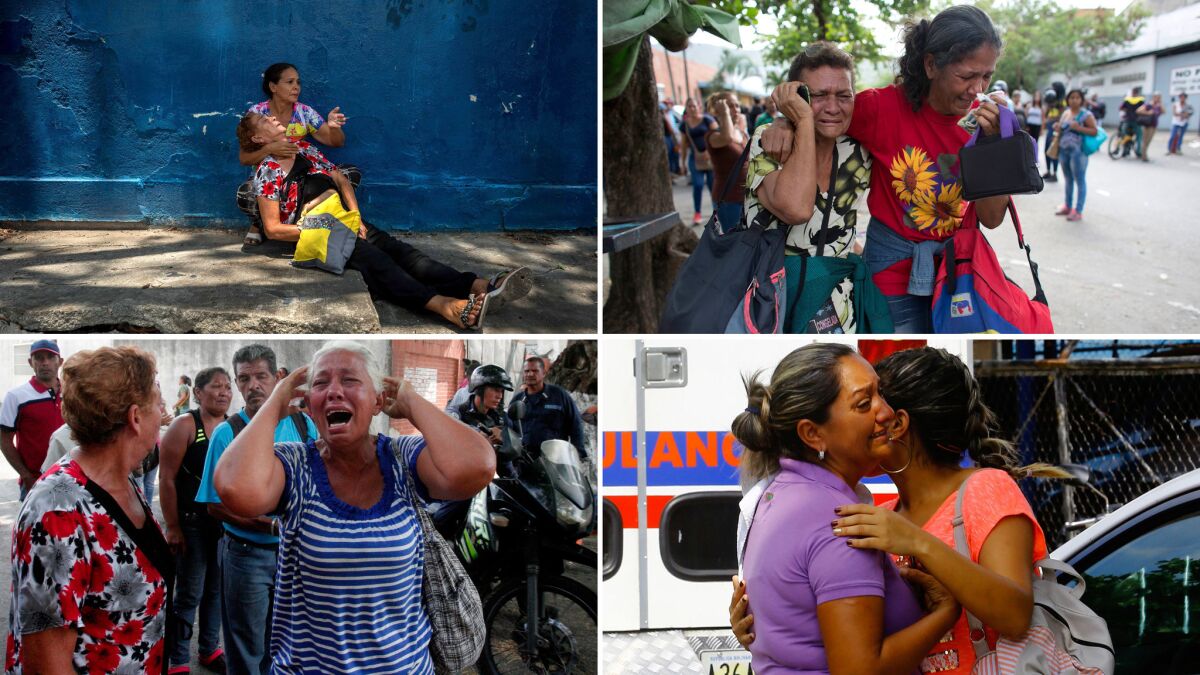 Venezuela chief prosecutor Tarek William Saab said four prosecutors were being assigned to determine what happened and who was responsible for the tragedy in Valencia, a town in Carabobo state 100 miles west of Caracas, the nation's capital.
Saab, who said all but two of the victims were men, promised a "thorough investigation to immediately shed light on the painful events that have put dozens of Venezuelan families in mourning." The two women who were killed were believed to have been visitors.
The death toll in Wednesday's disaster surpasses nearly every recent mass casualty event at Venezuelan prisons and jails on record. A fire at a prison in the western state of Zulia killed more than 100 inmates in 1994. In 2013, 61 people were killed and over 100 injured, mostly from bullet wounds, after a riot in Barquisimeto. And in 2017, a disturbance at the Amazonas state prison left 38 dead.
The government of Venezuelan President Nicolas Maduro maintained official silence Thursday over the causes of the deadly riot and fire, even as opposition congressional members and human rights groups called for an investigation.
Opposition leaders quickly pointed to the deadly fire as an example of a failed government and a society that is unraveling. In its third year of recession, Venezuela is suffering from triple-digit inflation and deteriorating living conditions. As many as 2 million people have fled and, of those who remain, it is estimated that as many as 82% of them are living in poverty.
"All of Venezuela is disturbed and indignant," said former National Assembly member Maria Corina Machado over social media. "This is a massacre, a brutal crime that they tried to hide even as it occurred."
Henrique Capriles, the opposition leader and former Miranda state governor who lost the 2013 presidential election to Maduro, called the fire and its consequences "Dante-esque."
"How many more times do we have to witness these same scenes? … More than 70 dead stacked in a police command center shows the failure of a government obligated to guarantee the lives of Venezuelans," Capriles said.
Human rights agencies that have condemned Venezuela's penal system as one of the most inhumane in Latin America have called for a full investigation.
"Sadly, they burn prisoners in the jails of Venezuela," said Humberto Prado, director of the Venezuelan Prisons Observatory, which monitors jail and prison conditions. "There are people who have burned to death, and the governor of (Carabobo) still has not emerged to take responsibility for what happened."
Prado's group has long warned of the untenable situation at police station jails, where detainees are often kept far longer than the 48-hour holding period mandated by law after an initial arrest.
Although no official sequence of events leading up to the riot and fire have been released, an anonymous police source told the Carabobo News Agency that the violence began after a police officer conducting a search of jail cells was disarmed and stabbed by a prisoner. The blaze apparently spread as mattresses in jail cells caught fire.
While the official death toll remained unchanged Thursday, National Assembly member Juan Miguel Matheus said he was told that 78 people had died in the fire, including 10 women. So far, there has been no mention of whether any guards or police officers were among the victims.
Most — if not all — of the victims are believed to have been burned to death or died from smoke inhalation.
Carmen Valera, who identified herself as the aunt of one of the dead prisoners, told Caraota Digital TV in an interview outside the prison that the fire was a "massacre" initiated by guards and police.
"Here no one ever finds anything out," she said. "it's all hidden."
Juan Guaido, a member of the opposition-controlled National Assembly, said he would open an investigation into deadly fire, which occurred at a regional police command center that had been partially converted to a jail to to hold the spillover of Venezuela's overflowing prison population.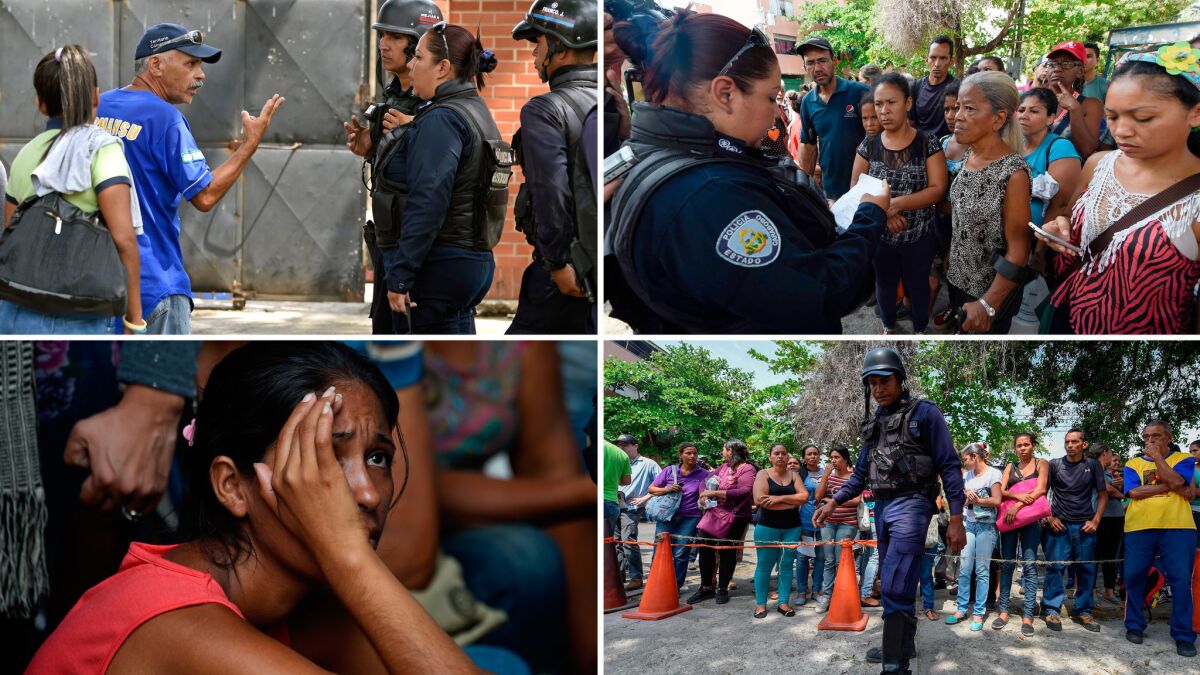 On Thursday, the smell of smoke still wafted in the air and a white column at the station's front entrance was marred by a black stain from the fire.
Felix Brugera, 73, said officials showed up at his home early in the morning and informed him that his 25-year-old son Eduardo had died. He said his son had been detained four months for allegedly stealing a cellphone.
"This is not justice," he said, pledging to stay outside the building until officials turned over his son's remains. "This is injustice."
Aida Parra said she last saw her son when she took him food the previous day. As Thursday wore on, she remained uncertain whether he had survived.
"I don't know if my son is dead or alive!" she cried. "They haven't told me anything."
To read this article in Spanish click here
Kraul reported from Bogota, Colombia; Mogollon reported from Caracas, Venezuela.
The Associated Press contributed to this report.
---
UPDATES:
3:23 p.m.: This articles was updated with addition reaction.
10:34 a.m.: This article was updated with staff reports.
9:25 a.m.: This articles was updated with additional details and reaction
4:40 a.m. March 29: This article was updated following Venezuelan Atty. Gen. Tarek William Saab's statement on Twitter, as well as additional details.
This article was originally published March 28 at 10:10 p.m.
---
Must-read stories from the L.A. Times
Get the day's top news with our Today's Headlines newsletter, sent every weekday morning.
You may occasionally receive promotional content from the Los Angeles Times.