Key figures in phone-hacking scandal to be charged with bribery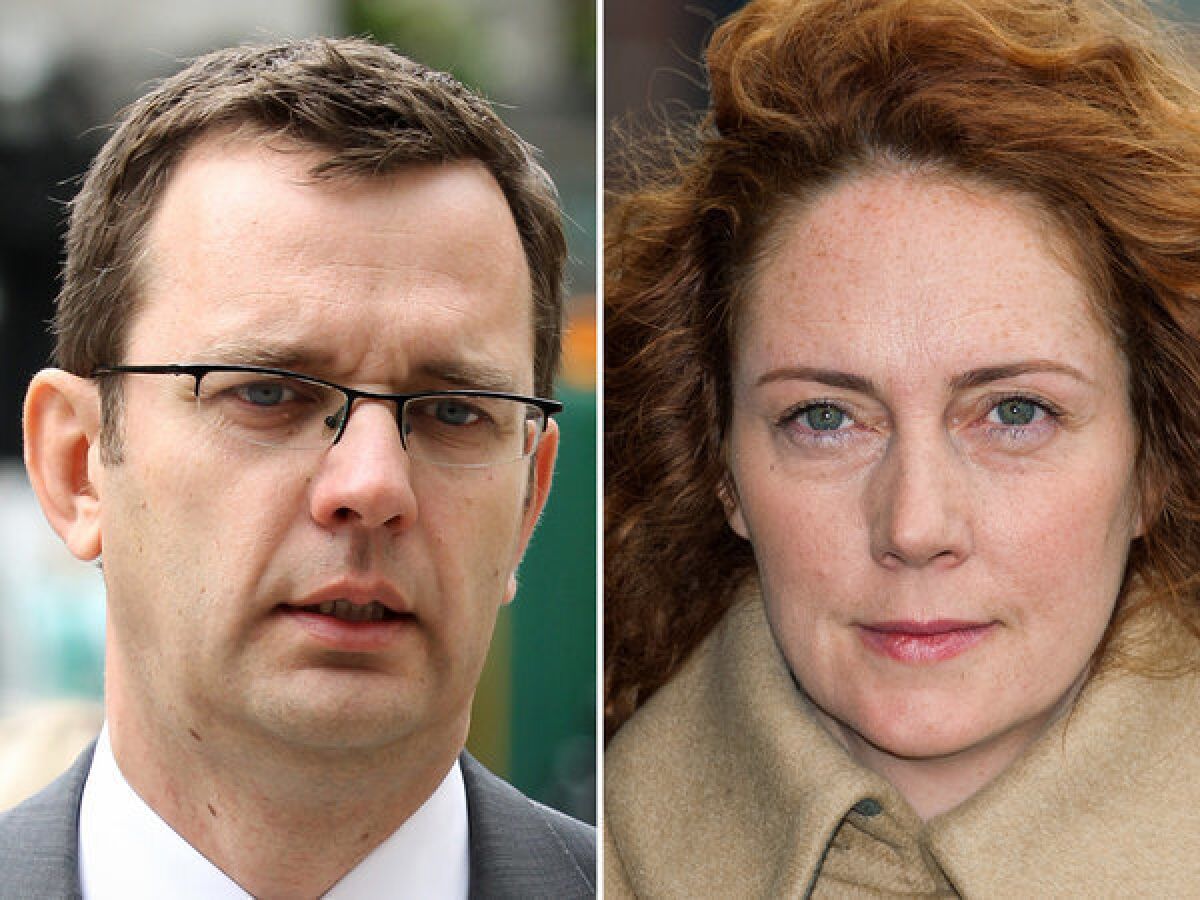 LONDON -- A former senior aide to Prime Minister David Cameron and the onetime chief of Rupert Murdoch's British newspapers will be charged with bribery offenses in the latest legal action stemming from Britain's phone-hacking scandal, prosecutors said Tuesday.
Authorities announced that Andy Coulson, who was Cameron's top communications deputy, and Rebekah Brooks, who served as head of Murdoch's News International, would be charged in connection with separate incidents in which journalists paid public officials for sensitive information.
The announcement adds to the legal woes of Coulson and Brooks, who already face other criminal charges in connection with the phone-hacking scandal, and to the political embarrassment of Cameron, who has come under fire for his close association with them.
Before being recruited into the prime minister's inner circle, Coulson was a senior editor at the Murdoch-owned tabloid News of the World. Prosecutors alleged Tuesday that Coulson and Clive Goodman, the paper's correspondent covering the royal family,
bribed an unidentified official sometime in 2002 or 2003 for a copy of the "Green Book," an internal Buckingham Palace phone directory containing contact details of members of the royal household.
Goodman was later convicted and jailed for illegally accessing voice-mail messages left by Princes William and Harry for their assistants. Coulson stepped down as the News of the World's editor.
He expressed disappointment at the new charges announced Tuesday.
"I deny the allegations made against me and will fight the charges in court," he said in a statement.
Brooks, once one of Britain's most powerful women, is accused of participating in a bribery scheme that allegedly saw the racy Sun tabloid dole out $160,000 over a seven-year period to a Defense Ministry employee in exchange for information. Brooks, the defense official and a former top reporter for the Sun are all to be
charged, prosecutors said.
Brooks already faces charges of obstructing justice in the police investigation into phone hacking.
She has also been charged in connection with the News of the Worlds acknowledged tapping of voice-mail messages left on the cellphone of a kidnapped 13-year-old girl who was later found slain. The revelations of such a ghoulish invasion of privacy caused a huge uproar last year and forced Brooks to resign as head of News International.
The scandal has also shined a spotlight on Brooks' friendship with Cameron, with whom she socialized at their respective country estates and traded jokey personal text messages. In one memorable moment, Brooks testified before a judge earlier this year that Cameron occasionally signed off his text messages to her with "LOL," thinking that it meant "lots of love," before she corrected him.
Prosecutor Alison Levitt said authorities decided to file the new charges only after first considering whether the alleged misconduct was outweighed by the public interest it supposedly served. That standard was apparently not met.
The charges are part of a multi-pronged police probe spawned by the phone-hacking scandal. Scotland Yard is investigating allegations of bribery, phone hacking and computer hacking by the British media.
ALSO:
Israel and Hamas pound each other, but talks continue
Colombia rebel group declares truce as peace talks resume
---
Must-read stories from the L.A. Times
Get the day's top news with our Today's Headlines newsletter, sent every weekday morning.
You may occasionally receive promotional content from the Los Angeles Times.