Coup thwarts search for Ugandan warlord Joseph Kony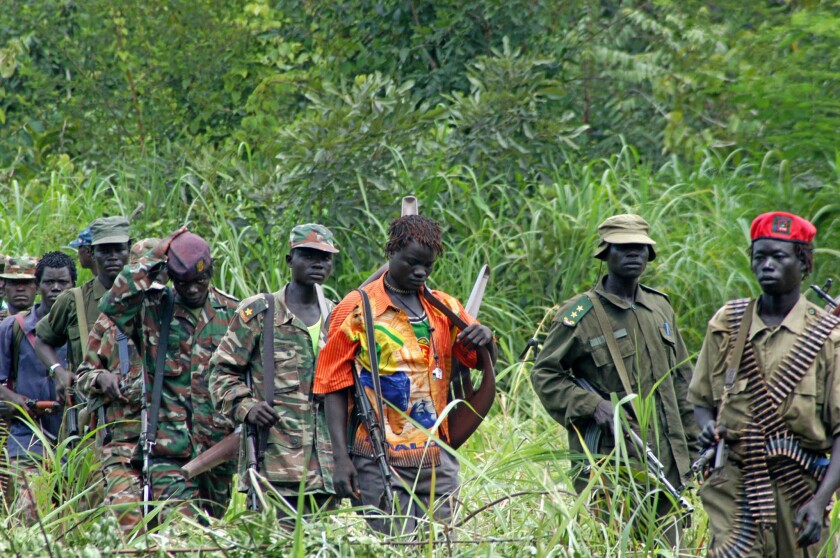 JOHANNESBURG, South Africa -- Uganda's military has suspended its hunt for notorious warlord Joseph Kony after rebels toppled the president of the Central African Republic last month.
Kony, indicted by the International Criminal Court on charges of crimes against humanity, is believed to be hiding in the eastern Central African Republic with his Lord's Resistance Army of several hundred fighters.
A spokesman for the Ugandan military, Felix Kulayigye, told journalists Wednesday that Seleka, the rebel alliance that ousted Central African Republic President Francois Bozize, isn't willing to cooperate with the Kony hunt, so the operation had been suspended.
"The Seleka rebels have not been cooperating with us since they took over power. We have been forced to suspend operations until further notice," Kulayigye said.
About 100 U.S. special forces troops are involved in the search for Kony, supporting about 3,000 African troops, mainly Ugandans, in a joint effort to find the warlord and his men.
One of the Seleka leaders, Michel Djotodia, suspended the constitution and declared himself president last week after rebel militias swooped into the capital, forcing Bozize to flee. Bozize has since blamed neighboring Chad for assisting the well-armed rebel militias.
The African Union acted swiftly to isolate the Central African Republic after the coup, imposing sanctions on the rebel leaders. The coup was condemned by the United Nations, and the United States has refused to recognize Djotodia or his government.
Djotodia, who has won the backing of the commanders of the Central African Republic's army and security forces, reacted to international efforts to isolate him by ordering foreign troops to leave, according to Kulayigye.
Regional leaders and South African President Jacob Zuma were meeting in the Chadian capital, N'Djamena, on Wednesday to discuss possible actions over the crisis.
Djotodia has ruled out early elections, planning to see out Bozize's term, which ends in 2016. The African Union's commissioner for peace and security, Ramtane Lamamra, issued a call on Wednesday for Djotodia to organize elections within a year, Reuters reported.
The landlocked Central African Republic is rich in resources but has been badly governed, with a succession of military coups and rebellions since independence from France in 1960. As a result, it has remained one of the poorest countries in the volatile region.
It has proved to be the perfect hiding place for Kony and his militia.
Last year, a U.S. group called Invisible Children launched a video highlighting Kony's atrocities. The video and Twitter hashtag #stopKony quickly went viral after several celebrities tweeted about it.
ALSO:
Kony 2012: Invisible Children reflects one year later
African Union suspends Central African Republic after coup
Nelson Mandela's health improving, South African officials say
---
Must-read stories from the L.A. Times
Get the day's top news with our Today's Headlines newsletter, sent every weekday morning.
You may occasionally receive promotional content from the Los Angeles Times.