Iran nuclear talks end without a breakthrough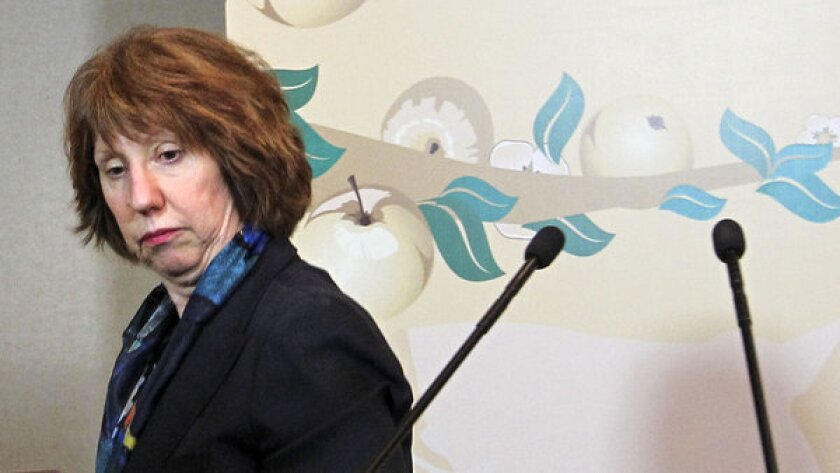 WASHINGTON -- International negotiations over Iran's disputed nuclear program broke up Saturday still far from an agreement and with the future of the fitful diplomatic effort uncertain.
Officials from Iran and the six world powers had "long and intensive discussions" in the two-day session in Almaty, Kazakhstan, yet ended "far apart on the substance," said Catherine Ashton, the European Union foreign policy chief.
The group didn't set a date for another meeting, as they usually have done in the past to show that the diplomatic process would continue with at least low-level conversations.
Western officials had sought to keep expectations low for the meeting, noting that Tehran was unlikely to agree to a politically sensitive deal during the run-up to Iranian presidential elections in June.
The uncertain outcome of the Almaty talks is not reassuring to those who have hoped that a diplomatic solution will make it unnecessary for the United States or Israel to launch a military attack against Iran's nuclear facilities. The Obama administration and its allies believe Iran is seeking a nuclear weapons capability, but that it hasn't decided yet whether to build a bomb. Iran insists it is developing nuclear power for peaceful purposes.
The Almaty meeting marks the fifth round of talks in two years without any deal to curtail Iran's nuclear program. International diplomacy has been underway for a decade and Iran has been absorbing the shock of what are supposed to be crippling sanctions against its oil industry, financial sector and other parts of its economy for more than a year without conceding.
Both sides sought at the talks to show that they were ready to make a deal and to portray the other side as intransigent. Western officials said Iran never adequately responded to the offer they laid out in the last session, on Feb. 27; Iranian officials maintained they did offer a counterproposal.
ALSO:
Pope wants church to 'act decisively' on abuse
U.S. and Japan unveil plan for returning Okinawa land
---
Must-read stories from the L.A. Times
Get all the day's most vital news with our Today's Headlines newsletter, sent every weekday morning.
You may occasionally receive promotional content from the Los Angeles Times.