Ahmadinejad ally linked to human rights abuses arrested in Iran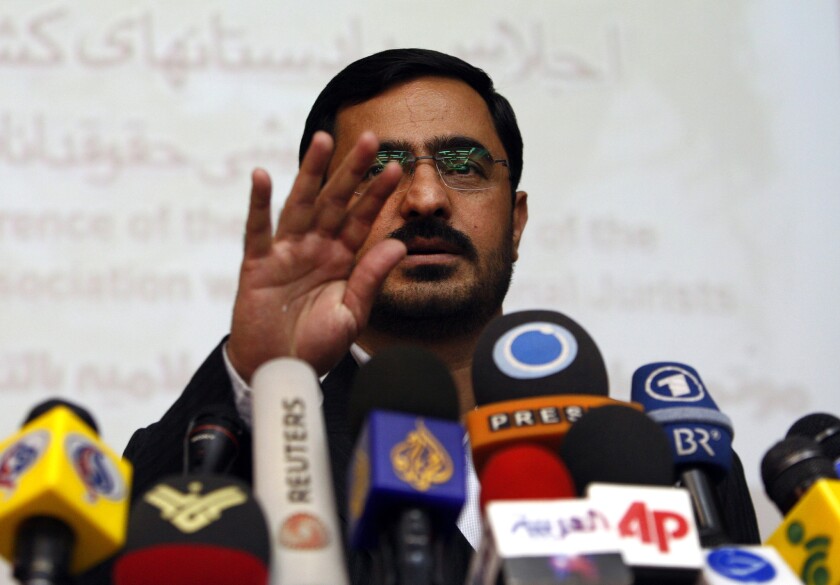 TEHRAN -- Authorities arrested a former top Iranian prosecutor who was once labeled a "serial human rights abuser" and linked to the deaths in custody of three protesters following the nation's disputed 2009 elections, according to news accounts here.
Officials announced the arrest late Monday but initially gave no reason for the detention of Saeed Mortazavi, a contentious figure in Iranian politics and a close ally of President Mahmoud Ahmadinejad. The president denounced the arrest and hinted that his political rivals were behind it.
On Tuesday, the semi-official Fars News Agency reported that Mortazavi was charged with misappropriating public property.
Two years ago, an Iranian parliamentary panel found that Mortazavi, then a top Tehran prosecutor, was responsible for the ill treatment of prisoners following the controversial 2009 elections, including the deaths of three detainees at the now-shuttered Kahrizak prison. Ahmadinejad was reelected in 2009 amid allegations of fraud, triggering massive protests that were ultimately put down by authorities.
In a report in January 2010, Human Rights Watch, the New York-based watchdog group, labeled Mortazavi "a serial human rights abuser" and urged Iranian authorities to conduct a broad inquiry into his record.
Mortazavi was suspended from his prosecutor's job in Tehran but no formal action was taken against him and he currently holds a prestigious government position atop the nation's vast social security apparatus. Critics have also linked Mortazavi to repression of the press and the death in custody in 2003 of an Iranian Canadian journalist, Zahra Kazemi. Mortazavi was never charged in that case.
Analysts say the timing of Mortazavi's arrest may have more to do with Iranian political infighting and score-settling than an urgent desire to bring Mortazavi to justice for his past human rights record. Mortazavi has emerged as a key figure in an acrimonious, mud-slinging dispute between Ahmadinejad and his chief political rival, Ali Larijani, speaker of the Iranian parliament and a potential candidate to succeed Ahmadinejad in presidential elections in June.
Mostaghim is a Times special correspondent. Staff Writer Patrick J. McDonnell in Beirut contributed.
ALSO:
Bangladesh war crimes court jails Islamic party leader for life
Scientists identify remains as those of King Richard III
Brazilians take special glee in Super Bowl electrical outage
---
Must-read stories from the L.A. Times
Get the day's top news with our Today's Headlines newsletter, sent every weekday morning.
You may occasionally receive promotional content from the Los Angeles Times.