Dallas razing apartments where Kennedy assassin Oswald lived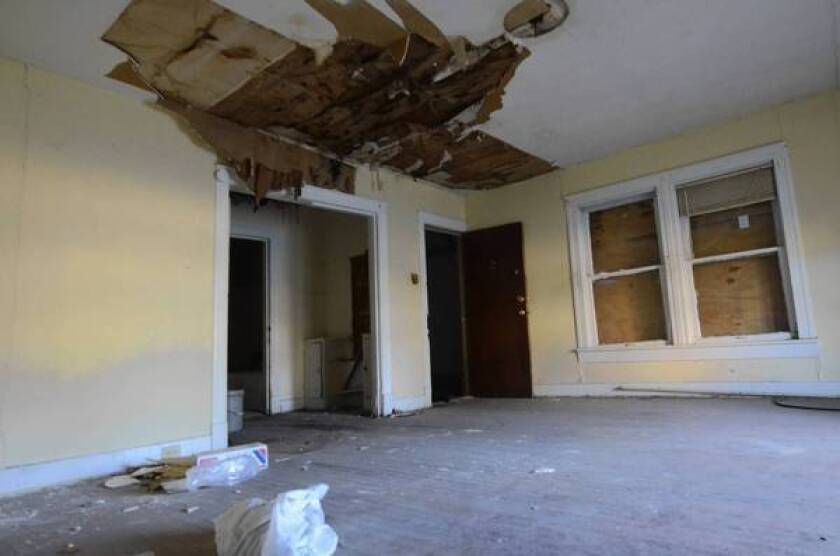 This week, Dallas city officials began razing an apartment complex once home to President Kennedy assassin Lee Harvey Oswald.
The site does not have any official historic designation, according to the owner and city documents. But the decision has still caused a stir in a city where sites related to the assassination have proved a major draw, including Dealey Plaza, where Kennedy was shot, and the Texas School Book Depository, where Oswald lay in wait. Dealey Plaza is now a national historic district and the book depository houses the Sixth Floor Museum, which sees 325,000 visitors a year.
Apartment building owner Jane Bryant said she was shocked when a reporter notified her that the city was taking action Monday. She said she had been trying to salvage valuable pine and white oak from the building, as well as fixtures from the apartment where Oswald stayed, and thought she still had two weeks before the city intervened.
"The city of Dallas told me if I was making progress on the building, they would stop it," she said of the demolition, choking up. "They agreed to give me more time."
Bryant said that she was trying to contact her lawyer Monday to file a restraining order to halt the demolition, and that police on site refused to let her into the building.
"I've been out there all day battling with them, trying to salvage historic items. It is historical — it's in the Warren Commission," she said, referring to the report produced by the federal commission that investigated Kennedy's slaying.
She has already removed and sold some items from the apartment where Oswald lived, including the bathtub and toilet.
She worried Monday that scavengers might make off with what's left. The building is full of 1925 yellow heart pine and white oak, she said.
"People are going to be in there tonight stealing," she said.
The decision to demolish the apartment comes at an odd moment. Dallas is gearing up to officially mark the assassination for the first time on Nov. 22, the 50th anniversary.
Oswald shared Apartment 2 at 600 Elsbeth St. with his wife, Marina, from November 1962 to March 1963. It was one of three places Oswald lived in the Dallas neighborhood of Oak Cliff.
He and his family moved from Elsbeth Street to an apartment at 214 W. Neely St. in March 1963. By November of that year, Oswald was renting a room at 1026 N. Beckley Ave., but on the night of Nov. 21, he slept at the home of his wife's friend, Ruth Paine, in nearby Irving, storing his rifle in the garage.
"It's hard for people to let go of what they think of as meaningful scenes. We don't want to lose anything that might be evidence," said Debra Conway, president of JFK Lancer, a group that sponsors a conference on the assassination in Dallas each November. "People hate to lose any of the landmarks in this case, but we have to live with it."
During the most recent conference, attendees took a tour of Oswald's former residences. They drove by the apartment on Elsbeth, which was "falling down" and "clearly unsafe," Conway said.
Though the building has historic value, she said, it's less significant than Oswald's other former homes, such as the rooming house where he had been staying at the time of the assassination or the apartment on Neely Street where Marina Oswald took the notorious "backyard photos" of her husband posing with a rifle.
The city of Irving, a Dallas suburb, is turning Paine's former 1950s tract home into a museum. The city recently completed a $30,000 restoration of the home and plans to open it for tours this summer, according to Casey Tate, Irving's capital improvement program director.
Unlike those buildings, Conway said, the apartments on Elsbeth "have no real story about it. You hate to lose it, but it's not at the same level as these other places."
The 88-year-old two-story brick apartment complex has fallen on hard times since Oswald lived there. Its walls are crumbling, windows are patched with plywood, and it is surrounded by a chain-link fence. Bryant, who lives in Dallas and teaches business at a community college, bought the building six years ago planning to move in and run an apparel business on the first floor.
Two years ago, a judge ordered the building demolished. The city had sued in March 2008 to have the roughly 8,700-square-foot structure repaired or taken down.
Bryant initially fought the demolition but eventually agreed to have it done. After she failed to meet city deadlines, Dallas officials announced plans to raze the building starting Monday.
---
Must-read stories from the L.A. Times
Get all the day's most vital news with our Today's Headlines newsletter, sent every weekday morning.
You may occasionally receive promotional content from the Los Angeles Times.