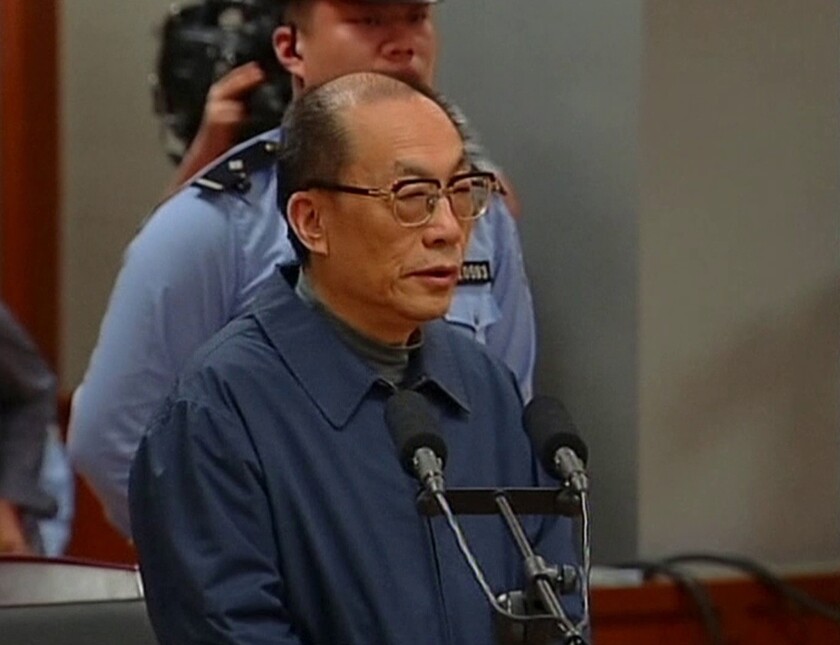 BEIJING -- China's former railways minister was handed a death sentence with a two-year reprieve Monday following his conviction on charges of abuse of power and bribery.
Liu Zhijun, 60, is likely to see his sentence commuted to life in prison, as have other Chinese officials who have received similar punishments in corruption cases.
The Beijing No. 2 Intermediate People's Court found that between 1986 and 2011, Liu helped 11 people win contracts and promotions after accepting about $10 million in bribes, state-run media reported.
Liu became railways minister in 2003, and when he was removed from the post in early 2011, initial reports suggested he may have accepted more than $100 million worth of improper payments that contributed to shoddy construction and safety hazards.
Liu is regarded as the godfather of China's high-speed rail network, which opened its first line in 2007 and now stretches more than 6,000 miles. The latest line, connecting Nanjing and Ningbo via Hangzhou, went into service July 1.
The high-speed rail network's reputation was seriously marred by an accident in July 2011 that killed 40 people in Wenzhou, a city in Zhejiang province. A train from Hangzhou stalled after being hit by lightning and was rear-ended by a train originating from Beijing.
An official investigation found that faulty signal systems failed to warn the second train of the stalled train on the track. It also faulted railway management.
Liu had boasted of how quickly the high-speed rail network was being built and how little the Chinese were relying on foreign expertise. Later, Zhou Yimin, a former lieutenant of Liu's, said Liu wanted to push the trains faster than they were capable of going.
Zhou said the trains owed more to European and Japanese engineering than Chinese, and he worried that construction was taking place too quickly, sacrificing safety.
ALSO:
British rejoice at Andy Murray's Wimbledon victory
PRI, PAN both claim victory in Baja California elections
---