Retired general criticizes U.S. response to alleged Iranian plot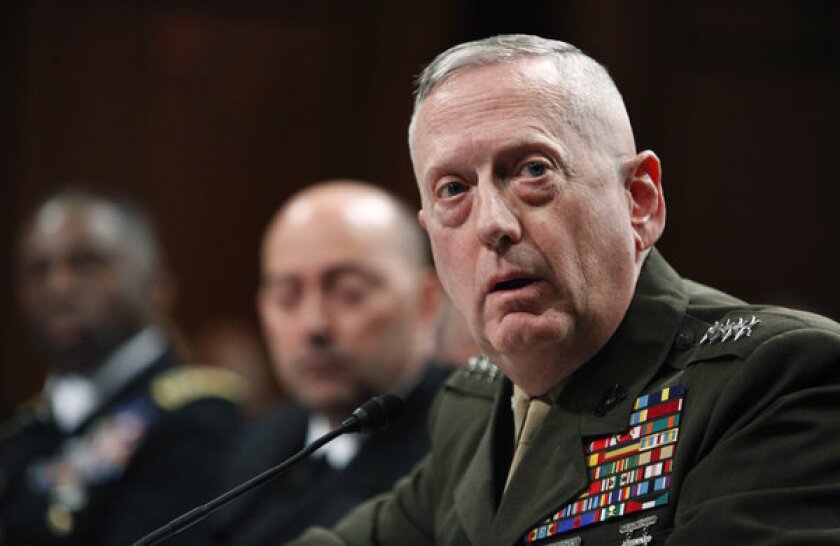 ASPEN, Colo. -- James Mattis, who retired last month as a Marine four-star general and head of U.S. Central Command, on Saturday bluntly criticized the Obama administration's response to what U.S. officials say was a plot by the Iranian government in 2011 to assassinate the Saudi ambassador at a Washington restaurant.
Answering questions by CNN's Wolf Blitzer before an audience at the Aspen Security Forum, Mattis said he found it inexplicable that the plot was dealt with as a law enforcement matter with no clear diplomatic or military response.
Iran was under Mattis' purview at Central Command. Asked afterward whether he presented military options to the White House that were rejected, he said his advice would remain confidential.
In May, Manssor Arbabsiar, an Iranian American used-car salesman from Texas, was sentenced to 25 years in prison after pleading guilty to plotting to hire assassins from a Mexican drug cartel to murder Saudi Arabia's ambassador to the U.S. at the behest of a cousin in Iran. The cousin, Gholam Shakuri, was a high-ranking member of the Quds Force, which is part of Iran's Islamic Revolutionary Guards Corps.
Mattis said the plot was orchestrated "at the highest levels" of the Iranian government.
He criticized the fact that the U.S. announced the plot to the public by having Atty. Gen. Eric H. Holder Jr. detail criminal charges. "Why wasn't the secretary of State, secretary of Defense up at the microphone, not making any threats, just saying, we'll be back?" he said.
The response was not adequate, he said. "I don't know why [it] wasn't dealt with more strongly."
An Obama administration spokesman could not immediately be reached for comment.
ALSO:
The (somewhat) breathless wait for Britain's royal baby
Israel reportedly OKs prisoner release, but not settlement freeze
Beijing bombing suspect: Years of grievances over harsh treatment
@KenDilanianLAT
---
The Latinx experience chronicled
Get the Latinx Files newsletter for stories that capture the multitudes within our communities.
You may occasionally receive promotional content from the Los Angeles Times.