Obama presses cyber security issue in first talks with Xi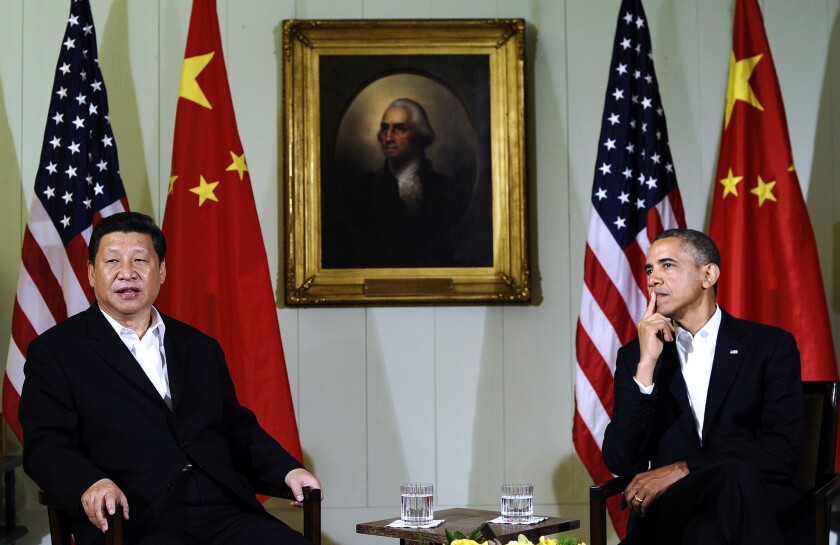 RANCHO MIRAGE, Calif. -- President Obama said late Friday that he pressed Chinese President Xi Jinping on the issue of cyber security during their initial discussions at a two-day summit and suggested they work together to prevent computer hacking, no matter who the victim may be.
Speaking with reporters after an evening session, both leaders said they considered cyber security a serious problem, without blaming either of their countries for perpetrating it.
Obama refrained from repeating his administration's accusations about Chinese attempts to hack into secret corporate and military files, while Xi said that "China is the victim of cyber attacks" without pointing the finger at the U.S.
Timeline: Chinese cyber attack disclosures
"What both President Xi and I recognize is that because of these incredible advances in technology, that the issue of cyber security and the need for rules and common approaches to cyber security are going to be increasingly important as part of bilateral relationships and multilateral relationships," Obama said.
"In some ways, these are uncharted waters," he added. "You don't have the kinds of protocols that cover military issues, for example, and arms issues where nations have a lot of experience in trying to negotiate what's acceptable and what's not."
Xi took issue with media reports about the problem, saying he thought they had created a false impression that such attacks come "mainly from China" and also overstated the issue as the most serious stumbling block between the two nations.
The two leaders are holding their summit at a desert retreat known as Sunnylands. They opted for a non-state visit in California rather than a formal gathering at the White House with all the pomp and protocols that visit would have demanded.
Instead of highly scripted meetings with dozens of advisors, the two met Friday night with only six aides and a translator each. The president's team is hoping the more laid-back setting will lead to more candid talks.
Talking with reporters after their first session, Obama and Xi suggested they had gotten right down to business. Obama said they discussed reinvigorating the practice of communications between the U.S. military and Chinese military.
"At a time when there is so much military activity around the world it is important that each of us understand our objectives at the military as well as the political levels," Obama said.
"That is an example of concrete progress that can advance this new model of relations between the United States and China," he added. "So we'll be taking steps to institutionalize and regularize such discussions."
They also talked about climate change, another touchy topic between the two sides.
The two leaders were scheduled to meet again and have breakfast on Saturday morning.
ALSO:
Peru's leader rejects Fujimori's plea for pardon
Times reporter Patrick J. McDonnell on the mood in Syria's capital
Turkey's prime minister returns to Istanbul, says protests must end
---
Must-read stories from the L.A. Times
Get the day's top news with our Today's Headlines newsletter, sent every weekday morning.
You may occasionally receive promotional content from the Los Angeles Times.