Argentina learns a lesson: You don't cross the Mothers and Grandmothers of the Plaza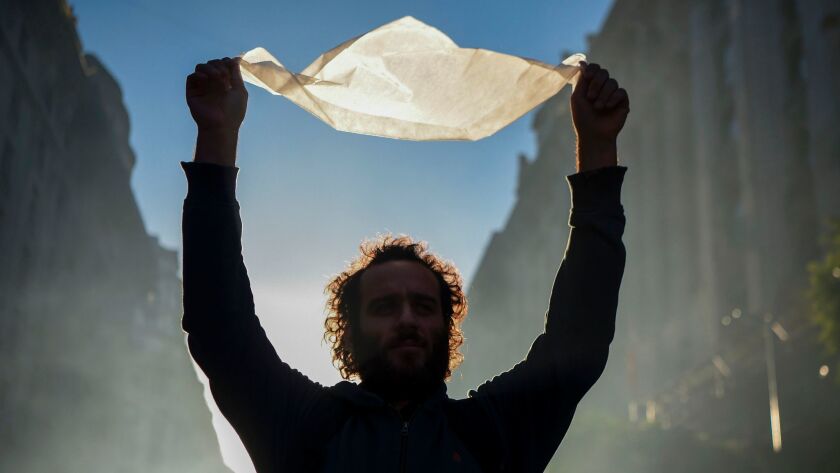 Reporting from Buenos Aires —
They marched by the tens of thousands, Argentines who were outraged that the nation's Supreme Court had agreed to release a former police investigator convicted of kidnapping and torturing at least 30 people during the country's brutally repressive dictatorship from 1976 to 1983.
Analia Argento was among them, wearing the white headscarf that is associated with the Mothers and Grandmothers of the Plaza de Mayo, who have marched for decades to ensure that their loved ones — who were disappeared" by the government — would never be forgotten. For Argento, the inspiration was her late uncle, Alberto Comment, a bus driver who vanished in 1978.
The high court had ruled in the case of Luis Muino, citing a rarely applied measure called the "2 for 1" law. It allows in some cases for prisoners' days in incarceration to count double toward the time they are sentenced to serve, potentially cutting a prison term substantially.
Muino was convicted in 2011 and sentenced to 13 years. But the Supreme Court's decision means much of that time will be reduced because of the "preventive detention" time he spent in jail before his conviction.
Marchers such as Argento feared that the decision could set a precedent and lead to the early release of others convicted of crimes against humanity in Argentina's so- called "dirty war," in which between 10,000 and 30,000 people are believed to have been tortured, killed or disappeared.
"The decision was clearly a backward step in the defense of human rights and in the judgment of the people who were responsible for the killing and disappearance of thousands of people," Argento, 47, said Wednesday, adding that she has only dim memories of her uncle.
Later on Wednesday, in an emergency session of congress, lawmakers reacted to the public outrage by approving a bill that ensures that the 2 for 1 provision cannot be applied to defendants found guilty of crimes against humanity.
"That law voted by Congress was an overwhelming gesture backing up judges who have condemned the oppressors," Argento said.
The march recalled the daily protests that have been held for decades by the Mothers and Grandmothers of Plaza de Mayo, for whom white headscarves became a symbol of demands that the government account for the dictatorship's victims and bring their killers to justice.
"Fortunately, the whole society has acted firmly," Estela de Carlotto, president of the Grandmothers of Plaza de Mayo, told reporters during the march Wednesday.
Argento's family for decades has been demanding to no avail the government account for Comment's disappearance in Villa Adelina, a town in Buenos Aires province, in October 1978.
Although Comment was not active politically or in his union, his family has theorized that he was seized because he complained of having to work too many hours driving a bus for his private transit company. His niece said it was common for business owners to falsely denounce troublesome employees as labor agitators so that paramilitary forces would disappear them.
Muino was part of a shock troop, consisting mainly of former police officers, who allegedly detained and tortured mainly political dissidents, labor leaders and government critics. He was convicted of terrorizing workers and patients of the Posadas Hospital located in the west of Buenos Aires, the capital. Of the 30 hospital workers there who were kidnapped, 11 disappeared.
The 2 for 1 law has become a political hot potato, with former President Cristina Fernandez de Kirchner and her supporters accusing conservative President Mauricio Macri of indirect responsibility for the ruling. "The judges are totally aligned with the executive," Fernandez said in Brussels, where she is visiting.
Macri denies supporting the application of the 2 for 1 law. On Thursday, during an appearance in the wine-region city of Mendoza, he hailed the congress' action Wednesday night and said he has always been opposed to "any tool of impunity, especially when applied to crimes of humanity."
As for Argento, a writer who has written two books about the dirty war, the march showed that there is a "social consensus" in Argentinan society for not tolerating "taking steps back" in condemning those responsible for the horrific crimes of the past.
The military dictatorship and the horrific crimes committed by those acting in its stead continue to be a political issue in Argentina, with the Macri and Fernandez factions accusing each other of complacency in bringing criminals to justice.
ALSO
Gas masks, face paint, shields: Battle gear for a Venezuela protest
An anti-immigration rally in Brazil turns violent
Mexicans were afraid Trump would bring disaster. So far, his bark is worse than his bite
Special correspondent D'Alessandro reported from Buenos Aires and Kraul from Bogota, Colombia.
---
Must-read stories from the L.A. Times
Get the day's top news with our Today's Headlines newsletter, sent every weekday morning.
You may occasionally receive promotional content from the Los Angeles Times.