Thousands of Mexican farmworkers march 15 miles as strike talks continue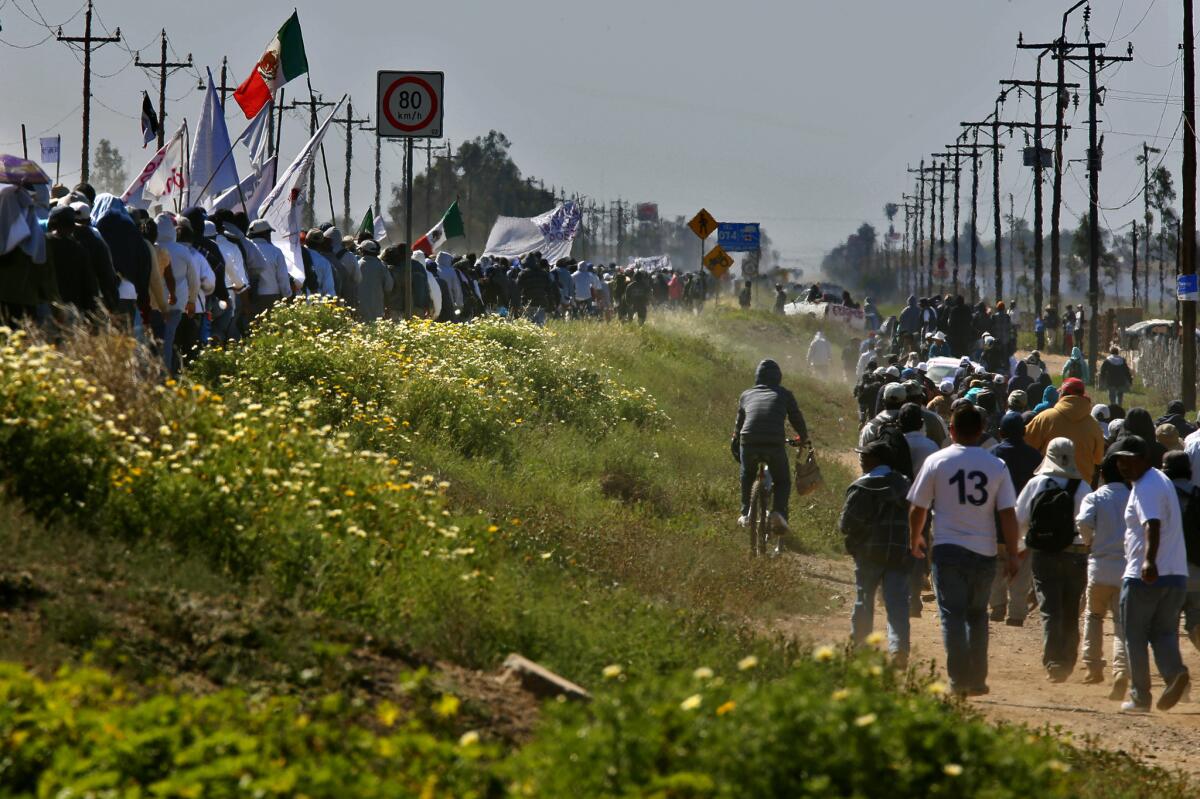 Reporting from San Quintin, Mexico —
Striking farmworkers in Baja California marched by the thousands across 15 dusty miles Thursday in a peaceful but angry show of force after growers refused to meet their demands to boost wages.
The strike, which has crippled this region's exports to the U.S., shows no signs of ending after growers' offer of a 10% raise was dismissed by workers who earn on average $10 a day. They have dropped their demand from 300 pesos ($20) per day to 280 ($18.50).
Negotiations ended on a sour note Wednesday amid suspicions by labor leaders that an industry representative wasn't forthcoming about which agribusinesses he represented.
Leaders suspect that larger agribusinesses in the region, which have deep political ties, are blocking progress and preventing some smaller growers from accommodating their demands.
During the march from the town of Vicente Guerrero to a government building in San Quintin, protesters allowed cars and trucks to pass, but their anger was palpable, directed at growers and government officials.
"Get out, Kiko Vega,'' they chanted, referring to Baja California governor Francisco Vega de Lamadrid by his nickname.
"We're farmworkers, not slaves," read one sign.
When a truck carrying strawberries for BerryMex drove by, they shouted "comprado" (sellout) at the driver.
BerryMex, a U.S.-owned grower whose berries are widely distributed in the U.S. under the Driscoll's label, has denied accusations of labor abuses. The company said in a statement that it opened talks with its laborers.
"BerryMex has been addressing feedback from our workers with a proactive and meaningful dialogue," the company said. "They are optimistic that an agreement will be reached for the benefit of their employees and the community of San Quintin."
Alberto Munoz, the attorney for the Agricultural Council of Baja California, an association of growers, wouldn't say which growers he represented when pressed by labor leaders at the meeting Wednesday in the banquet hall of a restaurant.
The leaders got a boost when one small grower, through an attorney, came forward to say he was willing to raise salaries for his workers to 250 pesos ($16.50) per day. The grower, DeWayne Carlos Hafen, co-owner of Los Molinos Produce, said he did it for business reasons.
"A happy worker is a productive worker," Hafen said in an interview Thursday morning.
A few hours after coming forward, Hafen said he was visited by state inspectors demanding to review his employment records. Hafen, who manages 50 acres and employs about 200 people, said he believes it was an attempt to intimidate him.
The larger growers in the region, he said, have powerful government connections, and he expressed concerns about further efforts to silence him and others willing to accommodate worker demands.
"I'm a rock in their shoe," he said.
Twitter: @ricardin24
Sign up for Essential California for news, features and recommendations from the L.A. Times and beyond in your inbox six days a week.
You may occasionally receive promotional content from the Los Angeles Times.