Brazil's government has sprung a leak, and a flood of secrets is gushing out
Reporting from Sao Paulo, Brazil —
There's a saying in Brazil: "Even the past is unpredictable."
It seems particularly apt in the wake of leaked audio recordings that point to ulterior motives for the recent impeachment of President Dilma Rousseff and that have already forced the resignations of two members of the new Cabinet.
Congress voted to put Rousseff on trial on charges that she shifted funds to cover holes in the national budget. The recordings — made before she was booted from office — bolster the suspicions of many Brazilians that her impeachment was both a power grab by political opponents and an effort to stop widespread corruption investigations that targeted them.
The first Cabinet resignation came last week. Romero Juca, the planning minister, stepped down after a leaked recording suggested that his main reason for wanting to remove Rousseff from office was to stop the corruption inquiries. "We have to change the government to stop the bleeding," the then-senator said in the recording.
Then on Monday night, Fabiano Silveira, who held the newly created post of transparency minister, resigned after the release of a recording of him criticizing corruption investigations and advising two allies on how to avoid punishment. At the time, he was a member of the National Council of Justice, which monitors the court system.
"The recordings show that some of the worst fears about what was happening in Congress weren't just speculation," said Mauricio Santoro, a political scientist at Rio de Janeiro State University.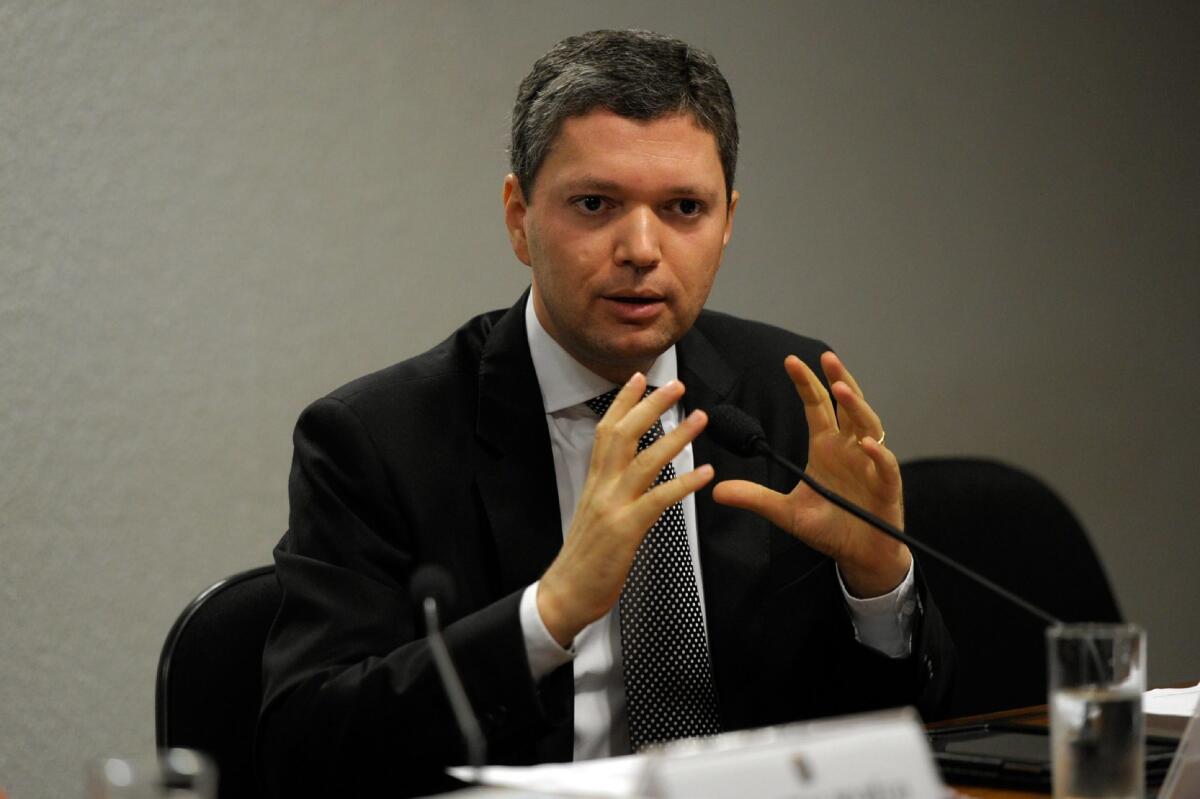 He said the revelations undermine the government of Michel Temer, who was elected vice president in a cross-party alliance with Rousseff in 2014 and became acting president after the impeachment.
"This is a government that was essentially created because of a widespread protests against corruption," Santoro said.
After taking over as president, Temer quickly installed a conservative administration that established a government far more conservative than even right-wing presidential candidates have proposed in recent elections.
He has made the economy his top priority, a move that has pleased international investors and political elites.
In a poll shortly before he took power, he was more unpopular than Rousseff, whose ratings plunged over the last two years as the country slid into its worst recession in decades.
Rousseff, who was never personally accused of corruption or charged with a criminal offense, continues to speak out against the impeachment, which she and many supporters equate to a coup d'etat.
Her trial has not been scheduled, but it must be completed within the 180-day period she has been suspended from office. If convicted, she will be permanently removed.
The leaked recordings dogging the new administration were created as part of a massive corruption investigation by federal police. Known as the Lava Jato, or Car Wash, the inquiry began in 2014 as an investigation into the state-owned Petrobras oil company and quickly came to engulf the political establishment.
Sergio Machado, a former head of a Petrobras subsidiary who recently negotiated a plea bargain, had secretly recorded Juca and Silveira.
It's not only political elites who have been secretly recorded.
Renan Antonio Ferreira dos Santos, a leader of the Free Brazil Movement, a group of young activists promoting free-market economic policies, was caught discussing how the group received support from political parties to promote pro-impeachment rallies. The source of the recording was unclear.
The group told local media that it collaborated with the parties because the march "belongs to all Brazilians."
"There's nothing more natural than inviting opposition parties to use their communications and activist networks to advertise the date," the group said, according to UOL, an online news service.
Many Brazilians have grown even more cynical about their politicians.
"It's obvious that Brazil's politicians set this whole thing up to help themselves, not Brazil," said Patricia Magalhaes, 19, a student who also works selling snacks with her family in downtown Sao Paulo, where she watched the pro-impeachment marches this year.
"I don't think anything Dilma actually did wrong was the real reason she was removed," she said.
The country is braced for more revelations that could further damage the Temer administration.
On Tuesday, local media reported that Marcelo Odebrecht, one of the country's most powerful businessmen, signed a plea-bargain deal after his construction company was accused in the Petrobras scandal. Brazil is eagerly awaiting to find out whom he might implicate.
ALSO
Israel's new defense minister represents a milestone for Russian-speaking emigres
Iraqi forces press on in Fallouja as concerns rise over 'human catastrophe'
'We can't go on like this': Shortages, economic crisis make Venezuela a nation of lines
Bevins is a special correspondent.
Sign up for Essential California for the L.A. Times biggest news, features and recommendations in your inbox six days a week.
You may occasionally receive promotional content from the Los Angeles Times.