A 42-foot, 660-pound balloon is a symbol of Brazil's problems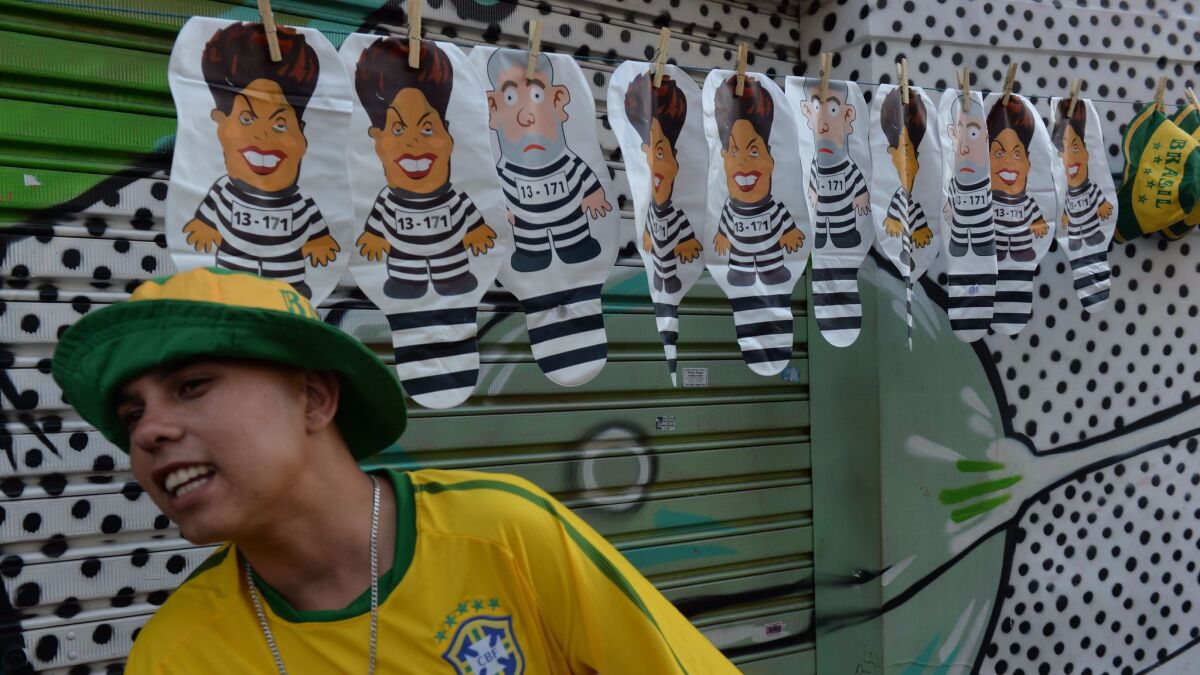 Reporting from SAO PAULO, Brazil —
When "Pixuleco" made his first public appearance at a Brasilia protest in August 2015, he became an instant star.
The 42-foot, 660-pound inflatable version of former Brazilian President Luiz Inacio Lula da Silva, complete with a black-and-white striped prison jumpsuit, drew not only stares, but also chuckles, as it floated above protesters calling for the ouster of Lula's successor, then-President Dilma Rousseff.
"It wasn't just that it was this funny caricature of Lula, it was also the size that made it stand out," said Ana Lucia Palma, who first saw Pixuleco in photographs from Brasilia and then in person as the inflatable hovered over Sao Paulo. "It represented the magnitude of our problems in Brazil and that they all started with Lula."
Pixuleco — who got his name from a slang term in Brazilian Portuguese for dirty money that's become synonymous with bribes in a billion-dollar corruption scandal — was conceived in the eastern state of Alagoas by a nonpartisan, anti-corruption group called Movimento Brasil.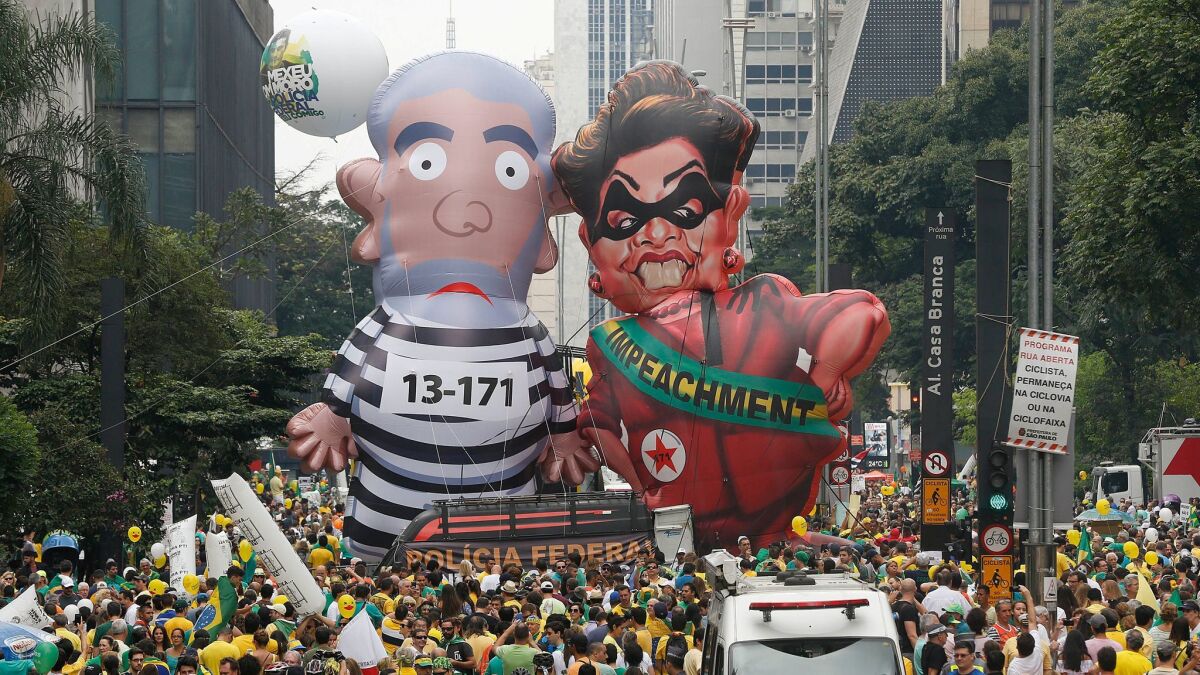 While the group wanted to call attention to what it saw as the root of the political crisis in the country, it also didn't want to be mean-spirited, which led to the design that's less real-life than caricature, with a wide-eyed Lula looking perplexed.
The prisoner ID number on his chest — 13-171 — is filled with symbolism. Brazilian political parties are identified by numbers, and Lula's Workers' Party is 13. The 171 refers to the police code for larceny.
The design was prescient. Lula was found guilty this month of accepting $1.2 million in bribes and sentenced to 9½ years in prison. Lula, who maintains he is innocent, remains free on appeal.
When the guilty verdict was announced last week, gleeful protesters waved their Pixuleco balloons, which wasn't surprising. Pixuleco seems just about everywhere these days.
After his celebrity spread — he has 223,391 followers on his official Facebook page — Pixuleco was invited to protests in cities all over and ended up touring the country.
It cost about $3,700 to make a Pixuleco — and hundreds more for transportation — and Movimento Brasil now has three Pixulecos stored in different regions of Brazil to avoid the headache of carting him around. It never intended to Pixuleco to be a moneymaker.
"We never tried to sell" Pixuleco, said Alessandro Gusmao, one of the founders of Movimento Brasil who also participated in the design of the original character. "This was never our objective, and it still isn't. What we wanted was to draw attention to the political situation in Brazil."
But with fame comes the sincerest form of flattery, and other groups started making mini-versions of Pixuleco, which can be found both online and at protests, generally for 10 reais, or about $3, each.
It's also common to see inflatables of Rousseff — who was impeached last year — and of Sergio Moro, a judge in the investigation, code-named Car Wash, that led to the downfall of scores of Brazilian politicians.
Gusmao said that Movimento Brasil has no affiliation with other groups using the Pixuleco image, but that he's happy to see the message has continued to spread.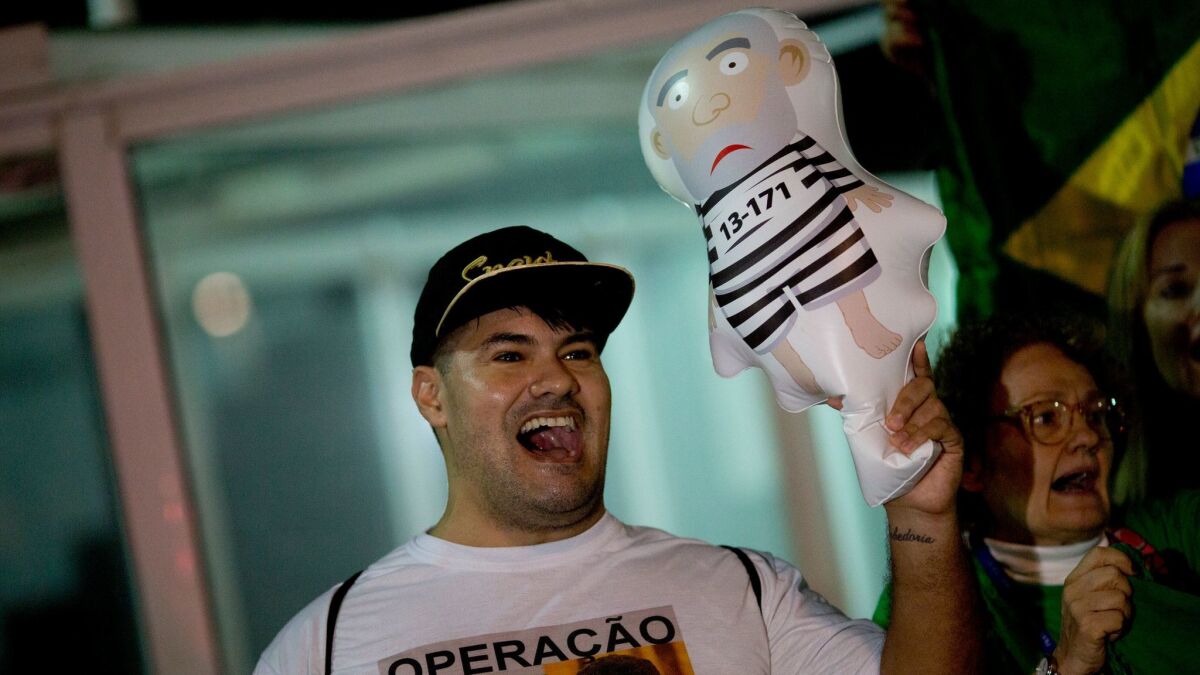 "Pixuleco now has a life of his own," he said. "We can't really say he's ours anymore. He's become a symbol for all indignant Brazilians."
Gusmao did, however, give another Sao Paulo-based anti-corruption group, called Nas Ruas Contra a Corrupcao, permission to sell mini-Pixulecos alongside its inflatables of Rousseff and Moro, which were designed by Nas Ruas' co-founder, Vitor Santisteban.
Santisteban has no problem with acknowledging that his group monetized its inflatables, but he makes it clear that nobody is making a profit with the sales.
"We pay 5 reais for them and then sell them for 10 reais," he said. "That extra 5 reais goes toward paying for our protests. They aren't cheap. Security can cost 10,000 to 12,000 reais and the cheapest sound car is 2,000 or 3,000. And that's for a small protest, not the massive ones you see on TV."
That high cost has left Santisteban and the other members of his group, which translates as In the Streets Against Corruption, more than irritated when they see vendors at protests selling contraband Pixulecos.
"We tried to track down who was in charge of selling [the fakes], but it was a dead end," he said. "We couldn't find the shop that printed them."
As for the real Lula, his appeal is expected to last at least a year. In the meantime, he continues to be eligible to run for office and, in some polls, is the most popular choice for president.
Michel Temer, who succeeded Rouseff as president when she was booted from office, also faces corruption charges, but his likeness has not appeared on a balloon. So far.
Langlois is a special correspondent.
ALSO
One Mexican town revolts against violence and corruption. Six years in, its experiment is working
Another victim of Venezuela's unrest: Caracas' once-renowned zoo
'You're just there, trapped': Why one Mexican woman decided to 'self-deport,' long before Trump
Must-read stories from the L.A. Times
Get the day's top news with our Today's Headlines newsletter, sent every weekday morning.
You may occasionally receive promotional content from the Los Angeles Times.