Corruption charge increases pressure on Brazil's president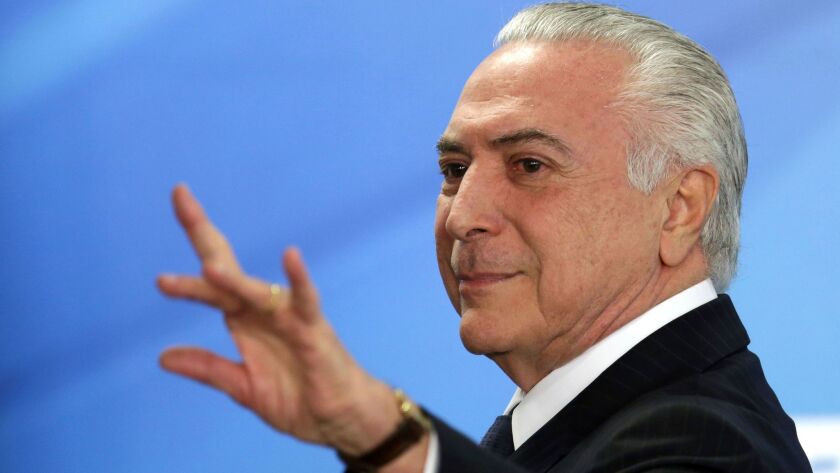 Reporting from SAO PAULO —
Brazil's top prosecutor charged President Michel Temer with corruption in a 60-page indictment that said "he fooled Brazilian citizens" and owed the country millions in compensation after enriching himself with bribe money.
The indictment marks the first time the country has seen a sitting president face criminal charges and throws South America's most populous nation deeper into political chaos.
Brazil's previous president, Dilma Rousseff, was impeached last year for financial mismanagement but never criminally charged. And the president before her, Luiz Inacio Lula da Silva, is facing criminal charges in a separate bribery scandal.
In a news briefing Tuesday, Temer called the accusations against him "fiction" and said they were based on "illicit evidence."
He has previously denied any wrongdoing and has refused to step down, despite numerous calls for him to do so.
The country's financial markets remained stable Tuesday, suggesting that Temer's ouster is not expected anytime soon, as past political disruptions have jarred the Brazilian currency and the stock exchange.
The president's fate is now in the hands of the lower house of Congress. If two-thirds of federal deputies — 342 of 513 — vote to accept the corruption charges, the case will return to the Supreme Court, where a decision to move forward would lead to a 180-day suspension for the president and a trial.
Following Monday night's announcement of the charges, Temer called a late-night meeting with allied ministers, as well as Elsinho Mouco, who ran his political party's last election campaign. Nobody who attended the meeting spoke to the press.
The president is accused of accepting a bribe of $152,000 from Joesley Batista, whose family owns meat-packing giant JBS, in exchange for helping the businessman sort out a problem with a power plant. According to the indictment, Batista promised Temer and his close aide, Rodrigo Rocha Loures, an additional $11 million.
Batista took a plea deal to testify. Loures, who was filmed receiving a suitcase that authorities said contained the initial bribe, was arrested and is currently in jail and expected to take a plea bargain.
Atty. Gen. Rodrigo Janot wrote in the indictment that it is difficult to calculate how much Temer owes taxpayers for the damage he has allegedly done to the reputation of country's institutions. The prosecutor suggested the amount should be $3 million.
He opened the investigation into Temer last month. He is also looking into Temer's alleged participation in the payment of hush money to impeached lower house Speaker Eduardo Cunha and aide Lucio Funaro.
Cunha is serving a prison sentence of 15 years and four months for corruption, money laundering and tax evasion. Funaro is in jail awaiting judgment.
Temer has struggled to gain his footing in a presidency shrouded with accusations of corruption. The political crisis surrounding him reached its highest level when a late-night conversation he had with Batista, allegedly regarding the bribe payments to Cunha, was secretly recorded by the businessman, who then used it in testimony to the Supreme Court.
"The circumstances of this meeting [with Batista] — at night and without any register in the official schedule of the president of the republic — reveal the intent of not leaving traces of the criminal actions already taken," Janot wrote in his decision.
Temer served as vice president under Rousseff and became president after she was impeached. She has also denied any wrongdoing and argued that her removal from office was politically motivated.
This month, Temer and Rousseff were absolved by the country's highest electoral court of charges that they violated campaign finance laws during their 2014 election campaign. The result was controversial, as the final vote in the 4-3 decision was cast by the court's president, Gilmar Mendes, who is friends with Temer.
The latest polls show that Temer's approval rating has plummeted to 7%, the lowest of any Brazilian president in almost 30 years.
Langlois is a special correspondent.
---
UPDATES:
TK p.m.: This article was updated with details about the indictment and Brazil's recent political history.
This article was originally published at 9:40 a.m.
---
Must-read stories from the L.A. Times
Get the day's top news with our Today's Headlines newsletter, sent every weekday morning.
You may occasionally receive promotional content from the Los Angeles Times.