Antibiotics. Plastic suits. Bleach. This is how Olympic athletes are preparing for Rio's polluted water
A worker removes trash from Botafogo beach next to the Sugarloaf Mountain and the Guanabara Bay in Rio de Janeiro. Just days ahead of the Olympic Games the waterways of Rio are as filthy as ever, contaminated with human sewage teeming with dangerous viruses and bacteria, according to a 16-month-long study commissioned by the Associated Press.
(Leo Correa / Associated Press)
Brazil's national flag decorates the boat used to collect water samples from Guanabara Bay for an ongoing water quality study in Rio de Janeiro.
(Silvia Izquierdo / Associated Press)
A man washes himself in the polluted waters of Guanabara Bay in Rio de Janeiro.
(Felipe Dana / Associated Press)
Boats sit on the polluted shore of Guanabara Bay in the Sao Goncalo suburb across the bay from Rio de Janeiro.
(Felipe Dana / Associated Press)
Cars drive above sewage flowing from the suburb of Sao Goncalo into Guanabara Bay, across the bay from Rio de Janeiro.
(Felipe Dana / Associated Press)
Houses stand next to the heavily polluted shore of Guanabara Bay in Rio de Janeiro. Just days ahead of the Olympic Games the waterways of Rio are contaminated with sewage.
(Felipe Dana / Associated Press)
Australian sailors head out for a training session on Rio de Janeiro's Guanabara Bay ahead of the 2016 Rio Olympic Games.
(William West / AFP/Getty Images)
View of Marina Da Gloria and the Sugarloaf Mountain, the center stage for the Olympic Games 2016 sailing competitions, at the Guanabara Bay in Rio de Janiero.
(Sebastian Kahnert / EPA)
Reporting from Rio de Janeiro —
The Summer Olympic Games are days away and Guanabara Bay is bustling. The British sailors make final preparations to their boats. Nearby, the Dutch crew members prepare inflatable rafts.
And out on the water, the plastic bags and trash float by. To the north, near Rio's poorer communities, the stench from the bay is overwhelming, even from a distance.
"So this is a beautiful stretch of coast, isn't it?" asks Carmen Priscila Alves, 48, as she walks along Gloria Marina, where the Olympic sailing events will begin. "But you'd have to be blind not to see the dark side. It's devastating what has happened to this water, and authorities clearly didn't deliver what they promised."
The Rio de Janeiro waterways are still filthy just days before the 2016 Summer Olympic Games. Athletes are advised to take precautions while health risks are high.
The mood in Brazil during the run-up to the Rio Games has been tempered for months — the Zika epidemic, the country's political turmoil and the looming sense that the nation's interest in playing international host may have peaked two years ago during the World Cup. But the quality of the beaches and bays where Olympians will swim, row and sail has been a nagging issue here for years.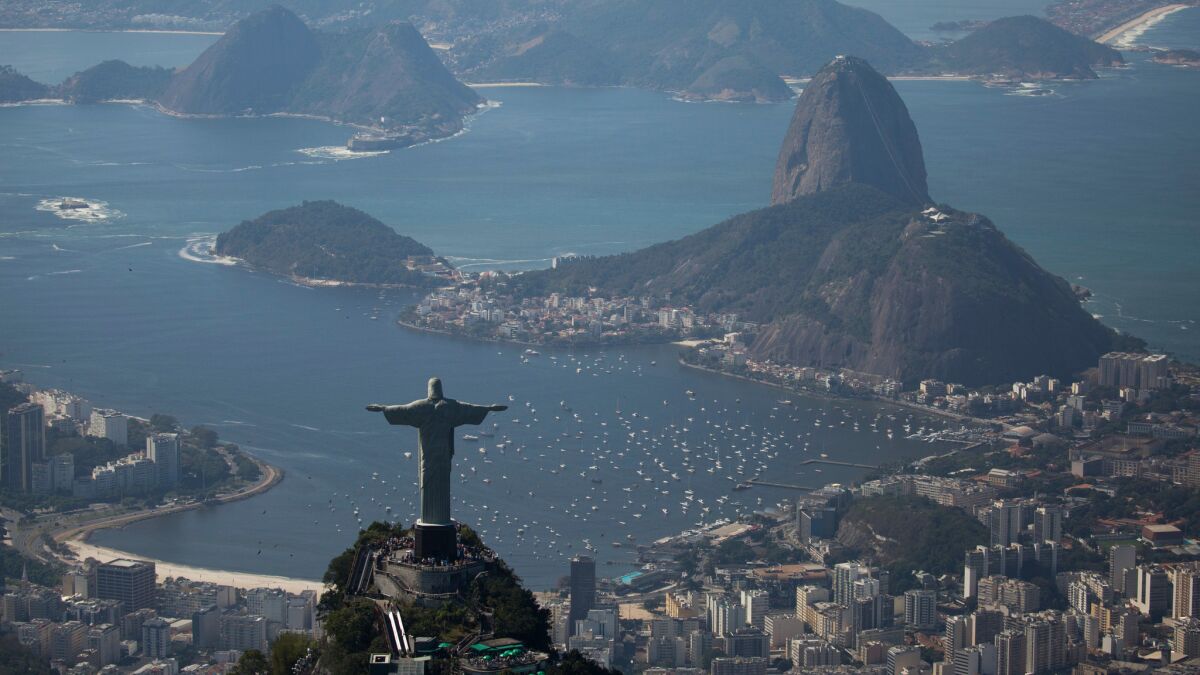 The government never came close to cleaning up Guanabara Bay as the country promised it would while preparing for South America's first Olympiad, and the pollution issues in the nearby ocean and lagoon remain unchecked, posing potential health risks to swimmers, rowers and sailors.
A water quality study commissioned by the Associated Press recently found Rodrigo de Freitas Lagoon, where the game's rowing and canoeing events will be staged, to be teeming with viruses that can cause intestinal and respiratory problems.
The study found readings in the hundreds of millions of adenovirus per liter, far above what would be considered a health risk in coastal states like California.
"Don't put your head underwater," suggested biomedical expert and University of South Florida professor Valerie Harwood after examining the AP-commissioned study.
Athletes have responded with varied precautions. Some began taking antibiotics before heading to Brazil; others are planning to wear special anti-pollution microbial suits or have simply vowed to do their utmost to keep their mouths closed.
"[The water quality] is a real concern. We're going to have to be very disciplined about how we're taking care of ourselves," said Meghan O'Leary, a member of the U.S. rowing team. "Don't touch our face if we touch the water. Covering our water bottles with plastic bags. We get splashed a lot. I sit in bow. It's going to happen. We're just going to try to control everything we can."
Authorities have responded defensively and, at times, with surprise at the storm of criticism over the water quality in Rio's bays and open stretches of ocean, saying that the Olympic venues have been tested regularly and that the results fall within the standards set by the World Health Organization.
Carlos Alberto Junior, 48, who repairs fishing boats up the coast from Guanabara Bay, laughs when asked about the promise to clean up the huge bay.
"They've been saying that since the early 1990s. They're not going to do it," he said.
As he talked, a customer dragged his skiff up the trash-strewn beach and two men waded neck-deep into the filthy water to pull up a crab net.
"Have you ever known this government to keep promises like that? This beach serves as two businesses. One is my boat shop, and the other is when roving trash collectors come down here and pick up more here in one hour they can get anywhere else in a day."
Olympic events will take place in three different bodies of water, with varying levels of problems.
Sailing will take place in Guanabara Bay, where untreated sewage flows into the waters from neighborhoods above. Open-water swimming will take place off Copacabana beach, the famed and popular strand where authorities say the ocean water is tested and regularly cleared for swimming. And the problematic Rodrigo de Freitas Lagoon will host rowing and canoeing
Rogerio Valle, a professor at the Federal University of Rio de Janeiro specializing in water environmental issues, said the biggest risk may be to sailors who capsize into Guanabara Bay or are sprayed with water. It's clear the government never actually made an effort to follow through on its environmental guarantees made during the bidding process, he said.
Many of the water quality issues in Guanabara Bay, he said, can be traced to inadequate sewage treatment in the communities above the bay.
FULL COVERAGE: 2016 Rio Summer Olympics »
"Some parts are really really bad, some aren't so bad," said Valle. "But if someone enters that water in the wrong area, there's a chance they will come into contact with an organism that could be a real problem."
This isn't the only problem that has appeared recently for Olympic sailors. During bad weather over the weekend, the ramp at the Marina Gloria, where the British sailors had been preparing last week, collapsed. And security has become such a festering issue that the government said it would spend an additional $26 million on its forces.
Mayor Eduardo Paes, who has served as the face of the Summer Games, has called international coverage of Rio "unfair," while also admitting it was "absurd" that the state government – a separate entity from his office – did not treat its sewage.
Over the last few months, Brazil has entered a punishing economic and political crisis, leaving many government agencies cash-strapped. Especially hard-hit has been Rio state, which declared a state of emergency and requested federal funds this year.
Paes continues to insist the Games will be a success, and some Brazil-bound athletes view them as just another Olympic-sized challenge.
"At this point, it is known that there are issues with the water quality," U.S. rower Megan Kalmoe wrote in a widely distributed essay. "It is known that athletes are going to be at risk for illness. It is known that we are going to have to be smart, hygienic and take precautions. Great. Let's move on."
Bevins is a special correspondent.
Lori Riley of the Hartford Courant contributed to this report.
ALSO
LA 2024 brings large crew to Rio Olympics
Armed forces 'pacified' Rio's slums, but as Olympics approached, the gangs came back
A number of tennis players dismiss risk of Zika exposure at Rio Olympics as minimal
Must-read stories from the L.A. Times
Get the day's top news with our Today's Headlines newsletter, sent every weekday morning.
You may occasionally receive promotional content from the Los Angeles Times.