Brazilian police drag out students occupying schools to protest lunch money scandal
Reporting from Sao Paulo, Brazil —
Police in Sao Paulo have begun forcibly removing young students who are occupying a number of schools and public buildings to protest a scheme that investigators say diverted funds from their public school lunch programs.
Before sunrise in South America's largest city, a wave of police vehicles blocked off roads downtown, and officers in riot gear soon entered the Paula Souza Educational Center, dragging out dozens of children aged 13 to 18.
"He grabbed my collar, but then pulled me by my backpack. No one got really hurt, but I was scared. As soon as they walked in I thought, 'Whoa, these guys are big,'" said 17-year-old Inae Lima shortly after being removed.
Police were enforcing the first judicial order to reestablish state control over public property, including schools and the state legislature, that have been taken over by a wave of students reacting to the revelation of what local media have called the Mafia da Merenda, or "Lunch Money Mafia."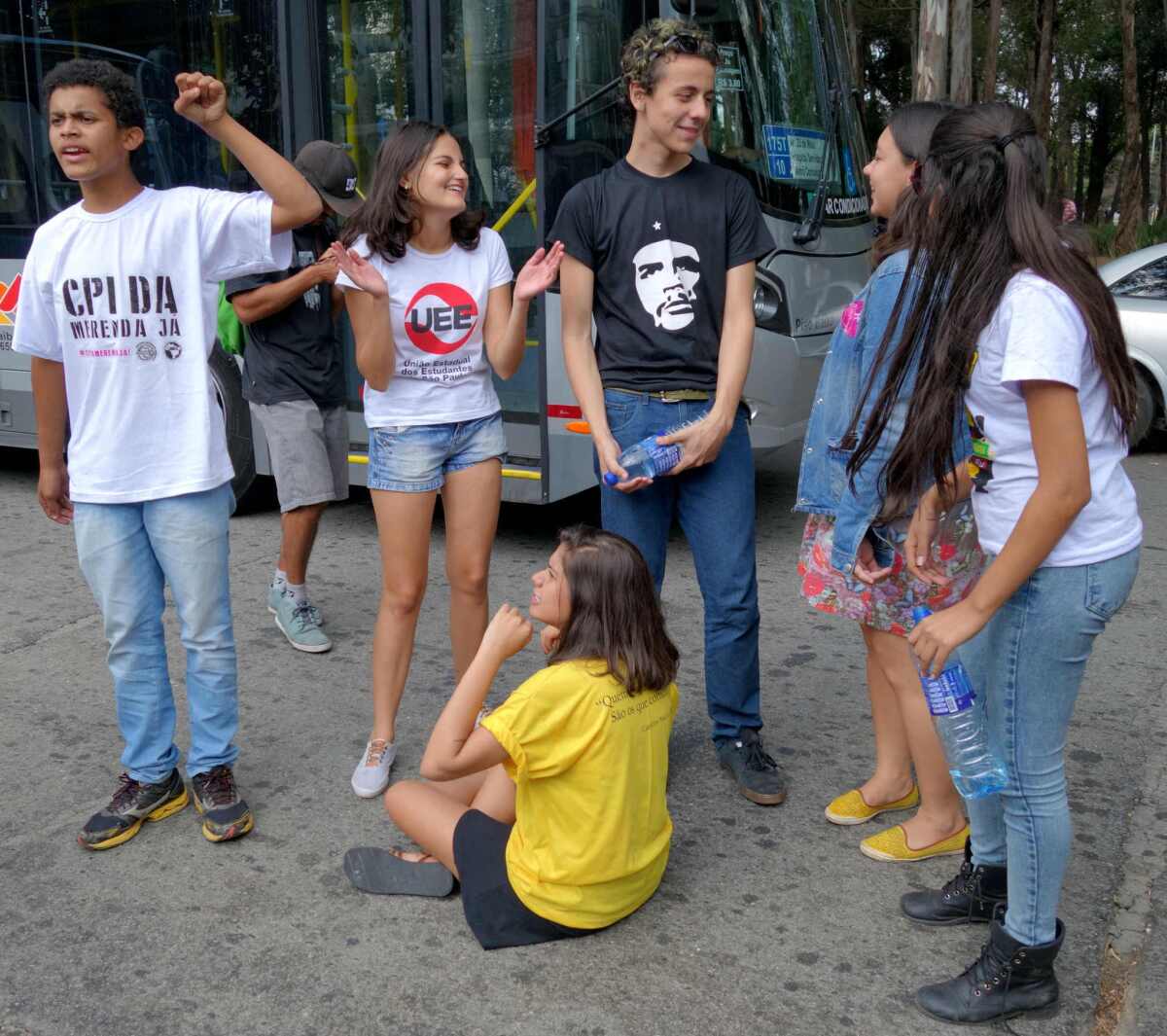 Parts of Brazil's federal government are falling apart due to a corruption scandal involving offshore oil exploration, but these students have been motivated by an entirely different issue that is closer to home.
Over the last few months, state police investigators and prosecutors have found the "Lunch Money Mafia" overpaid food providers in exchange for bribes, and it's believed the school nutritional system lost millions. No criminal charges have been filed so far.
At the same time, students report missing or inadequate food, and surveys of nutritionists by local media found overwhelming evidence that students did not always have healthy portions.
The students are demanding a special parliamentary inquiry, one that would have to be opened by the legislature, into the scandal. Students, working in shifts, began occupying schools and the legislature around the clock April 28.
See more of our top stories on Facebook >>
"The occupation was just a means to an end. We just wanted to be heard, and nothing we tried previously worked," said Lima. She was among dozens of students ejected from the building. She spoke as a group of students and supporters made their way to another school downtown.
As police downtown combed through the Paula Souza center early Friday, their cordon stopped residents on their way to work. Women shouted from the windows, complaining of the ruckus below. As he waited, 19-year-old street vendor Luis Cordeiro Campos said he thought the kids should be allowed to stay.
"Look, protesting is their right, and we all know food for kids here is a problem," he said. "I just graduated and sometimes the food was just missing. You'd just be hungry until you got home."
The Brazilian constitution guarantees the health and full education of all its population, and by law all students have a right to school meals.
Friday afternoon, police assembled at the legislature for Sao Paulo state, Brazil's biggest, which had been closed to the public in preparation of a forced removal of students who had taken over a hall. The official investigation they demand would require support of state legislators whose allies may be involved. Currently, at least 14 schools are reported occupied in the state.
"It is only the duty of the police to assist in the recovery of public property if we are needed," Major Robson Cabanas of the military police told media inside the legislature Friday. "I'm optimistic and hope everything goes down peacefully."
NEWSLETTER: Get the day's top headlines from Times Editor Davan Maharaj >>
Outside, a group of students banged drums in the sun and tried to rally support of passing traffic with signs and chants.
The tactic of occupying schools has recently become popular as a way to draw attention to poor conditions or inadequate facilities.
"They just can't get away with robbing our education anymore. All I have to eat at my school is crackers," said 15-year-old Gabriel Rodrigo Dos Santos, who became involved with the student occupation movement last year. "They better be investigated. I started sleeping here last Thursday."
Bevins is a special correspondent.
ALSO
100 million Brazilians lose WhatsApp after a judge orders a 72-hour shutdown
Seeking bargains, and hope, at the market swallowing Nicaragua's capital bit by bit
More than 80,000 flee as Canadian fire grows; even evacuation centers are evacuated
Must-read stories from the L.A. Times
Get the day's top news with our Today's Headlines newsletter, sent every weekday morning.
You may occasionally receive promotional content from the Los Angeles Times.