Fearful of Trump's America, asylum seekers from across the globe stream into Canada
Every hour or so, a taxi pulls up at the end of a remote country road in upstate New York and deposits another load of anxious and weary passengers.
From here, it is steps across a gully to the Canadian province of Quebec, where police stand ready to arrest anyone who enters illegally.
Undeterred, the travelers drag their suitcases across a makeshift dirt bridge, past a sign that declares in French and in English, "No pedestrians," and surrender to the waiting officers.
They are part of a surge of asylum seekers from Haiti, Sudan, Turkey, Eritrea and beyond who have been streaming into Canada in recent months, hoping for refuge they believe will be denied them in the United States.
The Royal Canadian Mounted Police intercepted nearly 3,000 of the asylum seekers at this one illicit crossing in July, nearly four times the number apprehended in June. In the first two weeks of August, 3,700 more were taken into custody.
"We've never seen such numbers coming in," Claude Castonguay, a spokesman for the force, told reporters. "They're unprecedented."
Though the numbers have dropped in the last few weeks, the influx has strained Canada's immigration and refugee services, leaving officials scrambling to find places to shelter them all and causing months-long delays in the processing of asylum claims.
Canadian authorities set up tents at the border and installed rows of cots at the Montreal Olympic stadium — a jarring sight for many Canadians, who say the scenes are reminiscent of a war zone. Schools, conference halls and an abandoned hospital were also converted into temporary shelters for the migrants.
The rush poses a political problem for the Liberal government of Prime Minister Justin Trudeau, who faces a backlash from opposition parties and anti-immigrant groups because of his welcoming stance toward refugees.
"We're giving our country away to other people," said Buddy Hampton, an 80-year-old drummer from Hemmingford, the community on the Canadian side of the border where most of the migrants are arriving. He said that he sympathized with those seeking a better life but that Canadians too were struggling.
Government officials have taken to the press and social media in recent weeks to try to dispel the notion — common among the migrants — that anyone who requests asylum in Canada will automatically receive permanent residence.
"You will not be at an advantage if you choose to enter Canada irregularly," Trudeau said at a news conference. "You must follow the rules, and there are many."
Police say they first noticed an increase in illegal crossings around the time of the U.S. election in November, and many of the asylum seekers say they have lost hope that America will accept them as long as President Trump remains in office.
Some are from the six predominantly Muslim countries — Iran, Libya, Somalia, Sudan, Syria and Yemen — subject to a U.S. travel ban imposed by Trump. But they also include many other foreign nationals who are frightened by his crackdown on illegal immigration and vows to slash the number of immigrants admitted to the U.S. lawfully.
The largest share — about 85% of those currently arriving — are Haitians who lacked visas to enter the U.S. or overstayed the ones they had and now fear being sent home.
"We went through an epic journey to reach the United States — people died on the way," said Louina St. Juste, a 42-year-old father of five from Haiti who passed through 11 countries, braving vast rainforests and treacherous rivers on a three-month trek from Brazil to San Diego last year. "And now they want to deport us?"
He said he can't return to Haiti, a country assailed by natural disasters, political turbulence, violent crime and a deadly cholera outbreak. So he flew to New York and caught a Greyhound bus to Plattsburgh, about six hours to the north. From there, it was a 20-minute taxi ride past cornfields and apple orchards to Roxham Road, the now-well-known spot in the town of Champlain where he entered Canada.
So many people are using this spot that the Canadian police set up tents on their side of the frontier to search the migrants and verify they don't pose a threat. The tents are staffed 24 hours a day, seven days a week. As the nights started getting cooler, heating was added. If the influx continues, there are plans to replace the tents with trailers.
From there, the migrants are loaded into minivans for the 10-minute drive to the nearest official port of entry at St. Bernard de Lacolle, where the army set up more tents to house them while they wait to file asylum claims — a process that was taking up to four days at the height of the influx. Eventually they are bused to shelters in Montreal, where they complete the application process and are given help finding more permanent housing.
Although crossing at Roxham Road is illegal, the exchanges that take place there between police and migrants have the feeling of a well-rehearsed script.
A man from Haiti who looks to be in his 20s hops out of a taxi on the U.S. side of the border carrying only what he can fit into a small backpack.
A Canadian officer calls out to him in French and in English. The legal port of entry is three miles away, the officer says. This is an illegal crossing point. If he crosses here, he will be arrested.
"I prefer to go to prison," the man tells the officer.
Others seem confused by the officer's warning and hesitate. But eventually, almost everyone crosses, some with their hands in the air.
The migrants know that if they request asylum at an official port of entry, they will be turned back and told to apply in the U.S.
The rules, enshrined in a 2002 agreement between the U.S. and Canada, are based on the principle that those fleeing war and persecution should petition for protection in the first safe country they reach. But in a quirk of international law, once the migrants set foot on Canadian soil, legally or not, they can apply for designation as refugees there.
Migrant rights advocates oppose the agreement, arguing that it encourages people to make dangerous illegal crossings. Two men from Ghana lost most of their fingers to frostbite last winter after getting lost in waist-deep snow while negotiating the icy prairies along the U.S. border with the Canadian province of Manitoba.
It's a mystery how people from as far away as Africa and the Middle East first discovered Roxham Road, which cuts through thick forest and is lined with a handful of trailer homes. But once they did, word spread quickly on social media about how easy it is to enter Canada here.
The numbers crossing here ramped up dramatically after the Trump administration said in May that it plans to withdraw the "temporary protected status" that has allowed some 58,000 previously undocumented Haitians to live legally in the U.S. since an earthquake devastated their island in 2010.
Then-Homeland Security Secretary John F. Kelly extended this special reprieve through Jan. 22, 2018, but urged beneficiaries to use the time to prepare to go home. The announcement spread panic among Haitians in the U.S. who are concentrated on the East Coast, within easy reach of the Quebec border.
"You have to understand, these are people who were already well established in another country," said Chantal Isme, who serves on the board of directors for the Maison d'Haiti, a community center in Montreal that has been helping new arrivals complete immigration paperwork, rent apartments and enroll their children in school.
"Most of these people were working, and some of them were doing very well," she said. "There were children who were born over there and have no roots in Haiti. So it's a big human drama."
What many don't realize, however, is that Canada ended its own temporary protection for Haitians in 2014, and only those who can show they face a risk of persecution or torture will be allowed to remain.
The Immigration and Refugee Board of Canada accepted about 50% of the refugee claims made last year by Haitians. More than 500 Haitian nationals have been deported since January, most of them to the U.S. where they still had at least temporary legal status.
Because of the summer surge, the wait time for a hearing to determine whether an asylum claim is eligible for consideration has stretched from days to months. A final decision could take a year or longer.
St. Juste, who had been living in San Diego, is keeping his hopes up.
When he presented himself to officials at the U.S.-Mexico border, he was placed in detention for six days, then released with no idea where to go. He said he has been treated far better in Canada.
"Here, they welcome us. They give us food, a place to stay. I want to spend the rest of my life here!" he said outside the Montreal Olympic Stadium, where he was living with about 400 other asylum seekers, down from 900.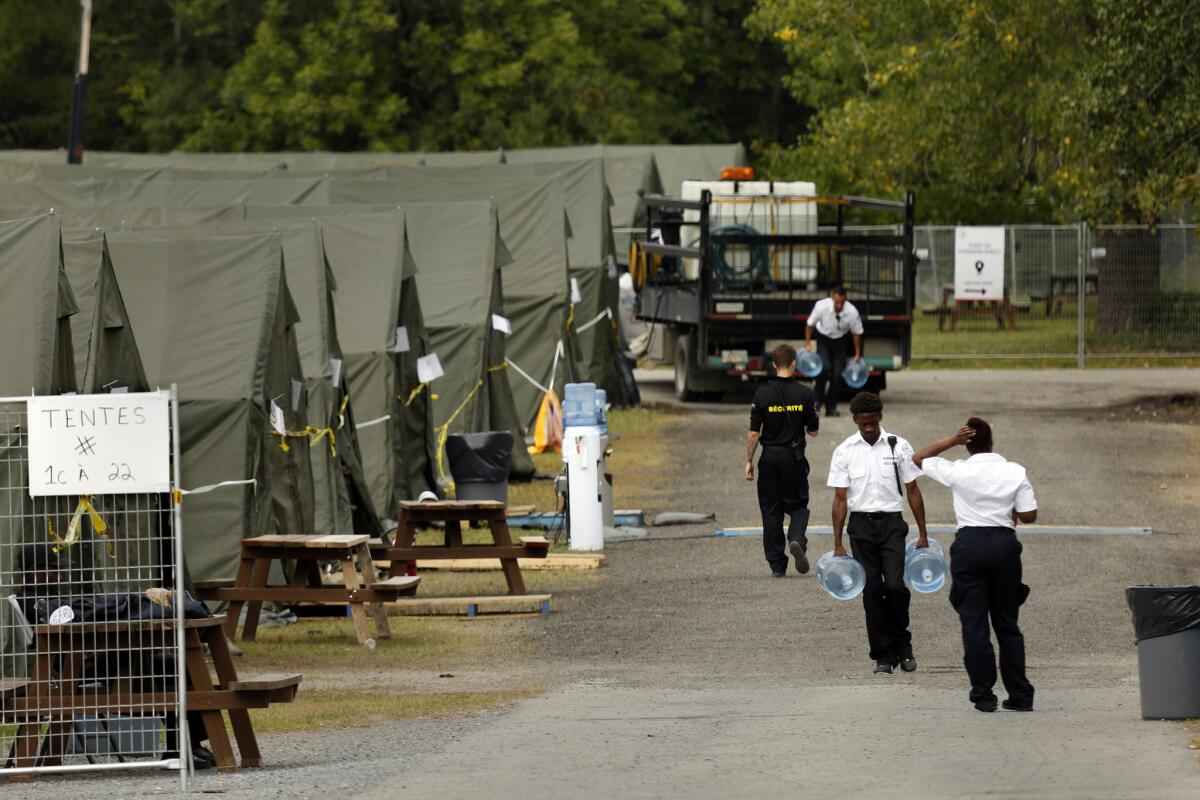 In a few days, St. Juste was expecting to collect his first government assistance check — typically about $670 a month for a single person or $1,200 for a family of four — and move into an apartment.
Now that the influx has slowed, Canadian authorities are no longer housing people at the stadium. But they say as many as 100 asylum seekers still show up every day at the Quebec border.
Not long ago, a black SUV pulled up to the orange traffic cones at the end of the Roxham Road. Abubaker Ahmed, an Uber driver from New York City, said he had friends with him who had run into political difficulties in Sudan and wanted to cross into Canada.
There was a time when Ahmed would have advised the friends — a couple and their two children, aged 4 and 7 — to apply for asylum in the U.S. But not anymore, Ahmed said as he unloaded their luggage. "America has changed."
The husband, who said he would be returning to Sudan to tend to business interests there, scooped up the children for a farewell squeeze, then wiped tears from his face as he watched them walk to the border with their mother.
Twitter: @alexzavis
Sign up for Essential California for news, features and recommendations from the L.A. Times and beyond in your inbox six days a week.
You may occasionally receive promotional content from the Los Angeles Times.