Canadians ready to welcome Trump refugees
If Canadians weren't paying attention to the U.S. presidential campaign before, it may be time to tune in.
Google Trends prompted some online buzz this week when it reported that the search query "how can I move to Canada" had shot through the roof on the evening of the Super Tuesday primaries -- a phenomenon that was widely attributed to Donald Trump's string of victories.
Searches initially rose by 350%.
By the next day, they had reportedly shot up by 1,150%.
So what are Canadians thinking about this potential wave of presumably liberal, Trump-averse Americans? Canada recently announced that it had reached its goal of taking in 25,000 refugees from Syria's civil war. What about its neighbors to the south?
TRAIL GUIDE: All the latest news on the 2016 presidential campaign >>
We put the question to a random, and highly unscientific, sampling of Canadians in Ottawa, the nation's capital.
David Teed
David Teed, 60, is a retired electrical engineer who lives in Ottawa. He doesn't think there will be a mass migration of Americans moving to Canada should Donald Trump win the presidency.
"Historically, people have asked about [doing] it, but not done anything about it," he said. "Maybe if they were on the knife edge, they might." But he doesn't think Americans are there yet.
On Trump winning the presidency: "It's rather unbelievable. Outside the party selection process, the [U.S.] populace is not really supportive, so it seems unlikely."
Elaine Munro
Elaine Munro, 62, is a retail customer service clerk in Almonte, just outside Ottawa.
"I would rather have a bunch of Americans than all of these Muslims [the Canadian government is] bringing in," she said. "I am totally against that. They're taking jobs that Canadians have. The [Canadian] government is setting them up better than how Canadians are being looked after. Healthcare is being overrun by [Syrian refugees]."
Fred Hallahan
Fred Hallahan, 65, is a retail store clerk in Almonte.
"I don't mind Americans moving here," he said. "I just don't want Donald Trump. I've got a feeling the whole world will be in big trouble [if he wins]. He's going to stir the pot so badly that everybody's going to be after the Americans. I have bad feelings [about him]. That's how I live, it's by feelings. I hope he doesn't win. I hope he doesn't even come close to winning."
Eric Anderson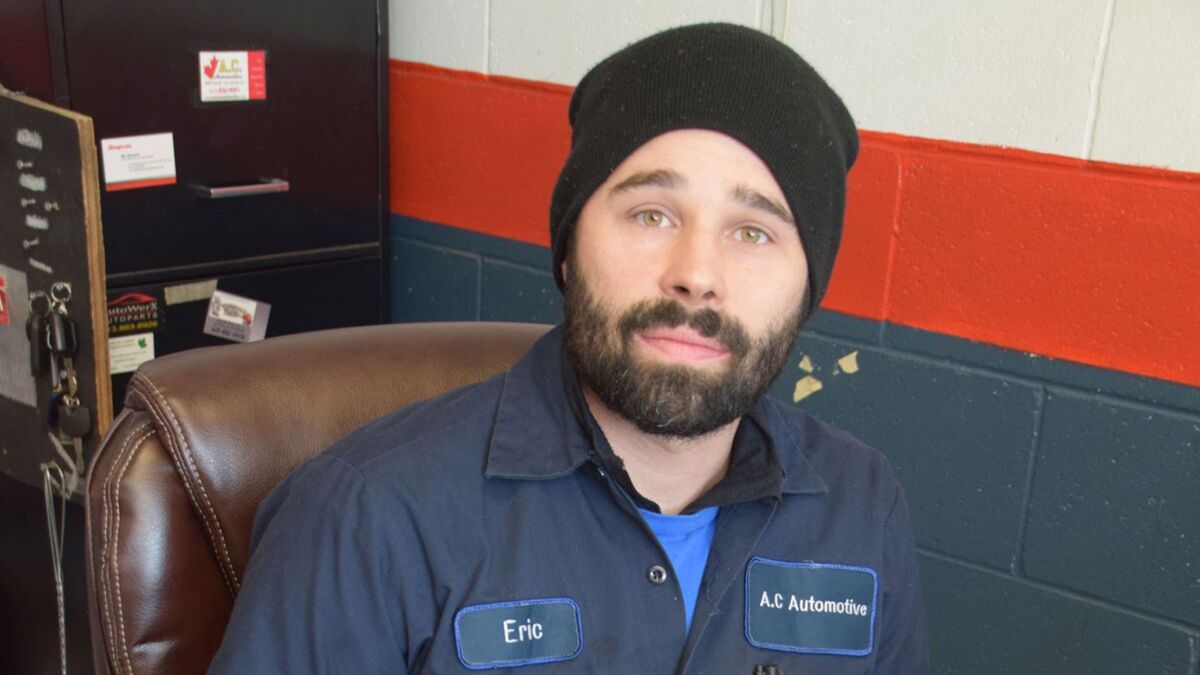 Eric Anderson, 35, is a small business owner and auto mechanic in Ottawa.
"I think Americans drawn up here if Trump became president would be smart, rational Americans," he said. "Canada's population is declining, so it would be nice to have immigration of people ready to contribute to the economy. People would be moving here, purchasing homes, starting businesses, getting jobs because they decide they don't like this Trump guy and what he stands for. They're the kind of people we want in this country. So it would be nice to have an influx of people moving here for the right reasons."
On the prospect of Trump as president: "It just looks pretty scary. I think he'd be really, really unpredictable and kind of do whatever he wants. It looks like he has no concern for collateral damage when it comes to conflict resolution. He's made comments about blowing up oil fields. But what about all the villages and people that get blown up alongside these oil fields? That will create more hate."
Alice Chiasson
Alice Chiasson, 30, is a pet store sales associate in Ottawa.
"I feel like the mass migration of Americans to Canada would probably be from the intellectual sector -- a lot of scientists, maybe people who are in politics, people with forward-looking ideas. They would come to Canada and they would be benefiting all of our sectors," she said.
On Trump: "I just believe him to be a hypocrite. I believe that he is two-faced. He says one thing and then says something completely opposite, such as liking Ted Cruz and hating Ted Cruz, such as not knowing who the head of the Ku Klux Klan is, yet he spoke of him earlier and he knows who he is. His hate for immigration seems very hypocritical because his wife [Melania] is an immigrant as well."
Otto Haenlein Sr.
Otto Haenlein Sr., 94, is a retired teacher in Ottawa.
"I don't think it will happen," he said of a wave of Americans moving to Canada. "Most Americans are comfortable where they are, unless they want to take advantage of our currency. Canada has enough to do with the [Syrian] refugees we have agreed to take."
On Trump: "I don't think very much of him. He's very vulgar. On the other hand, you have to respect him because he's made a fortune. He has appeal to many people because he can talk very glibly. He's not afraid of anything I think. But I don't think he has the right personality to represent the United States of America."
Guly is a special correspondent for the Los Angeles Times.
MORE ON DONALD TRUMP
Republican leaders are torn: Accept or reject Donald Trump for president?
GOP elites have a new strategy to stop Donald Trump, but it carries a big risk
Analysis: Trump fends off debate mockery and trips on specifics. Will his supporters care?
---
Must-read stories from the L.A. Times
Get the day's top news with our Today's Headlines newsletter, sent every weekday morning.
You may occasionally receive promotional content from the Los Angeles Times.