Seven Colombian taxi drivers extradited to U.S. in DEA agent's death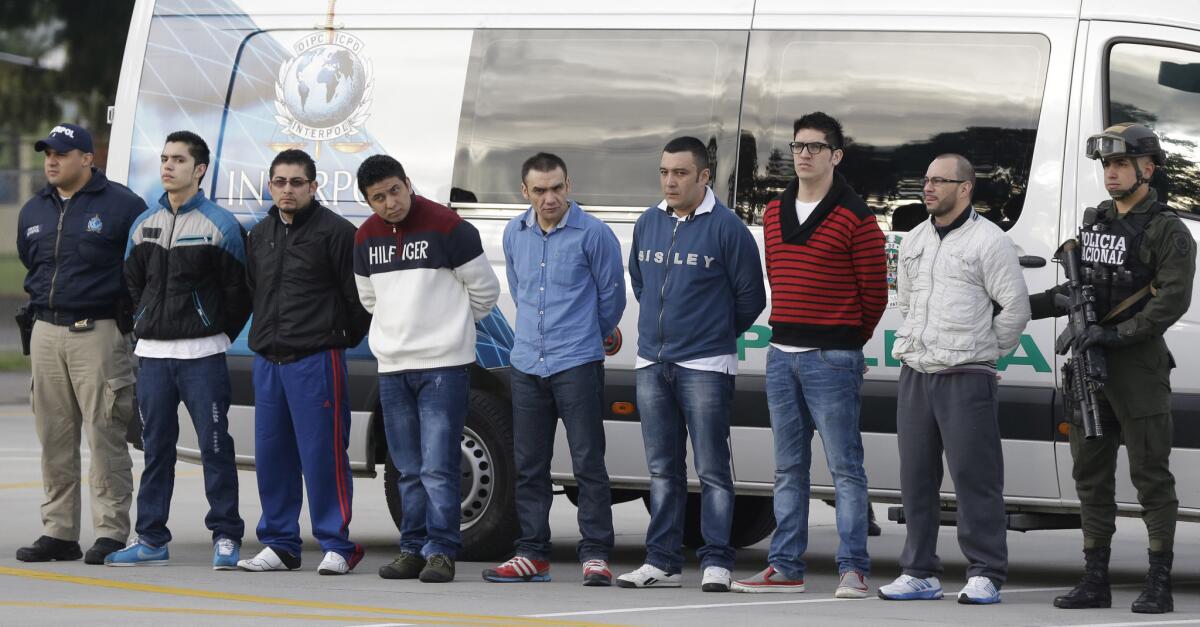 Reporting from Bogota, Colombia —
Seven Colombian taxi drivers charged with murder in the death of an off-duty U.S. Drug Enforcement Administration agent were extradited Tuesday to stand trial in Virginia, capping a case that highlighted the pervasive danger of kidnapping in this Andean capital as well as the omnipresence of video surveillance cameras.
The case also brought to the fore a rarely used legal strategy with which the U.S. government successfully argued for the seven suspects' extradition. Human rights organizations have been critical of the tactic.
James Terry Watson, 40, was killed late on June 20, 2013, after entering a taxi in a popular restaurant and club zone in north Bogota. Using a common criminal scheme, two men in a following taxi jumped in when Watson's taxi stopped at a traffic signal, allegedly intending to rob him. Watson resisted and was stabbed to death, authorities said.
The crime is commonly referred to as "express kidnapping" because the conspiring criminals typically take the victim to a bank ATM machine and order him or her to drain their accounts of cash before being released.
The suspects were arrested and charged within days of the crime after a massive deployment of Colombian police investigators, with assists from the DEA and other U.S. law enforcement officials.
The suspects were identified as Wilson Peralta, Edgar Murillo, Hector Lopez, Edwin Figueroa, Omar Valdes, Julio Ramirez and Andres Oviedo. They will stand trial for murder in U.S. District for the Eastern District of Virginia
Important leads in the case were provided from evidence recorded by 40 video surveillance cameras placed at apartment buildings and businesses. The cameras captured Watson fleeing the taxi after being stabbed, as well as the taxi terminal where the suspects were shown the next day washing blood stains from seat cushions.
Like other U.S. embassy employees in Bogota, Watson, a 13-year veteran of the DEA, was warned never to take taxis off the street but to call for them to reduce the risk of such robberies.
Colombian police Gen. Ricardo Restrepo said at a news conference Tuesday morning that the seven men were among 94 Colombians extradited so far this year to stand trial in foreign countries. Of those, 82 were accused of drug trafficking and 10 were arrested on murder charges.
U.S. officials claimed the suspects were eligible for extradition because Watson was living and working in Colombia with diplomatic status and that the Vienna convention of rules and procedures covering diplomats enabled the transfer.
But Colombian human rights advocates fought the extradition order signed by President Juan Manuel Santos, saying U.S. courts had no jurisdiction over the case and that the removal to Virginia put an unfair burden on the suspects' families.
Colombian officials, however, did not disguise their eagerness to see the suspects flown to face U.S. justice because of the message it sent. A special police unit dedicated to kidnappings said it subsequently has broken up eight other bands that operated in the area where Watson was killed, Semana magazine reported
As a result, express kidnappings in Bogota have declined by 60% since the Watson case, according to one government official who spoke on condition of anonymity because he was not authorized to speak.
Watson, an Army veteran, was a U.S. marshal and deputy sheriff in Richland Parish, La., before joining the Drug Enforcement Agency.
Kraul is a special correspondent.
Sign up for Essential California for news, features and recommendations from the L.A. Times and beyond in your inbox six days a week.
You may occasionally receive promotional content from the Los Angeles Times.