Worries grow over Zika virus in Colombia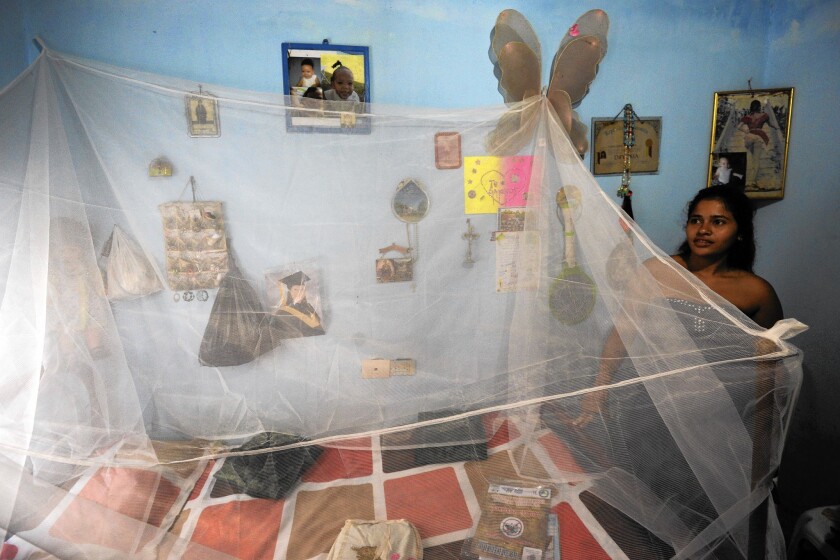 reporting from GIRARDOT, Colombia —
Sixteen-year-old Angie Paola Castro gave birth last month to an apparently healthy boy. It has been a month of both celebration and anguish: In her eighth month of pregnancy, Castro contracted the Zika virus, which researchers say may trigger serious neurological problems in the womb.
Hundreds of babies born to Zika-infected mothers in nearby Brazil have been born microcephalic, with abnormally small heads. Future neural disorders are also a possibility, doctors say.
"I'm not finished worrying," said the young mother as she cradled her crying newborn here in this sweltering city on the banks of the Magdalena River. "The important thing for me now is that he leads a healthy life."
While much of world's attention has focused on the Zika outbreak in Brazil, the mosquito-borne virus has been sweeping across Latin America. In Colombia, it has struck more than 26,000 men and women since October, and it is spreading at an alarming pace. Up to 600,000 could be infected by June, health authorities say.
I'm ready to do anything for my child. But what can I do about bad effects that could come later?
— Angie Paola Castro, 16-year-old Colombian mother
Of particular concern are the 3,177 Colombian women who, like Castro, contracted Zika while pregnant. Although no microcephalic babies linked to Zika have yet been confirmed in Colombia, the fear is that the country could soon see a wave of abnormal births similar to those in Brazil.
The pregnancies have been formally classified as "high risk" by the Colombian government, which is urging women to defer pregnancies for six months, after which authorities hope to have the epidemic under control, said Diego Garcia Londono, the Colombian Ministry of Health's director of the transmissible diseases department.
Medical professionals are still unsure of the consequences of Zika infections, including whether newborn microcephaly is a direct result. Another unknown is the possibility that infected babies could suffer postpartum neurological disorders, since the virus seems to attack neural tissue.
Zika infections have also been linked to a rise in cases of Guillain-Barre syndrome, a nervous disorder causing partial paralysis that strikes mostly victims over 40. Colombia has seen a 50% increase in cases since October.
Do women face dangers to future pregnancies long after a Zika infection? Doctors don't think so but aren't certain.
"The World Health Organization says Colombia is in a public health emergency of international interest due to Zika," Garcia Londono said.
Girardot, about 55 miles southwest of the capital, Bogota, has one of the highest concentrations of Zika cases in Colombia. Since October, about 1,740 cases have been diagnosed, stressing a municipal health system that last year dealt with 75,000 cases of another mosquito-borne disease called chikungunya.
The hallways of the white-washed Good Samaritan University Hospital have been jammed with anxious Zika patients and their families for much of the last three months. The province has added medical staff to handle the outbreak, but it has been hardly enough to handle an estimated 200 new patients a day.
The city has been harder hit than other areas of Colombia because of its location — at a relatively low altitude — and high humidity.
Cindy Estafny Leon, 25, gave birth in Girardot on Nov. 29 after having had Zika the month before. She was relieved that her daughter was born with no apparent effects, but Estafny Leon herself is still recovering.
"I got Zika late in my pregnancy, and they say the fetus is most at risk the first trimester of pregnancy. But I still have back pain three months after being sick," she said. "So naturally I wonder what the long-term effects on her might be."
Castro has similar worries. "I'm ready to do anything for my child. But what can I do about bad effects that could come later? There is always that doubt."
The fear of problems has caused some women to think about aborting their fetuses, despite Colombia's strict abortion laws.
See more of our top stories on Facebook >>
Health officials say the law provides for the right to terminate a pregnancy if deformities are detected, or even if the fear of such a birth threatens a mother's mental health.
"All women here have the right to interrupt a pregnancy if the possibility of having a deformed baby threatens their mental equilibrium," said Dr. Juan Carlos Vargas, research director at Bogota-based Profamilia, a privately funded organization similar to Planned Parenthood that promotes women's reproductive rights.
Castro said she wasn't aware that an abortion was an option during her pregnancy, but said she would not have opted for one in any case. "It never entered my mind not to have him," she said of her son, who was born Jan. 17.
There so far is no vaccine available for Zika, and doctors say the first line of defense must be controlling the insects that carry the disease.
"The difficulty is there is a lack of consciousness about the consequences of accumulated trash and dirty water storage," said Dr. Manuel Diaz, Girardot's municipal health secretary, referring to conditions that promote the breeding of mosquitoes. "Our prevention campaign emphasizes the need to take care of sanitary issues."
"We have been strengthening vigilance, trying to control the vector of the mosquito and working with medical institutions including the Centers for Disease Control [and Prevention] in Atlanta and Johns Hopkins University to develop an adequate response," said Garcia Londono, the Health Ministry official.
"But it's a difficult time to be needing more budget and resources," he said. Colombia is experiencing an economic crisis caused by the drop in global prices of oil, exports of which the government depends on for 17% of its spending budget.
Garcia Londono said the public health challenge is enormous. "About 70% of Colombia's 46 million population lives where the carrier Aedes mosquito is present, at altitudes under 6,800 feet, and so are vulnerable to contracting the disease."
Kraul is a special correspondent.
ALSO
Clinton faces one problem she didn't expect: Money
Trump wins South Carolina primary: 'Let's put this thing away'
FBI rebuts reports that county reset S.B. shooter's iCloud password without consent
---
Must-read stories from the L.A. Times
Get the day's top news with our Today's Headlines newsletter, sent every weekday morning.
You may occasionally receive promotional content from the Los Angeles Times.