Mexico drug lord Guzman's escape tunnel is a minor engineering masterpiece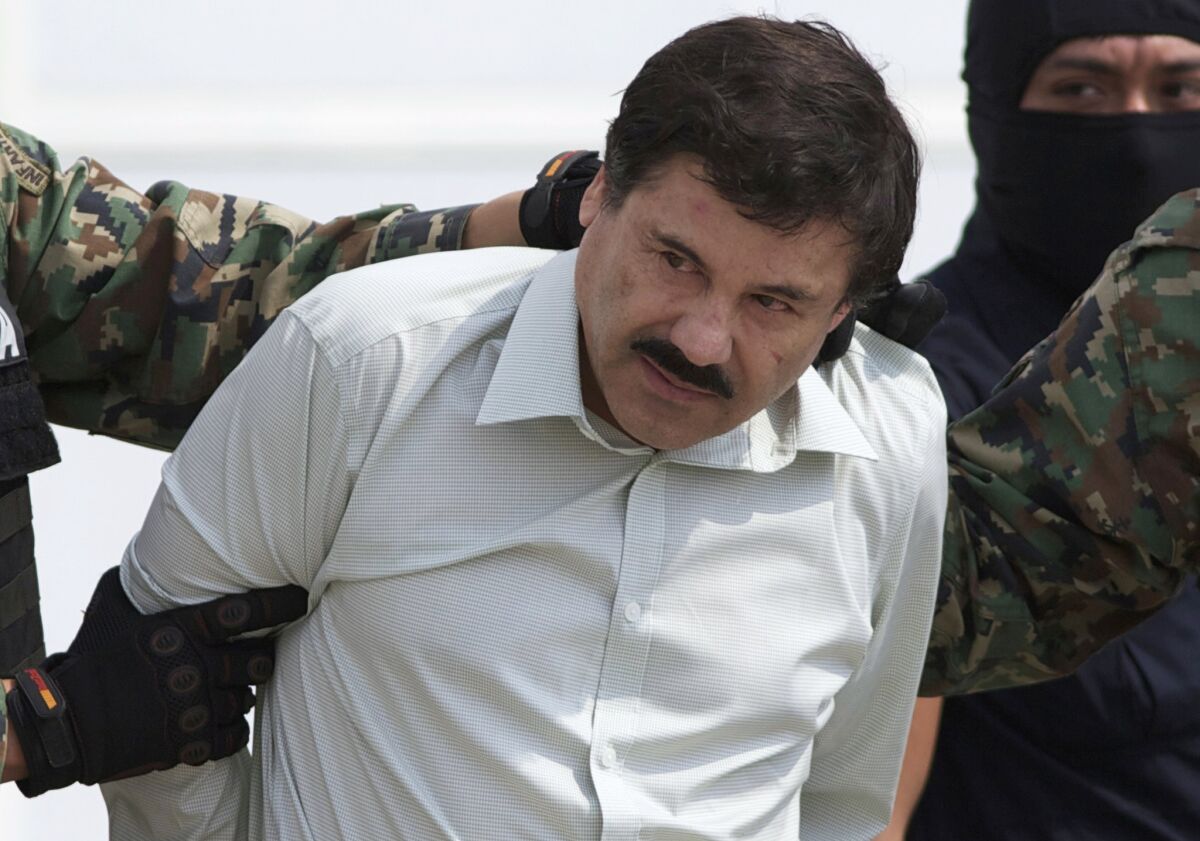 reporting from Mexico City —
The tunnel stretched a mile long, from the jailhouse shower to an empty building in a cornfield, and was deep enough for drug kingpin Joaquin "El Chapo" Guzman to stand upright as he made his escape.
A minor engineering masterpiece, some might say, equipped with ventilation, lighting, oxygen tanks, scaffolding and a motorcycle contraption for removing the tons of dirt being excavated.
Guzman, Mexico's most powerful drug lord, escaped sometime Saturday night from a maximum-security prison through the clandestine passageway, authorities announced Sunday.
He had often used tunnels, as well as bribes and murder, to stay steps ahead of the law during his last decade on the lam. Yet, after his capture last year, the president of Mexico said losing him again would be "unpardonable."
It is the second time Guzman, head of the Sinaloa cartel, Mexico's largest and most lucrative trafficker of heroin, cocaine and marijuana, has been able to flee jail. The first time was 2001, from a different prison, when he famously hid in a laundry cart, and he remained a fugitive — albeit sometimes a public one — until his arrest last year.
Guzman's escape is a major embarrassment for the administration of President Enrique Peña Nieto, which has prided itself for having taken down a string of top cartel leaders.
Authorities launched a massive manhunt late Saturday after discovering Guzman's disappearance from the Altiplano prison about 50 miles west of the capital. Soldiers occupied Mexico City's international airport and roadblocks were set up at numerous spots in the area.
The search extended across several states and beyond Mexico's borders.
More than 30 prison guards and other employees were detained for questioning.
U.S. officials had sought Guzman's extradition, in part for precisely the fear that he would take advantage of the weak, corrupt Mexican justice system to continue his trafficking business and even, eventually, break out. Several U.S. federal indictments have been filed against Guzman, including one in California, but Mexico had said it wanted to prosecute him first.
The tunnel that Guzman used to flee was sophisticated. It was nearly a mile long and deep enough for him to stand, authorities said. Its opening was a rectangular hole in the former prisoner's shower, measuring 20 inches by 20 inches. It then descended 30 feet, ran its length under largely unpopulated land and ended in a somewhat isolated house under construction in the nondescript Santa Juanita neighborhood, surrounded by empty fields.
Join the conversation on Facebook >>
Authorities, attempting to explain how it was possible for such an elaborate construction to have taken place unnoticed, said Guzman's shower was the only place in his cell where there were no security cameras.
Monte Alejandro Rubido, Mexico's security commissioner, said Guzman was last seen about 8 p.m. when he reported for medicine. Then he headed off to the shower. After a time, when he never reappeared, the alert was sounded and he couldn't be found.
"This is something that had been cooking for months," security expert and former government intelligence officer Alejandro Hope said in a television interview. "It shows the weakness of the entire chain of [Mexico's] judicial system."
During his previous stint as a fugitive, Guzman became one of the most powerful drug lords in the world. Forbes magazine once estimated his fortune at more than $1 billion, and he was the stuff of legends.
The Sinaloa cartel expanded its reach throughout much of the U.S., Europe and even Australia. More businesslike than some of the more vicious Mexican cartels, it nevertheless has been deeply involved in the violence that has claimed tens of thousands of lives here in recent years.
Guzman eluded capture easily. He had local officials and even part of the security establishment on his payroll and was repeatedly alerted when operations were launched to find him. He was finally tracked down to an apartment complex facing the ocean in the Sinaloan resort city of Mazatlan. He was there with his latest wife, a former beauty queen, and twin daughters, who were born near Los Angeles in 2011.
When he was captured on Feb. 22, 2014, he put up no resistance, although — apparently aware that authorities were on his trail — he had fled a few days earlier from the state's capital, Culiacan, through a network of tunnels and sewers. Then, as now, his skill at tunneling came in handy.
The U.S. had offered more than $5 million for his capture.
His nickname, El Chapo, means "shorty," and comes from his relative small stature; he stands a little under 5 feet 5. He is thought to be 56, although there are discrepancies on his age.
Peña Nieto and his top Cabinet members were in France on an official visit when news came of Guzman's latest escape. Interior Minister Miguel Angel Osorio Chong rushed back to Mexico.
In an interview with L.A.-based Mexican reporter Leon Krauze last year, shortly after Guzman's capture, Peña Nieto vehemently rejected the idea that he could escape again.
"It would be more than regrettable, it would be unpardonable that the state and the government not take adequate measures to ensure that what happened years ago not be repeated," the president said.
From Paris on Sunday, the president said only that the escape was unfortunate and a challenge to the Mexican state.
Graco Ramirez, governor of the nearby state of Morelos, one of many on "red alert" after the escape, said the turn of events was "unjustifiable."
"Mexico's penal system is in profound crisis," Ramirez said.
The U.S. government also weighed in.
"We share the government of Mexico's concern regarding the escape of Joaquin Guzman Loera 'Chapo' from a Mexican prison," U.S. Atty. Gen. Loretta Lynch said in a statement, noting the numerous drug-trafficking and organized-crime charges against him in the United States. "The U.S. government stands ready to work with our Mexican partners to provide any assistance that may help support his swift recapture."
For many here, it strained credulity that such a well-equipped tunnel could be constructed without anyone in authority noticing.
"It was just a matter of time that this señor make a mockery of the government's holding him," said Arturo Martinez Perez, a 52-year-old schoolteacher mulling over the news. "They never realized he was building a tunnel? Please. They really want us to believe that?"
"It's admirable," said Fabian Lopez, a 41-year-old merchant. "Shows you who really runs this country."
Dentist Ernesto Figueroa, 47, suggested with tongue in cheek that Guzman be hired to handle some of Mexico's more troubled construction projects because he'd do a better job.
"What a shower!" Edgardo Buscaglia, who studies global security issues for the United Nations, quipped on his Twitter account.
"There was an enormous act of corruption … and an absolute incompetence" involving prison officials, the intelligence community and law enforcement, said Pablo Monzalvo, a national security researcher at the Ibero-American University in Mexico City.
Undoubtedly, he said, Guzman continued to run his vast cartel operations from inside the prison and now will be able to pick up where he never left off.
Cecilia Sanchez in the Times' Mexico City bureau contributed to this report.
Follow @TracyKWilkinson on Twitter for more news from Latin America
ALSO:
Inmate shackled without food is part of a troubling pattern, sheriff's watchdog says
Scott Walker gets traditional GOP votes, challenging party's diversity goal
Battles over religious freedom are sure to follow same-sex marriage ruling
Must-read stories from the L.A. Times
Get the day's top news with our Today's Headlines newsletter, sent every weekday morning.
You may occasionally receive promotional content from the Los Angeles Times.