Mexico confronted Central American migrants with new severity. It cost one man his life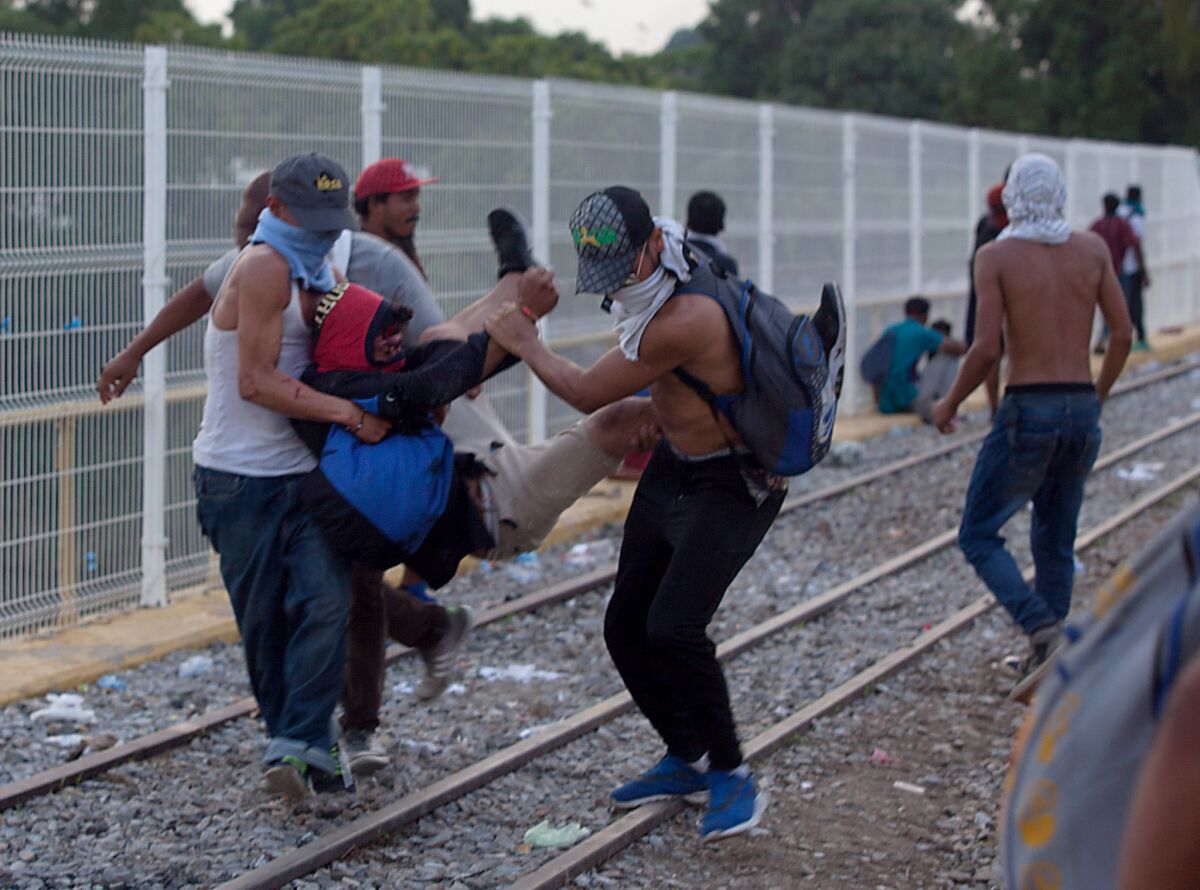 Henry Diaz Reyes and about 1,500 other Central American migrants had just pushed past Guatemalan authorities and onto a border bridge to Mexico.
Mexican federal police were waiting for them in riot gear. The official border entry was closed, police said.
The migrants shouted obscenities and hurled rocks at the police, who responded by launching tear gas.
As the Oct. 28 scuffle escalated, projectiles started whizzing through the air. One struck Diaz, who fell to the ground, bleeding from his head. Rescuers rushed him to a hospital, where the 26-year-old was declared dead.
"He had so many plans," said his half-sister, Glenda Reyes, who lives in Florida. Plans to work in the U.S. and have his son learn English. Plans to reunite with family members who had made the journey north and were finally living comfortable lives. "They took them," Reyes said.
Large-scale confrontations on Mexico's southern border were unheard of until last month. In the past, Mexican immigration agents regularly deported Central Americans in the country illegally, but usually after intercepting individuals or small groups well inside Mexico at checkpoints along highways or railroad tracks.
That changed in the run-up to the U.S. midterm election, when President Trump began referring to migrant caravans as invasions and threatened to withhold aid from Mexico and Central American nations that failed to stop them.
In response, Mexican President Enrique Peña Nieto ordered hundreds of federal police to the southern border — putting them on a collision course with the groups of migrants mainly from Honduras that were heading north through Guatemala.
It is unclear what training or instructions the police on the border bridge had received.
Dozens of migrants and 10 police officers were injured the day Diaz was killed.
An autopsy performed by Guatemalan authorities found that Diaz died from a traumatic brain injury.
Mexican authorities have said police fired only tear gas. Found at the scene, however, were casings that two law enforcement experts said appeared to be from powerful projectiles that are designed to penetrate doors or other barriers and release chemical irritants — but not to be fired at people.
The experts based their opinions, made independently, on two images of casings — one taken by a photographer working for The Times who was several feet from Diaz when he collapsed, the other captured by a journalist working for another outlet and uploaded to YouTube.
Manufactured by Combined Systems Inc., which is based in Jamestown, Pa., the projectiles are meant to be used during "specific tactical situations" such as hostage scenarios, according to the product specifications. The company warns users to "exercise extreme care and caution to minimize the possibility of this projectile striking a human." The company did not respond to repeated requests for comment.
"It shouldn't be used for crowd control at all," said a weapons expert at Omega Research Foundation, a nonprofit that tracks police and military use of weapons. The expert could not be named because of company policy.
The other expert, Ara Marcen Naval, a human rights advocate at Amnesty International, said that firing such projectiles into a crowd "breaches international human rights law and standards" that specify when law enforcement officials can use force and how much.
A Mexican official who spoke on condition of anonymity denied that federal police had fired such projectiles and said police do not use any products made by Combined Systems Inc. Asked where the projectiles may have come from, the official said: "We do not have that information."
The day after Diaz was killed, the rest of the migrants he was traveling with waded across the Suchiate River illegally and continued their journey north mostly unimpeded by Mexican authorities.
Diaz's body was sent back home with the help of the Honduran government. The simple wood casket was placed in the living room of the small house that Diaz had shared with his grandmother and six other relatives on the outskirts of the Honduran capital, Tegucigalpa.
Diaz left Honduras because he was constantly broke, relatives said. The $250 a month he made as a delivery truck driver was barely enough to buy groceries and pay "taxes" to gangs to cross their territory on his routes.
Three times he had attempted the dangerous 1,500-mile journey to the Texas border, and three times he failed, most recently last year. But the possibility of traveling north in a large group — without paying a smuggler thousands of dollars, without having to pay Mexican cartels that controlled the route — gave his dream new allure.
His ex-wife and their 7-year-old son left in mid-October in the first migrant caravan, which drew international attention after Trump angrily tweeted about it. Back in Honduras, Diaz watched television footage that showed caravan members being hailed as heroes as they trekked north through Guatemala, where locals gave them food and places to sleep and cheered them from the sides of the road.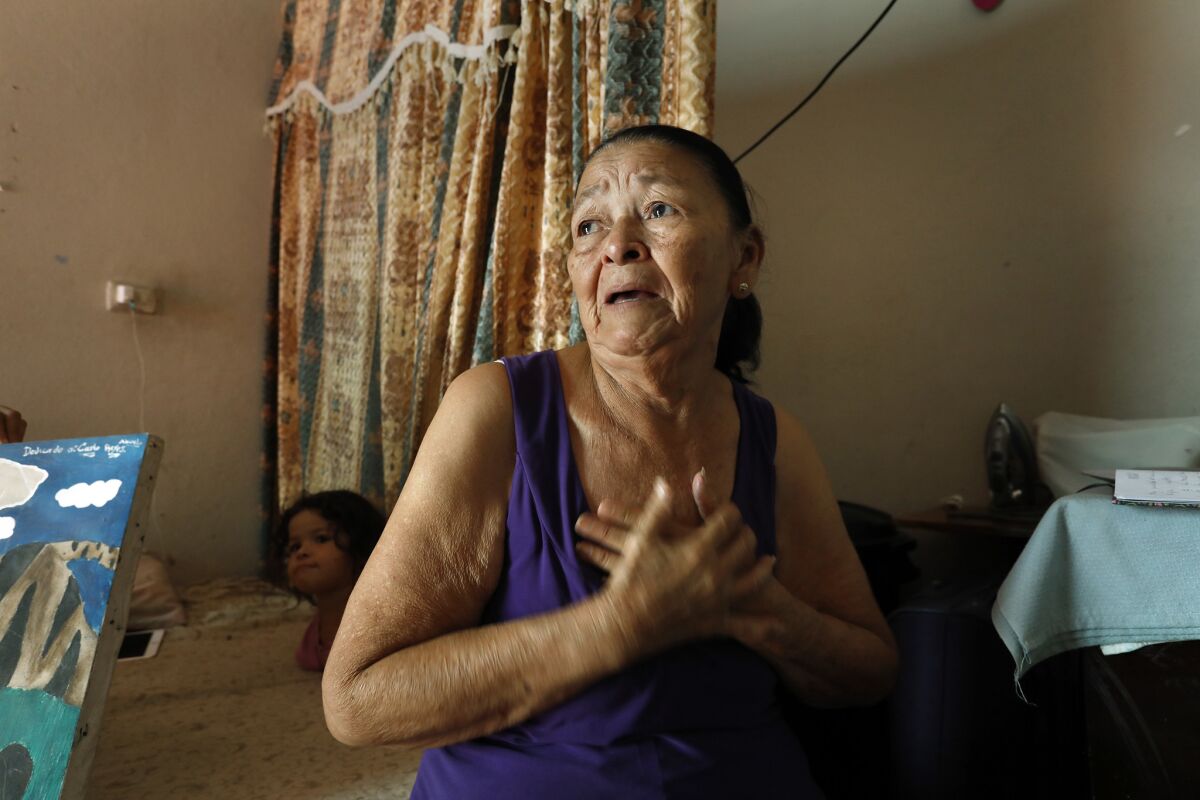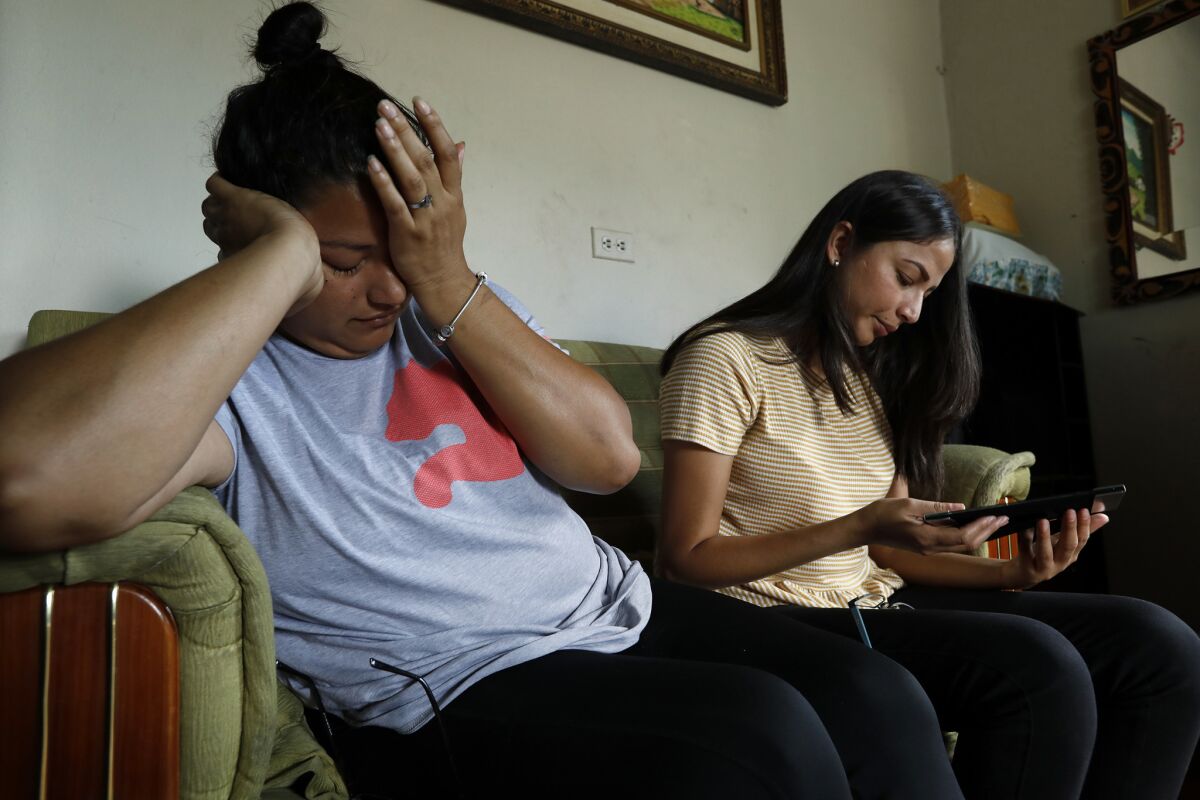 When Diaz heard about a second caravan forming, he told his relatives he was leaving. That night in the living room of his grandmother's house, its walls bare except for a few framed pictures of family, a debate broke out.
"Don't go," said his uncle, Orlando Reyes Banegas, 53. "'It will be hard. America is not like you think."
Reyes spoke from experience. He had crossed illegally into the U.S. to find work in the 1980s before returning a few years later, homesick for his family and disheartened by the racism he said he encountered in the suburbs around Washington, D.C.
"You're going to suffer so much," he told his nephew. "Maybe it's not in God's plan."
But Diaz hardly heard him. For years he had listened in wonder to more seductive stories about life in the U.S. from other family members who had gone there.
Glenda Reyes and another half-sister had obtained legal residency there thanks to their father, a U.S. citizen, and now cleaned houses in Naples, Fla. Their children ate at McDonald's whenever they wanted, attended good schools and spoke English.
Diaz wanted the same for his son, Jafed.
His grandmother, Felina Banegas, had also recently gone to Naples — legally — to seek treatment for a heart condition.
Diaz missed his 74-year-old grandmother, who had raised him when his own mother was absent. She doted on him, and he on her, calling her "mama" and reminding her to take her heart medication.
On the day he decided to leave Honduras, he had her first name tattooed across his chest.
"If I die, at least I will hold her close to my heart," Diaz said to his relatives before heading to the bus station.
Diaz traveled to the Honduran city of San Pedro Sula to meet up with the second caravan. The group maintained a festival-like atmosphere as it crossed into Guatemala, some migrants singing to keep their spirits up.
On Oct. 27, the migrants arrived in the Guatemalan town of Tecun Uman, just across the Suchiate River from Mexico. That night, they slept in a public park.
When the sun rose, they headed to the bridge, which had been closed since the first caravan of migrants had passed through more than a week earlier.
Those migrants had pushed their way onto the bridge, but turned back after Mexican authorities fired tear gas at them and several migrants were injured in the chaos that followed. Trump publicly thanked Mexico for its show of force against the people on the bridge that day, even as hundreds of migrants crossed illegally via the river.
The second caravan did not back down. As its confrontation with Mexican police unfolded, Glenda watched on television in Florida. She frantically dialed her brother.
"Please go home," she pleaded when he answered. "You're risking your life."
He told her he wanted to be near the front of the group in case Mexican authorities opened the border.
"I can't go back," he shouted before hanging up.
A few moments later, she watched in real time as her brother's limp body was carried away from the fracas by several young men.
When he was placed in an ambulance, his shirt opened, and the tattoo for their grandmother could be seen.
Special correspondent Jeff Abbott in Tecun Uman, Guatemala, and Cecilia Sanchez of The Times' Mexico City bureau contributed to this report.
Twitter: @katelinthicum
Must-read stories from the L.A. Times
Get the day's top news with our Today's Headlines newsletter, sent every weekday morning.
You may occasionally receive promotional content from the Los Angeles Times.