Worried that their election is being stolen, Hondurans take to the streets in droves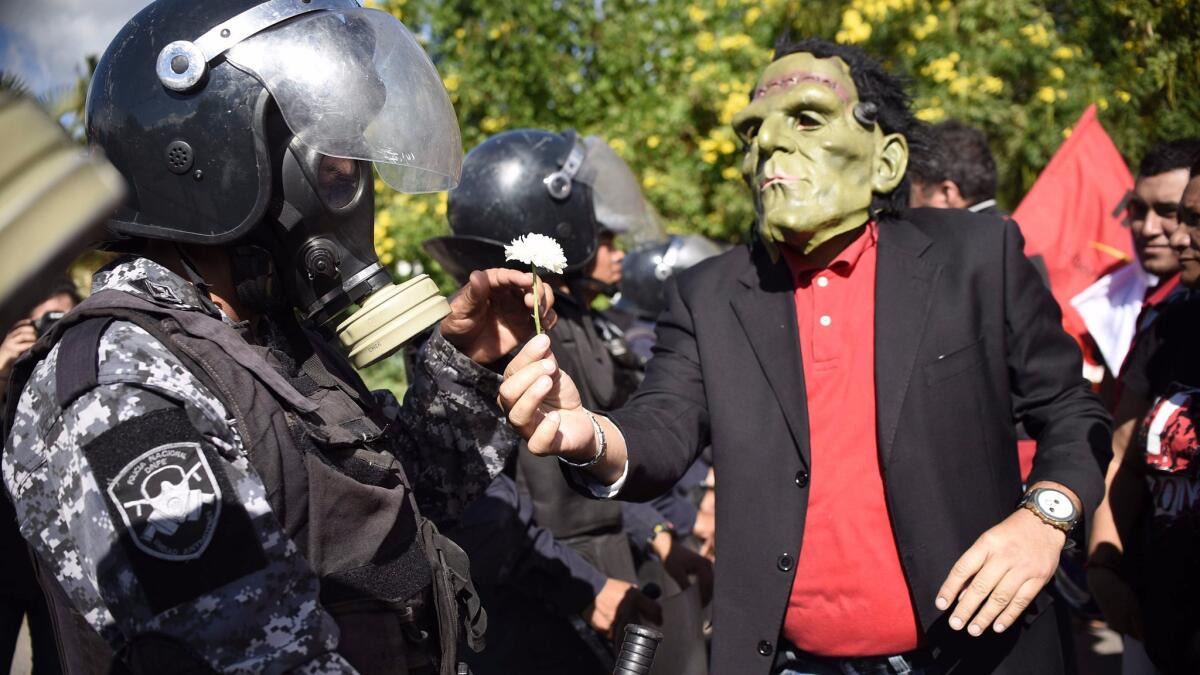 Reporting from Tegucigalpa, Honduras —
Thousands of opposition backers waving banners and shouting anti-government ballads marched through the streets of the Honduran capital Sunday in a boisterous but peaceful repudiation of the administration of President Juan Orlando Hernandez.
The mostly young demonstrators repeated the president's initials, JOH, in a rhythmic chant — "Fuera JOH," meaning "Out with JOH" — demanding that the president concede defeat in his reelection bid in the Nov. 26 vote.
"People are fed up with the corruption, the theft, the poverty," said Jonathan Alarcon, 28, who was part of a musical combo singing an anti-Hernandez ballad in cumbia style along the protest route. "It's time for JOH to go."
The street demonstration was called the largest here in recent years, although there was no official estimate of the crowd, which stretched for at least six blocks along a major boulevard. It came exactly a week after presidential balloting that was plagued by allegations of fraud.
With some 95% of the ballots counted, official results show Hernandez, who is seeking a second term, with a lead of about 1.5 percentage points over his principal challenger, Salvador Nasralla, a television personality. Nasralla has forged a broad alliance across ideological lines and pushed an anti-corruption message.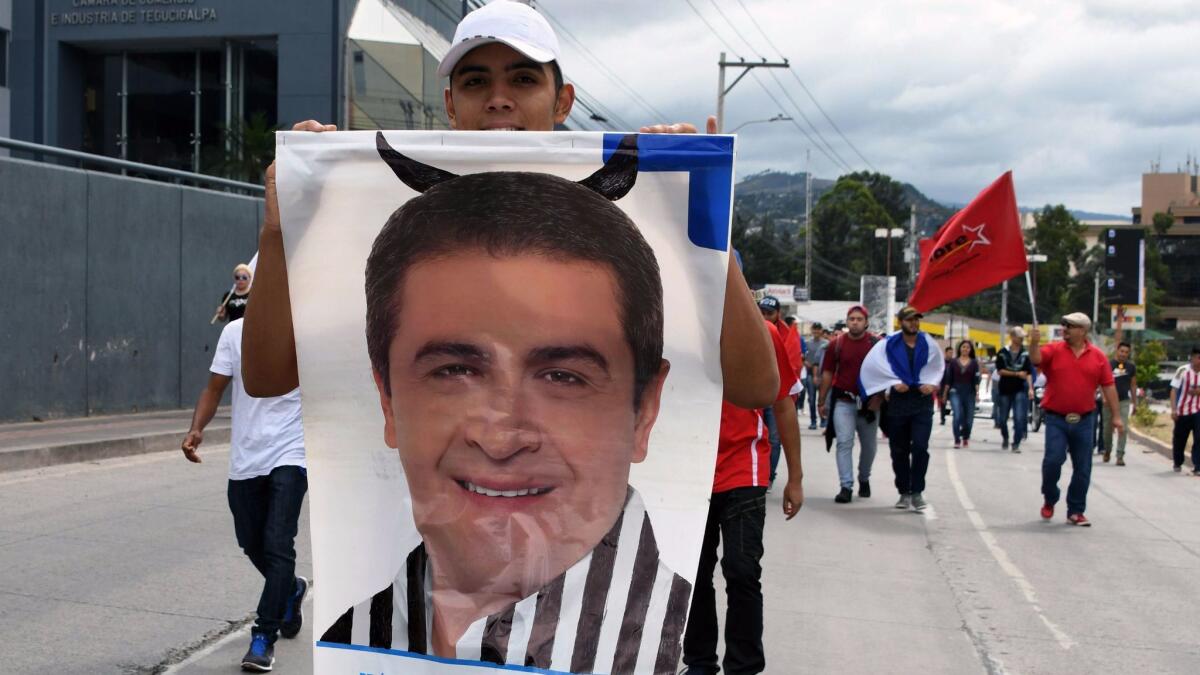 But the opposition's charges of ballot rigging and its demands for an extensive review of the vote have brought the vote-counting process to a standstill.
Delays in releasing electoral results, mysterious computer crashes slowing the count and sudden shifts in the tallies have stoked widespread suspicions of behind-the-scenes chicanery in a nation where cynicism about politics is widespread. The opposition has also voiced disbelief about what it calls highly inflated voting numbers from three largely rural, mostly pro-government provinces.
The Hernandez administration has rejected allegations of fraud and called for the Supreme Electoral Tribunal, which oversees the voting process, to resume the count of the final ballots in the presence of all political parties and international observers. The opposition has expressed skepticism about the independence of the electoral tribunal, which is largely controlled by the ruling party and allies.
The government has also accused the opposition challenger, Nasralla, and his key political ally, former President Manuel Zelaya, of fomenting post-election violence.
"We urge Salvador Nasralla and Manuel Zelaya to stop calling for violence and protests in Honduras — and to show respect for our democratic institutions," the Honduran government said in a statement Sunday distributed by a Washington-based public relations firm.
The opposition has denied calling for violence and says it has only sought peaceful protests in an effort to forestall a rigged election. Nasralla, in turn, has accused the Hernandez administration of inciting violence against opposition protesters.
The government has repeatedly called for the opposition to back a special count of the remaining ballots, which constitute about 5% of the total and have been set aside for "special scrutiny" because of the possibility of irregularities. But the opposition wants a much more extensive review of the ballots.
"The Honduran people who peacefully went to the polls to assert their civic rights last Sunday do not deserve to see their country in turmoil," the government statement said. "The best thing for Hondurans right now is to allow the Supreme Electoral Tribunal, the national and electoral international observers, and representatives from Honduras's political parties to continue to tabulate the rest of the votes in peace."
Zelaya, who was ousted in a coup in 2009, heads the opposition coalition, known as the Alliance Against the Dictatorship. Many demonstrators on Sunday waved the red flag of his Libre ("Free") party, a key opposition participant. His support has provided an important constituency for Nasralla, a political neophyte best known for his sports and entertainment telecasts.
Sunday's march was less about the virtues of a Nasralla presidency than it was dramatizing the opposition's contempt for Hernandez, whom it accuses of institutional corruption. Hernandez has repeatedly denied charges of corruption, including the alleged plundering of funds from the country's Social Security system to finance political campaigns.
The president has also rejected criticism that his candidacy is illegitimate and the result of a decision by a compliant Supreme Court. A controversial Supreme Court ruling two years ago allowed Hernandez to run for office again this year despite a constitutional ban on presidential reelections.
"This protest is not about one candidate, it's part of a social movement to transform our country, especially for the youth who have no future," said Marcela Trejo, 23, who was among those marching in what was mostly a festive crowd. "Nasralla may be a TV personality, he may be funny, he may be arrogant, but one thing he is not is corrupt. He is not a thief."
Nasralla focused much of his campaign on a clean-government pledge while assailing Hernandez's administration as corrupt and autocratic. Hernandez projected a law-and-order image in a nation riven by crime and poverty.
Whether Sunday's march would have any effect on the outcome of the stalled election count remained unclear. Both sides continue to bicker about the disputed count and whether it would be resumed.
But it seemed apparent that opposition protests would continue, despite a dusk-to-dawn curfew imposed by the government late Friday in a bid to curb post-election violence. The opposition denounced the curfew as a transparent effort to stifle protests. Hondurans angered at the election results have left their homes during the curfew hours, risking arrest, to clang pots and pans and set off fireworks in a collective sign of displeasure.
Twitter: @PmcdonnellLAT
ALSO
For a deported man and his family, an uneasy 'homecoming' in Mexico
In cycling-obsessed Colombia, he dreamed of glory. But first he needed a bike
Mexico promised affordable housing for all. Instead it created many rapidly decaying slums
Sign up for Essential California for news, features and recommendations from the L.A. Times and beyond in your inbox six days a week.
You may occasionally receive promotional content from the Los Angeles Times.