Cuba took a direct hit from Hurricane Irma — and may have spared Florida from worse damage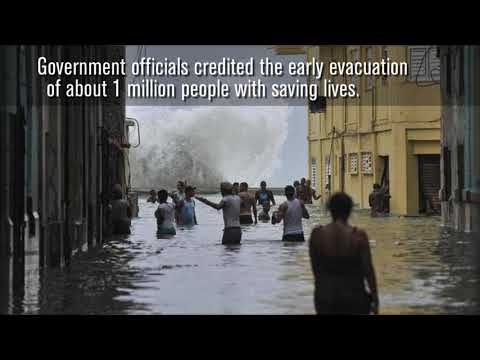 Nieves Martinez Burgaleta, 87, was found floating in the flooded streets outside her home in Havana. (September 12, 2017) (Sign up for our free video newsletter here http://bit.ly/2n6VKPR)
Reporting from Mexico City —
Nieves Martinez Burgaleta, 87, was found floating in the flooded streets outside her home in Havana.
Alberto Flores Garcia, 77, was crushed to death by a utility pole uprooted by hurricane winds.
Yolendis Castillo Martinez, 27, died when a balcony damaged by the storm collapsed onto the bus she was riding in.
Hurricane Irma killed at least 10 people during the 72 hours that it battered Cuba, damaging nearly every region of the island nation and leaving parts of Havana's picturesque historic district still underwater Monday, authorities said.
Its collision with Cuba and other Caribbean islands sapped some of its energy, possibly saving Florida from worse damage. By the time Irma made landfall on Marco Island, on the Florida peninsula, its winds had dropped from 185 mph to 130 mph. While still a massive storm — it was about 400 miles wide — Irma ended up causing less than the catastrophic damage that many had feared.
Cuba, however, was not so lucky.
The storm first hit there at 9 p.m. Friday, slamming the island's northern coast and becoming the first Category 5 hurricane to make landfall in Cuba in more than 80 years. Irma did not leave the country until Sunday afternoon.
Given the storm's immense girth, few parts of the island were spared. Even Havana, hundreds of miles from where the hurricane first struck, suffered severe flooding and wind damage, with waves up to 30 feet lashing the seaside boardwalk known as the Malecon.
Parts of Havana's colorful historic district were still flooded with chest-high water Monday, according to the state newspaper Granma. It called the flooding "perhaps the most severe" to affect Havana's coastline and said low-lying parts of the city were under 5 feet of water. Videos showed kitchen appliances bobbing down streets that had become rivers and residents using mattresses as boats.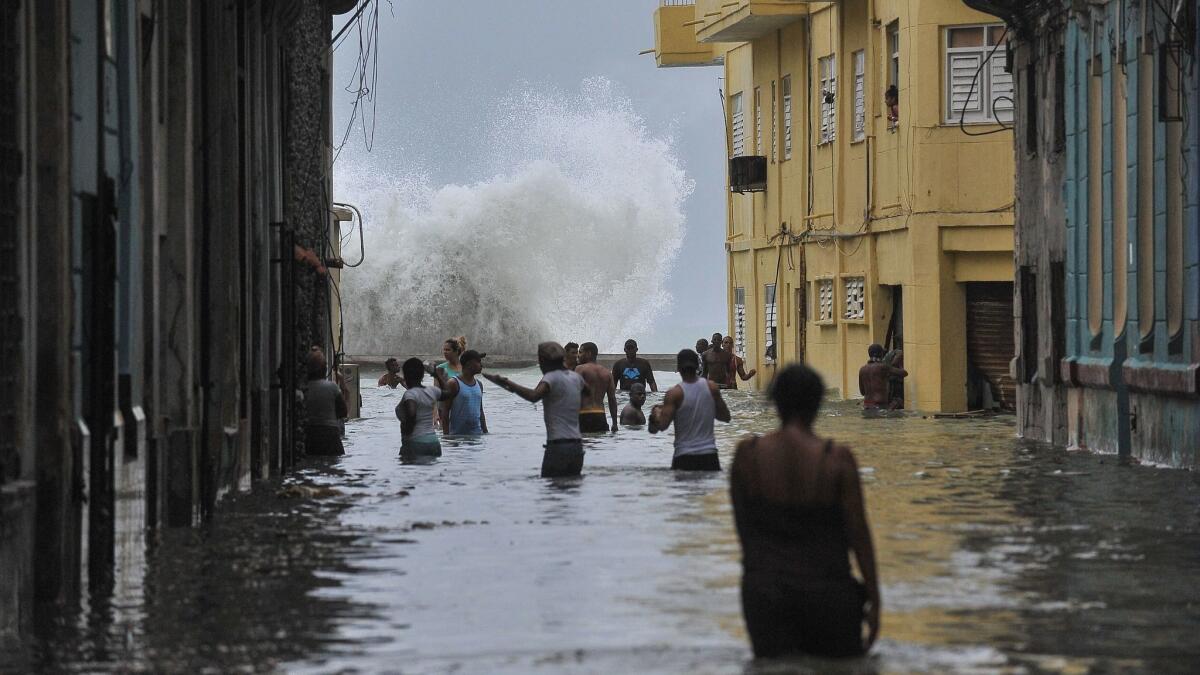 The hurricane also flooded coastal areas from Baracoa, a city near the island's eastern tip still recovering from last year's Hurricane Matthew, to Matanzas in the west. Strong waves were still striking the northern coastline Monday, but were expected to subside, Cuba's weather service said.
Despite washed-out roads and roofless homes, there was a sense that the storm's destruction could have been much worse.
Government officials credited the early evacuation of about 1 million people with saving lives.
The country developed a sophisticated hurricane response system in the wake of Hurricane Flora, a 1963 storm that killed 1,750 people in Cuba. The system includes standing evacuation plans for every household and frequent drills. When a big storm like Irma approaches, people whose homes are at risk are evacuated to shelters, while others move in with friends or neighbors who live in safer structures.
The National Civil Defense Council said five people were killed when their homes collapsed: two brothers who died in Havana when a ceiling caved in and three men who failed to follow evacuation orders and died in their homes in the cities of Ciego de Avila, Camaguey and Matanzas.
Ramon Pardo Guerra, chief of the National Civil Defense Council, told the state newspaper that the damage to Cuban banana, rice and sugar cane farms was "incalculable," though another official said that nearly 1,200 square miles of sugar cane fields were destroyed.
In a public address later published in Granma, Cuban President Raul Castro said the storm also severely damaged the nation's electrical system as well as key tourist destinations, including Varadero, a beach resort popular with foreigners.
Castro said the government would work to make sure those areas were repaired before the busy winter season to protect the tourism industry, which has become an important part of the Communist island's economy.
"These have been difficult days for our people, who in a few hours' time have seen what was constructed with great effort hit by a devastating hurricane," Castro said.
"This is not a time to mourn," Castro said, "but to construct again that which the winds of Irma attempted to destroy."
Humans weren't the only victims.
The news site Diario de Cuba reported that hundreds of flamingos died on Cayo Coco island.
Six dolphins fared better.
Typically housed in an aquarium on the island of Cayo Guillermo, the dolphins were airlifted by helicopter ahead of the hurricane to a salt-water pool in the south of the country and survived the storm.
Twitter: @katelinthicum
Sign up for Essential California for news, features and recommendations from the L.A. Times and beyond in your inbox six days a week.
You may occasionally receive promotional content from the Los Angeles Times.