In Guatemala, Trump's Homeland Security chief contradicts new immigration directives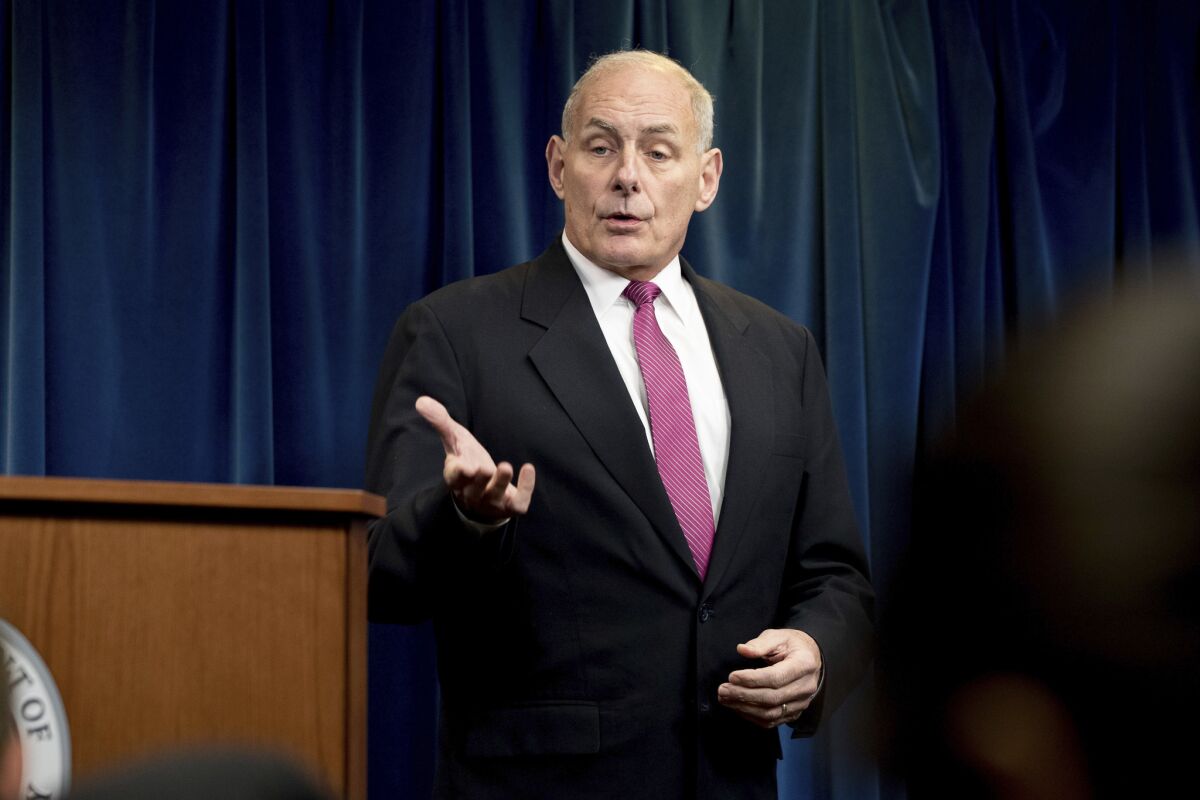 Reporting from Mexico City —
During a visit to Guatemala, Homeland Security Secretary John F. Kelly contradicted deportation plans made public by the Trump administration just a day earlier.
Speaking at a news conference Wednesday after meeting with Guatemalan President Jimmy Morales, Kelly said his agency would return deportees "to their home country as quickly as possible," according to the Associated Press.
A sweeping set of immigration directives signed by Kelly and made public Tuesday suggested the department would be doing otherwise. The directives outlined changes that would allow immigration agents to send some migrants detained at the border back to Mexico, whether they're Mexican or not.
Under previous administrations, migrants from countries that do not border the U.S. — such as Guatemala — had to be detained until they could be flown back to their country of origin.
The proposal to deport migrants from far-away countries into Mexico has rattled officials in the nation, including Mexican Foreign Secretary Luis Videgaray, who in recent days has warned that Mexico will reject any unilateral policies imposed on the country by the Trump administration.
"I want to make clear, and in the most emphatic way, that the Mexican government and the Mexican people do not have to accept orders that a government seeks to impose unilaterally on another," Videgaray said.
On Thursday, Kelly was in Mexico with Secretary of State Rex Tillerson for high-stakes meetings with Videgaray and Mexican President Enrique Peña Nieto. Along with immigration, trade, security and U.S. aid to Mexico were expected to be discussed.
The new immigration enforcement memos also call for changes that would vastly widen the number of immigrants in the country illegally who are targeted for deportation. Under President Obama, federal agents were supposed to target for deportation only those immigrants who had been convicted of a crime; the new guidelines say anyone found to be in the U.S. unlawfully can be sent home.
Guatemala's Foreign Secretary, Carlos Raul Morales, who also met with Kelly, suggested that the Homeland Security chief had contradicted his recent directives on that point. After their meeting, Morales said Kelly told him the focus will still be on deporting criminals.
"Kelly has expressed to us that there are not going to be massive deportations," Morales told reporters, according to the Associated Press. "He has expressed to us that the interest of the U.S. government is to focus on those migrants who have a criminal record."
There was one point where Kelly was firmly in line with the directives announced last week.
Speaking at an Guatemalan air force base where he had just greeted a planeload of deportees from the U.S., Kelly had a warning for those thinking about migrating to the U.S.
"If you're a Guatemalan who is considering paying a great deal of money to a [smuggler] to bring you to the United States, you'll be wasting your money," Kelly said, according to Reuters. "You will be returned very quickly."
Twitter: @katelinthicum
ALSO
With Trump's envoys coming, Mexicans are hoping their government will take a harder line against the U.S.
Did a Mexican migrant leap to his death at the border minutes after being deported?
Islamic State fires cluster bombs at Iraqi government forces
---
Must-read stories from the L.A. Times
Get the day's top news with our Today's Headlines newsletter, sent every weekday morning.
You may occasionally receive promotional content from the Los Angeles Times.