Mexico's outgoing President Peña Nieto and President-elect Lopez Obrador vow to work together despite differences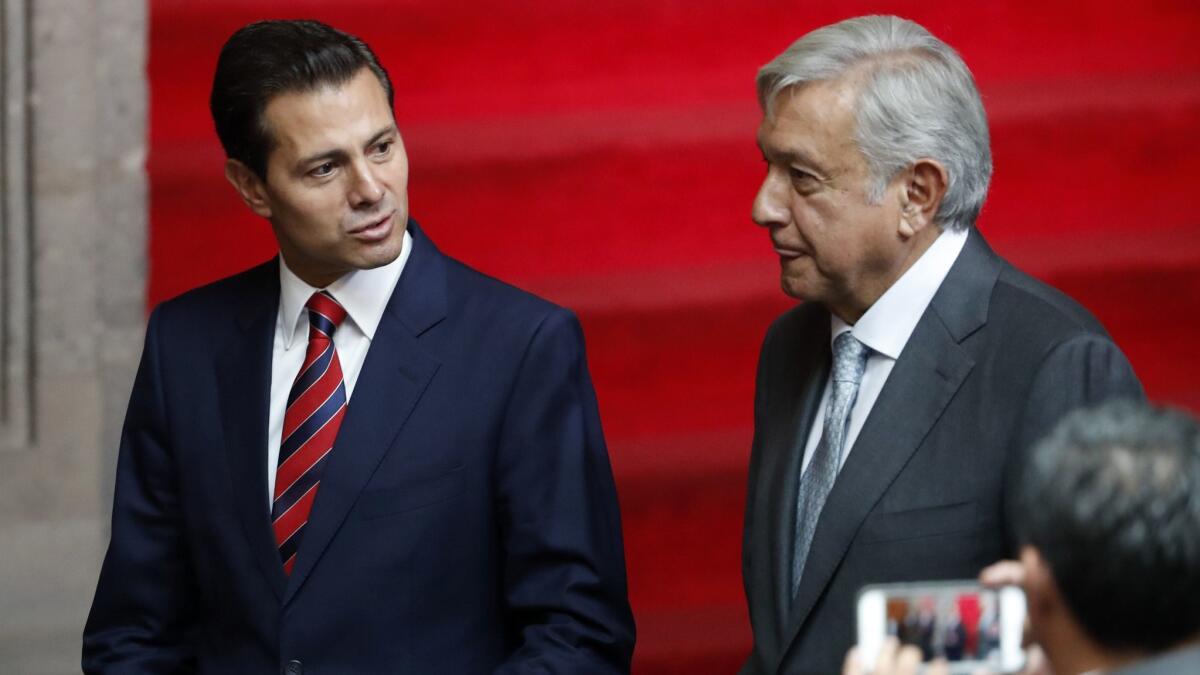 Reporting from Mexico City —
Mexican President Enrique Peña Nieto and his once-fierce rival, President-elect Andres Manuel Lopez Obrador, on Monday pledged cooperation in confronting the nation's challenges despite differences on issues such as education reform and a controversial airport project.
Peña Nieto and Lopez Obrador — along with many current Cabinet members and the president-elect's designated ministers — appeared together at the National Palace downtown and stressed themes of mutual respect.
It was the latest in a series of gestures meant to demonstrate stability and continuity as leftist Lopez Obrador prepares to assume power amid pledges for a far-reaching "transformation" of Mexican society. Peña Nieto has faced widespread unpopularity and the perception that he has been an ineffective leader.
"It is an institutional transition but it is also a respectful transition because we have received help without conditions from the constitutional president, Enrique Peña Nieto," said Lopez Obrador, who won the presidency after losing in the two previous national elections, in 2012 and 2006.
Peña Nieto, in turn, vowed to do all he could to ensure that "the next government begins its term in a successful fashion."
Lopez Obrador, elected July 1 in a landslide, is scheduled to take office Dec. 1 for a single six-year term. Peña Nieto was not a candidate in the election as Mexican law bars reelection of presidents.
The two men Monday answered a half dozen questions from the press but didn't veer from differences on a number of contentious issues — notably national education reform and a planned new multibillion dollar airport for Mexico City.
Lopez Obrador reiterated his vow to review the controversial airport plan — critics say it is too expensive and not needed — and to rescind the current administration's education overhaul blueprint. The president-elect has said he will seek out views from all sectors on how to improve the nation's moribund public education system and what to do about the airport proposal.
Education reform was a centerpiece of Peña Nieto's administration, but it drew fierce criticism from teachers opposed to revised rules to evaluate teacher performance. The new airport, already under construction, was the major infrastructure project of the outgoing administration.
Lopez Obrador and Peña Nieto met July 3, two days after the election, but that was a one-on-one meeting before Lopez Obrador had been legally declared president-elect.
Despite many preelection fears of an economic slide after a Lopez Obrador victory, Mexico's economy has remained stable and the peso has retained its value against the U.S. dollar and other currencies. The incoming president has vowed to revitalize the sluggish Mexican economy, but has provided few specifics beyond a broad anti-corruption push.
Since election day, Lopez Obrador has generally toned down his often fiery rhetoric— he campaigned relentlessly against what he labeled "mafia of power," including Peña Nieto's administration — and has met repeatedly with investors and business interests.
The president-elect has also reached out to Washington and said he would invite President Trump to his inauguration.
U.S.-Mexico relations have experienced turbulence since Trump took office and repeatedly criticized Mexico and Mexicans.
Negotiations are continuing between the United States, Mexico and Canada in crafting a new North American Free Trade Agreement, the three-nation accord that has governed commerce on the continent for almost a quarter century. Trump has assailed the pact as unfair to U.S. interests.
The free-trade regimen is a cornerstone of the Mexican economy. Almost 80% of the nation's exports go to the United States. Peña Nieto and Lopez Obrador have voiced support for a new trade accord.
Lopez Obrador, who ran on a leftist populist campaign vowing fundamental change, won 53% of the vote, defeating his nearest challenger by more than 30 percentage points. He has vowed to increase social-welfare payments to the poor, make higher education available to all and eliminate deep-rooted corruption.
Lopez Obrador is the first Mexican president to take office with a majority vote since 1988, during the days of dominance by the country's Institutional Revolutionary Party, known as the PRI.
The PRI's more than seven-decade hold on the presidency ended in 2000, with the election of Vicente Fox of the right-of-center National Action Party. But Lopez Obrador is the first avowed leftist and first contender from a non-traditional party to be elected president in the 21st century.
Peña Nieto is the current standard-bearer for the PRI, which suffered a humiliating defeat in the July 1 elections.
Lopez Obrador is among a number of left-leaning politicians who abandoned the PRI starting in the late 1980s. Lopez Obrador ran under the banner of his own party, the National Regeneration Movement, known as Morena, which is 4 years old.
Morena — which includes many defectors from the PRI and other traditional parties— not only won the presidency, but garnered major majorities in both chambers of the national legislature.
Despite his party's newfound dominance at the federal level, Lopez Obrador has repeatedly vowed to run a democratic administration and to reach out to all sectors.
"This government is going to represent all Mexicans," Lopez Obrador said Monday. "No one will be on the margins of the law or above the law."
Cecilia Sanchez of The Times' Mexico City bureau contributed to this report.
Twitter: @PmcdonnellLAT
Sign up for Essential California for news, features and recommendations from the L.A. Times and beyond in your inbox six days a week.
You may occasionally receive promotional content from the Los Angeles Times.